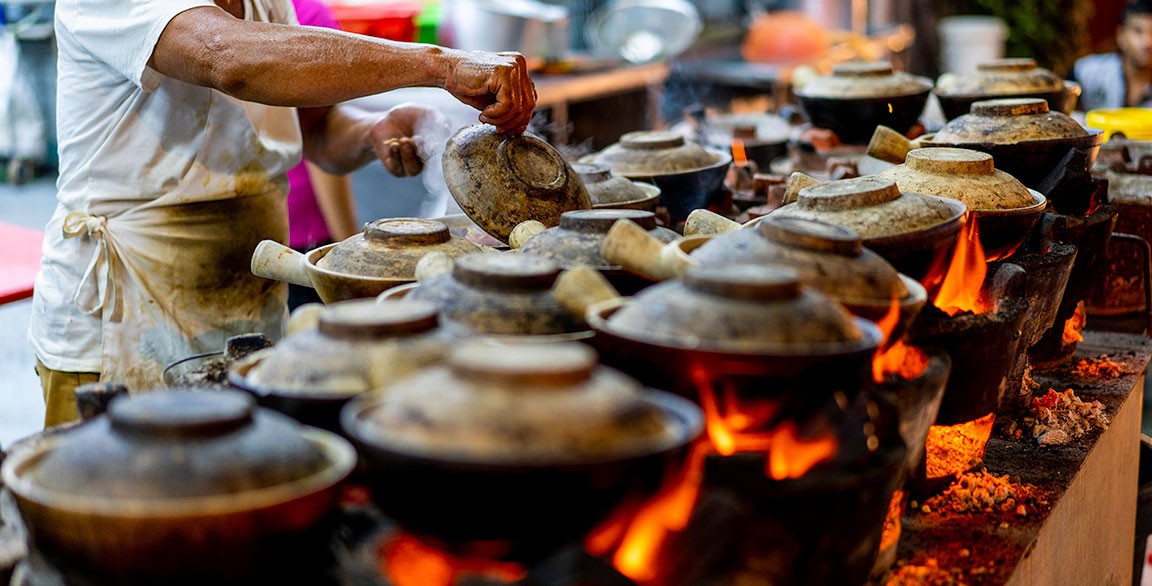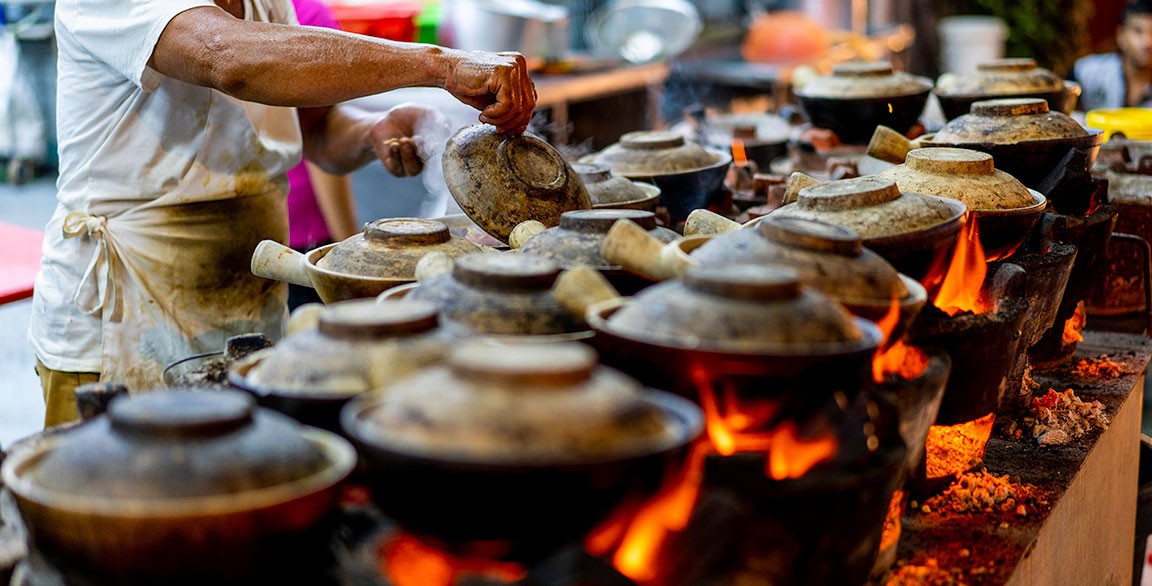 By Nick Gonring
December 8, 2020
In an example of social distancing on a large scale, The Culinary Institute of America's 22nd annual Worlds of Flavor Conference was presented in a completely online format in November. This change presented a formidable challenge for an event centered on live tastings of signature dishes from a large group of international chefs. The CIA team rose to the task, however, producing a conference that revealed many rewarding flavor take-aways.
In spite of the world being in various degrees of lockdown, a bit of intimacy was achieved in several of the virtual sessions, including an inspired "Show Us Your Kitchen" segment, with chefs such as Tara Stevens providing a tour of her pantry in Marrakesh, filled with Moroccan spices, harissa, preserved fruit, nuts, seeds and argan oil. Susana Trilling displayed the numerous ingredients for classic mole sauce at her cooking school in Oaxaca, Mexico, and Musa Dagdeverin demonstrating a quickly shaken dish of marinated "Sweated Grapes" in his home kitchen in Istanbul.
Without the need for a passport, attendees were able to get a virtual look at flavor inspirations from countries such as France, Ukraine and Brazil. In the kitchen of restaurant Frenchie in Paris, Chef Gregory Marchand provided a masterful demonstration of cooking leeks finished with tarama, a deeply rich emulsification of smoked cod roe and egg yolks. Ukranian Chef Olia Hercules hosted a live session from her home kitchen where she stuffed fermented cabbage leaves with barley, chopped pork and chestnuts, served under a sauce made from fortified chicken stock and smetana, a high fat Russian sour cream.
In Brazil, Chef Rodrigo Oliveria discussed the wildly popular native street food of tapiocas that visually appear akin to a single folded crêpe. Typically, these gluten-free shells made of just water and pure cassava starch are bland in flavor, but Oliveria has modernized his variations to appeal to younger generations of Brazilians by adding flavor and color to his dough with the likes of beets and hibiscus water for a violet tapioca, carrot purée for orange renditions, and even collard greens for a green hue. He further enhances his tapioca shells with craveable fillings both sweet and savory through ingredients like cheeses, pulled proteins, nut butters and fruit preserves.
Attendees were also treated to chef-led virtual tours of several of the world's most prominent street markets. Chef Francisco de Santiago provided an inside look at the taco stands of Mexico City, each offering signature fillings for their tortillas including tripe, longaniza sausage, beef cheek, grilled brisket, salt-cured beef and pork cecina, and the highly popular pork al pastor. Worlds of Flavor veteran Ian Kittichai led viewers through the largest wet market in Bangkok, featuring a nearly endless variety of live seafood, shellfish, and pristinely fresh produce. And street food guru KF Seetoh hosted a lively walk-through of one of the largest food hawker centers in his native Singapore, featuring over one hundred stalls, many manned by chefs who offer only one dish that they prepare and serve throughout their lives. Seetoh specifically called out one Singaporean specialty, Hainanese Chicken Rice, as having breakout potential for mainstream menus, hailing the "off the charts" craveability of the complexly flavored rice in the dish.
U.S. chefs from the South also brought viewers inside their homes and gave us a seat at their dinner table. Gabrielle Etienne's cuisine boasts flavors that have storied traditions passed down through generations of her family. Her one-pot braised rabbit saddle was wrapped in local magnolia bay leaves and bathed in an intense potlikker made from smoked rabbit bones with a calculated splash of fish sauce. In New Orleans, chef and owner of Mosquito Supper Club Melissa Martin gave attendees a unique look at the rhythmic flavors of the Bayou. She shared personal stories about growing up working at the Lagniappe fair serving pop rouge ice cream and foraging for blackberries on her grandparents' land in Cocodrie. This ultimately is what inspired her recipe creation for the blackberry dumplings she made for viewers.
Sponsor chefs led quick demonstrations using value-added products to showcase their versatility and how they can be easily added to create layers of flavor. Savory unagi sauce was used to enhance a simple chocolate ganache, while products like mirin and lime ponzu made their way into a sparkling lemon-limeade refresher. Other chefs praised cooked protein products like natural smoked beef brisket and braised pulled pork to free up labor in their kitchens, allowing them more time to focus on flavor differentiators such as a coconut white barbecue sauce made with Szechuan peppercorns and rice wine vinegar.
Other sponsor chefs showcased the latest and greatest cooking equipment using modern technologies. Viewers were treated to cookery gadgets like a four-zone gas plancha which allows users to simultaneously control four different variable temperatures ranging from 150-650 degrees F. Additionally, a gas-powered vertical rotisserie displayed unique advantages allowing up to 10 spit locations inside rotating different foods at the same time without any cross contamination or negative flavor exchanges.
While the many smells and sights, heat and smoke, and firsthand flavor discovery was absent from this year's event, an overarching sense of positivity and optimism pervaded this year's virtual Worlds of Flavor event, showing chefs continuing to innovate, survive and even thrive in the face of unprecedented challenges.