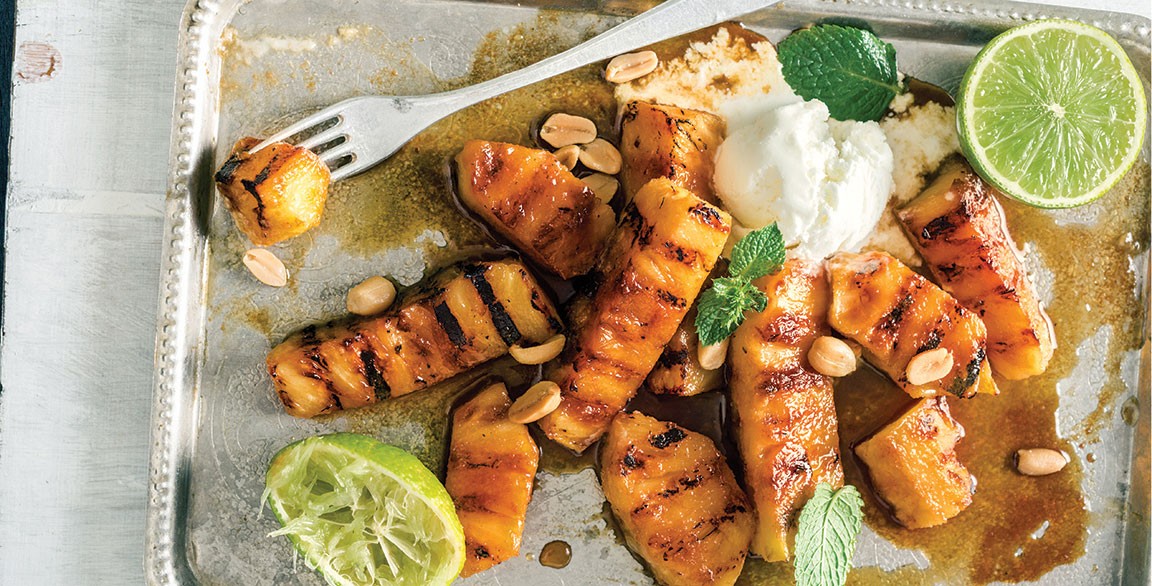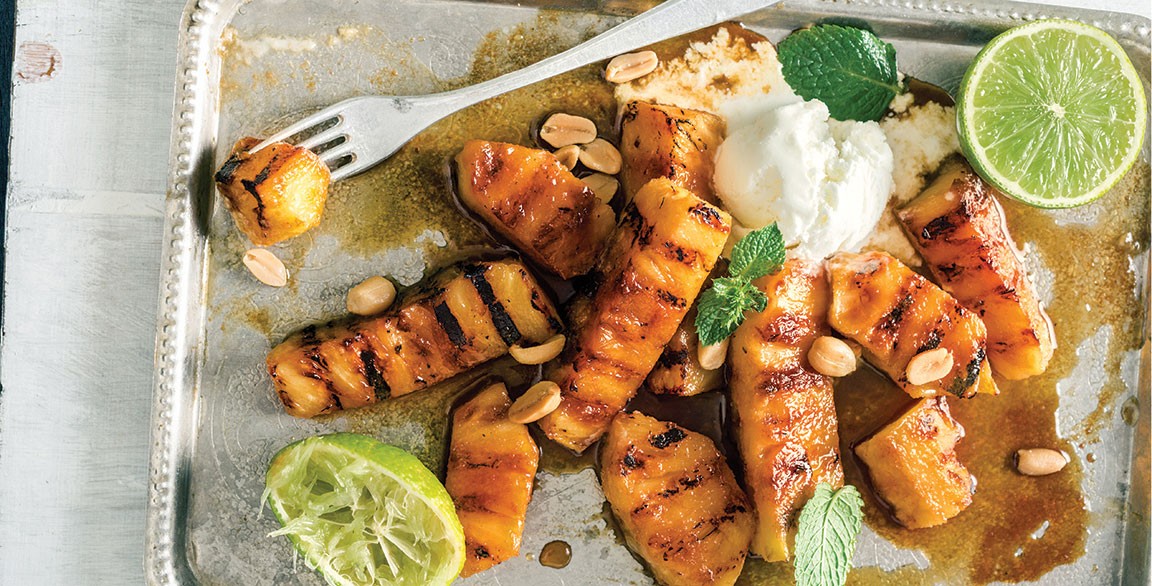 By Rob Corliss
March 3, 2020
Operators can integrate the exotic-but-accessible pineapple as a dynamic flavor component across menus. It already carries an all-season pass, thanks to its tropical getaway sensibility. Today, chefs and beverage directors are expanding on traditional applications, showcasing pineapple's flavor reach with culinary techniques like smoking, pickling and dehydrating, and pairing it with unexpected ingredients. Here are six categories with ideas that leverage pineapple's star qualities.
1

Jams

The versatility and allure of housemade jam offers expanded culinary functions and enhanced value. Pineapple adds sweet-sour flavor complexity, amplifying the experience.
Pineapple-Passionfruit Jam: Chopped pineapple, passionfruit purée, honey and naturally thickened chia, spooned over crème brûlée French toast
Pineapple Mostarda: Slow-simmered pineapple purée, cider vinegar, star anise, cinnamon, red pepper flakes and grain mustard, spread on a telera roll for a Mexican carnitas mollete with melted Cotija and Jack cheeses
2

Salads

This menu category sets a high bar because of guest flavor expectations. Focus on delivering the refreshingly unexpected. Use pineapple as the core ingredient to perk up salad offerings with premium cues.
Pineapple Chaat: Cubes of pineapple and apple, orange segments and juice, green seedless grapes, bits of roasted sweet potato and mint leaves, lightly tossed together with toasted cumin, coriander, black pepper, chile powder and a hint of salt
Chopped Thai Salad: Lettuce, chilled rice noodles, mung bean sprouts, shredded carrots, cucumbers, roasted peanuts and Thai basil leaves, tossed with creamy red curry-pineapple dressing
3

Sauces/Glazes

The finishing flavor touch that brings a dish together is the cornerstone of successful recipe development. Pineapple provides a beautiful platform from which to build upon and transform conventional menu features.
Pineapple Chamoy: Finely chopped roasted pineapple, apricot preserves, ancho chile, lime juice and sea salt—great with Jamaican jerk chicken wings
Ruby Pineapple Glaze: Pineapple juice simmered with tamarind paste, ginger, garlic and brown sugar—ideal for glazing soy "chorizo" or plant-based "meatballs"
4

Salsas

Elevate salsa with unconventional menu pairings and modern preparations. Start by using the texture and sweet acidity of pineapple to complement global ingredients.
Mediterranean Pineapple Salsa: Raw and grilled pineapple, pomegranate molasses, Urfa chile, red onion and sumac
Pineapple Shrimp Ceviche: Lime juice-cured shrimp, chopped pineapple, mango, red bell pepper, red onion, sun-dried tomato, shaved Serrano chile and cilantro
5

Ice Creams/Sorbets

Pineapple's attributes present a natural complement to frozen creaminess. Together, freshness cues married to indulgence hit a sweet spot in providing "better-for-me" dessert options.
Island Dream: Coconut milk ice cream studded with chunks of rum-caramelized pineapple, served with a shard of macadamia brittle
Super Sorbet: Mango sorbet swirled with honey-roasted pineapple purée and drizzled with chile-lime syrup
6

Beverages

Low-ABV and nonalcoholic drinks continue to gain ground and garner more attention. When the weather warms, look to pineapple to add a bold dimension to these lighter-style drinks.
Pineapple-Green Tea Spritz: Golden pineapple juice, green tea, club soda and prosecco
Tepache: A fermented drink made from pineapple core/rinds/peel, sweetened with brown sugar (or other sweetener), flavored with cinnamon and clove and served over bullet ice