Today's on-trend grilled cheese is a rare gem that serves up both comfort and cool. It pulls on the heartstrings while promising a decadent flavor adventure. Chefs are capitalizing on this with versions that are mindful in construction while keeping the integrity of a sound grilled cheese in the crosshairs.
At HopMonk Tavern, with three locations in California, Billy Reid, executive chef, menus the rich, flavor-forward HopMonk Grilled Cheese. "Baked fresh daily, our sourdough is coated in garlic butter and pressed in a panko-Asiago mixture, then grilled to a golden brown to meld the Swiss, sharp yellow cheddar, mild white cheddar and our signature house Dijonnaise."
Builds like this reflect modern menu development, where each element speaks to craftsmanship and, of course, flavor.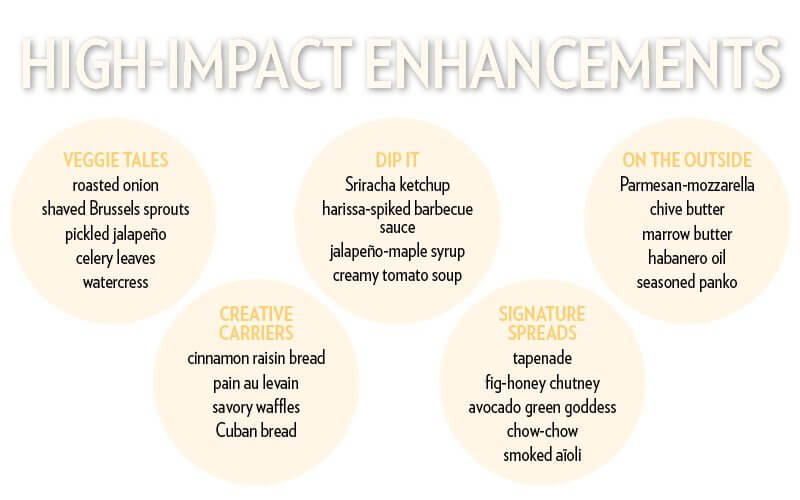 The Meat of It
Grilled cheese sandwiches can display the best of the veg-centric trend, tucking in flavor-forward ingredients like blistered peppers or charred onion. But they also welcome meaty additions. Like most trends today, the selection of those meats should be thoughtful and craveable.
Toasty Cheese Mobile Eatery in the Chicagoland area serves the Mighty Max, with grass-fed ribeye, mozzarella, red onion and garlic butter on a pretzel roll.
At Barleygarden Kitchen & Craft Bar, a gastropub in Alpharetta, Ga., with a focus on charcuterie, the Charcuterie Grilled Cheese expresses the brand while offering a fan favorite. The sandwich features salami cotto, pastrami and pepperoni from the The Spotted Trotter (a local charcuterie house), as well as a diner's choice of Swiss, provolone or American (or all three) on fresh-baked, butter-toasted sourdough.
"It achieves sophisticated flavors in a fun and approachable way to eat delicious charcuterie," says Kevin Ouzts, executive chef. "Paired with our homemade lingonberry jam or porter beer mustard, you have a grilled cheese you won't soon forget."
On the Menu
Nick & Randy's Eggcellent Adventure: Over-easy eggs, thinly sliced chorizo, Chihuahua cheese, pico de gallo and spinach on panini
—Toasty Cheese Mobile Eatery, Schaumburg, Ill.-based
Philipo's Pepperoni Strips: Pepperoni and mozzarella grilled on flatbread, cut into strips and served with a shot of our tomato soup for dipping
—Grilled Cheese Mania, Harrisonburg, Va.
Southern Charm
Finn Town serves elevated New American tavern fare in San Francisco. Leveraging the modern Southern trend while delivering a familiar profile, the Southern Grilled Cheese with fried green tomato, pickled jalapeño and housemade pimento cheese showcases how well suited the grilled cheese is as a carrier for trending ingredient combinations.
"It has a wonderful texture," says Steve Dustin, executive chef. "You get a lovely crunch and meaty chew from the housemade rustic bread and the fried green tomatoes. The pickled jalapeños lend a decent amount of heat but more of a bright punch from the pickling liquid. But the main event is the pimento cheese. This adds the rich, creamy, spicy cheesiness that any grilled cheese worth talking about needs."
Bring on the Buffalo
Buffalo chicken's craveable profile is showing up on menus in unexpected but welcome places. Chefs are exploiting the built-in winning combination of Buffalo sauce, blue cheese and celery, applying it to items like cauliflower steaks, loaded fries and grilled cheese.
At The Grilled Cheeserie in Nashville, the Buffalo South stars pepper Jack, pulled organic chicken, Buffalo sauce, blue cheese aïoli, and pickled celery on country white sourdough.
At GCDC Grilled Cheese Bar in Washington, D.C., the Buffalo Blue Grilled Cheese features a cheddar blend, blue cheese, Buffalo chicken, red onion and hot sauce on white bread. "Each of our specialty  sandwiches borrows from a particular region or nationality," says Bruce Klores, managing director of this contemporary eatery.
"The Buffalo Blue Grilled Cheese is a traditional American sandwich—I describe it as a chicken-wing grilled cheese—with the blue cheese and hot sauce."
Fish Tale
Today's modern seafood trend is about casual dishes with flavor-forward presentations of fish and shellfish. Grilled cheese sandwiches boasting seafood are popping up as a perfect expression of this movement.
House-smoked salmon is the star of the grilled cheese at Bistro 22 in Cranston, R.I., layered with crème fraiche, dill, chives, red onion and Gruyère.
At Grilled Cheese & Co, with multiple locations in Maryland, the Crabby Melt features melted Monterey Jack on top of housemade Crabby Dip loaded with sweet claw crabmeat.
"Here in Northeast Ohio, Lenten fish fries are a big deal, and the Lake Erie Monster takes all the elements of a classic fish fry and puts it on a sandwich," says Matt Fish, owner and founder of Melt Bar and Grilled, with seven locations in Ohio. The sandwich features crispy battered pollock, sweet slaw, American cheese and jalapeño tartar sauce.
On the Menu
Grilled Fig Jam & 3 Cheese: Fontina, Brie, havarti, butter-toasted, Croatian fig jam on sourdough
—Tom's Urban, multiple locations
The Jalapeño Popper: Roasted jalapeños, Colby Jack, cream cheese and corn tortilla chips on sourdough
—Grilled Cheese Grill, Portland, Ore.
The Grilled Carbonara:Gruyère blend, fresh goat cheese, sautéed leeks and bacon on white bread
—GCDC, Washington, D.C.
Breakfast Opportunity
Of course, grilled cheese and breakfast get along just fine, especially when a fried egg or strip of bacon helps signal its intention. The opportunity here lies in the built-in craveability of a grilled cheese and the acceptance of all-day breakfast across menus today.
The American Grilled Cheese Kitchen, with multiple locations in San Francisco, serves up a number of breakfast grilled cheeses, including the best-selling Huevos Rolando with Monterey Jack, seasoned tomatoes, black beans, jalapeños and chipotle butter.
Another example is the Classic Egg & Cheese, with sharp cheddar, Monterey Jack and an over-easy fried egg on San Francisco artisan levain.
"Just by adding a fried egg—we recommend over-easy with a really runny yolk—you can create fast, delicious and filling breakfast sandwiches with every flavor profile you can imagine," says Nate Pollak, "the big cheese" of this grilled cheese concept.
Waffles
Beaker & Gray serves global-inspired fare in Miami. Brian Nasajon, executive chef, puts out an eclectic brunch menu with offerings like coffee-glazed bacon and eggs Benedict with a rice cake, jamón Serrano and tomatillo hollandaise.
His Waffle Panini taps into the grilled cheese trend while keeping it firmly in the brunch category. Swiss cheese and pork belly rillettes are tucked between "waffle bread," with a dipping sauce of maple mustard. "Imagine combining your childhood cravings with fine-dining DNA," he says. "Sweet, smoky, decadent and fun."
"Opportunity lies in the built-in craveability of a grilled cheese and the acceptance of all-day breakfast across menus today."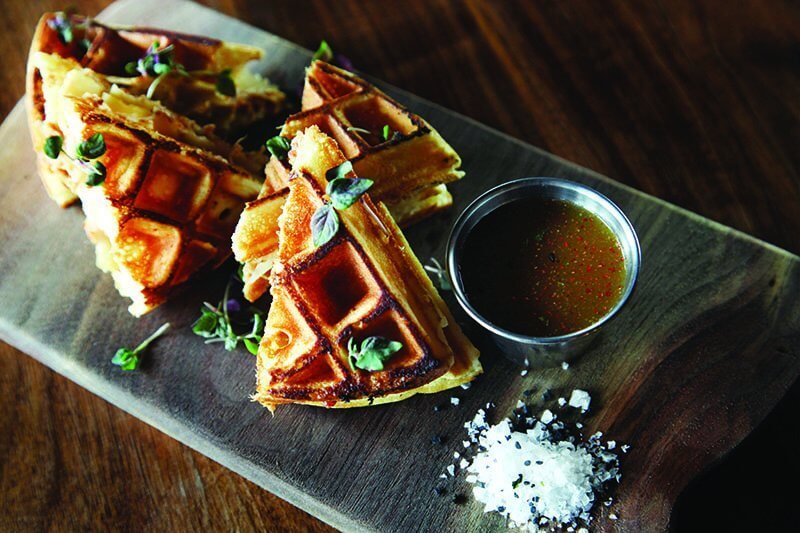 Cortney Cates
Flavor Combos
"We love to play with flavor combinations, so we try to build all of our dishes this way.  We like the combination of cheddar, which is more salty, and the Gruyère, as it adds a different layer of flavor. The housemade onion-pepper jam adds a sweet-and-sour element, and the bread is our own focaccia that we make daily."
Suzie St. Pierre, co-owner, Isa Bistro, Portland, Maine