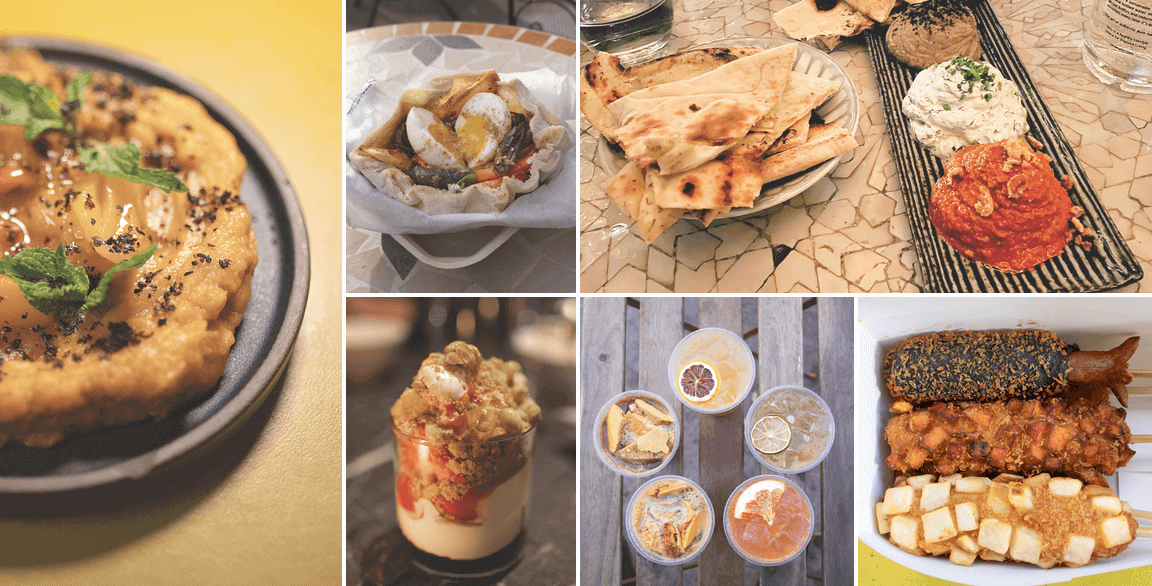 By Nicholas Gonring
April 19, 2022
Every year, the research team from Gordon Food Service conducts a carefully targeted trends tour, visiting newly opened restaurants and gleaning menu-ready ideas. Most recently, we set our eyes on New York, and in this round of research, conducted in December 2021, we visited 38 new concepts and tasted 411 dishes, witnessing exciting innovation and discovering patterns in flavor play—all sparking fresh ideas for broader menu adaptations. The last time the team visited the Big Apple was November 2019, and while much has changed since then, the foodservice industry has been resilient in adapting to the monumental challenges arising from the pandemic. Read on for our flavor findings on trend-forward menus and the opportunities they offer across foodservice segments.
MORE MED MOVEMENT
New York research points to further exploration of modern Mediterranean cuisine. New restaurants here offer a showcase of delicious flavors rooted in the southern coast of the Mediterranean Sea, from North Africa to the Levant. We're seeing a true melting pot of culinary traditions that are regionally specific while enjoying a cross-cultural affinity. The flavor combinations are virtually endless, and these make for dynamic menu opportunities, as consumers climb out of the pandemic with a newly awakened consciousness of healthy eating while still craving new flavors when dining out. For many chefs, this can be a tough nut to crack, but Mediterranean cuisine seems to offer a reliable primer to satisfy this juxtaposition of consumer demands.
UNLOCKING PITA POCKETS
The humble pita pocket is seeing a renewed rise in popularity as a handheld carrier, especially to the New Yorker on foot. Credit the uptick to menus reinventing the pita sabich and the pita arayes. Pita sabich is a handheld that is typically filled with fried eggplant, a hard-boiled egg and chopped Israeli salad, while street food pita arayes tucks a ground meat filling into a pita pocket. Today's trend-forward chefs are serving iterations of these, leaning on the pita to convey new culinary creations featuring an array of Levantine condiments, sauces and spice blends.
At Edith's Sandwich Counter in Brooklyn's Williamsburg neighborhood, owner Elyssa Heller's modern Jewish menu includes a roasted root vegetable sabich with a nutty red pepper muhammara-labneh spread and a jammy six-minute egg, all nestled in a sourdough pita. Another offering is a pita stuffed with a schnitzel of either chickpea or crispy chicken (seasoned with za'atar and Aleppo) and served with aïoli, shaved cabbage and Israeli chopped salad.
Also in Brooklyn, global Mediterranean concept Fandi Mata offers Kafta Arayes on its small-plates menu. A pita is packed with a ground lamb filling seasoned with coriander, sauced with tahini and served alongside an herbaceous feta salad.
Across the river in Manhattan's Lower East Side, Jordan Anderson, co-founder and executive chef at Mediterranean café Sami & Susu, menus the Lamb Arayes, which get a jolt of flavor from an aïoli blended with amba, the turmeric-seasoned and pickled mango condiment. Anderson also serves Cauliflower Pita seasoned with ras el hanout and featuring creamy tahini, spicy green s'chug relish and funky fermented red cabbage.
RIPs AND DIPS
New York chefs are embracing bold North African and Levantine flavors in their shareable dips and spreads. Paired with traditional baked breads, the combination elevates the communal dining experience.
At the new Mediterranean restaurant Shukette in Manhattan's Chelsea neighborhood, Ayesha Nurdjaja, executive chef, offers spreads and breads that are out of this world. Her Labneh dip gets a spicy and floral kick from rosy harissa, a tart crunch from pomegranate arils and a finishing touch of olive oil, lime and scallions. Nurdjaja's Butternut Squash Chershi spread is topped with apricot chutney, crunchy hazelnut pieces and a sprinkling of smoky Turkish Urfa pepper, along with a fresh mint garnish. Our team enjoyed these dips with rips of two breads: pan-fried pillows of frena (Moroccan-style flatbread), studded with roasted garlic and oregano, as well as gözleme, a Turkish oblong "hot pocket" filled with shredded potatoes, provolone cheese and cilantro.
In Brooklyn's Greenpoint neighborhood, Jackie Carnesi, executive chef at Nura, a globally inspired concept, offers an impressive course of shareable breads and dips. It features Spiced Carrot & White Bean Dip, Blistered Poblano Hummus and Housemade Yogurt with harissa, all paired with tandoor-fired garlic-coriander naan and Dulse Parker House rolls.
The Small Mezze Platter at Fandi Mata, also in Brooklyn, features guests' choice of three dips from a menu of five options. We were served generous portions of Red Pepper Muhammara spiked with pomegranate molasses, a housemade Tzatziki with soft herbs and a smoky Baba Ghanouj with eggplant ash, along with a mound of wood-fired flatbread.
Menu Standout: Dosas
The southern Indian dosa, another street food staple, is making moves on American menus, thanks in part to a proliferation of Indian food, but also because of the dosa's malleability. This thin, crêpe-like carrier—a simple mixture of soaked white rice and ivory white lentils—is gluten-free and vegan. It's puréed with water to form a thick paste and left to ferment, then spooned onto a hot tava, crêpe pan or flat top in a circular motion. As it cooks, the batter rings become more pronounced. Fresh from the pan, the crispy rice and lentil structure is pliable, allowing the dosa to be easily manipulated into half folds, pockets, roll-ups or cones. Menu builds run a gamut of fillings, sauces and seasonings and span dayparts. From the tava to the table, dosas offer a ripe opportunity for menu differentiation.
Hari Nayak, executive chef of Sona in Manhattan's Flatiron District, menus a Gruyère Cheese Dosa cone that reveals a hidden mash of taro root with edamame and is served with coconut and roasted tomato chutneys. At the new southern Indian restaurant Semma in Greenwich Village, Vijay Kumar serves up his Gunpowder Dosa pocket stuffed with a potato masala mash and accompanied by sambar (a hearty vegetable stew) and coconut chutney. Additionally, Kumar serves smaller kal dosas (thicker and steamed) as a side to his Peconic Farms' Escargot, stewed with ginger, tamarind and coconut.
KOREAN CORN DOGS SIZZLE
Found at multiple storefronts that opened across Manhattan and Brooklyn in 2021, Korean corn dogs offer wildly creative flavor combinations. The nostalgia factor of this ubiquitous American fair food staple gives way to a novel Korean street-food sensibility, and it is a quick-serve opportunity that holds promise across a variety of menus.
The Korean corn dog eschews the origins of its name, replacing corn meal with rice and wheat flours with yeast to produce a thick, elastic batter that yields a crunchy and chewy texture when fried. Classically, the finished fried food is dusted with granulated sugar to yield a sweet and salty treat. We found them at several sites, each menuing customizable options, including choices for fillings (such as sausage, mozzarella and rice cake), along with sweet and savory seasonings. Each concept spotlights its own distinctive offerings.
In Manhattan's Lower East Side, Oh K-Dog, a Korean rice hot dog chain with multiple U.S. locations, offers the choice of cinnamon sugar or granulated sugar to coat the dogs once finished. Its self-serve station features flavorful condiments such as honey mustard, housemade hot sauce, sweet chile sauce, cheesy mustard, plus honey-butter sprinkles, granulated Parmesan, coconut and onion powder.
Oh K-Dog's Squid Ink Half-and-Half Dog features a mozzarella cheese square along with a hot dog on either end of a stick. Both are coated in an eye-catching black batter, and then rolled in panko for a deep-fried double crunch. Four small vertical incisions in the meat, toward the stick end, fan outward once fried, giving its final presentation an uncanny resemblance to the sea creature celebrated in its name. Also on the menu, the Sweet Potato Dog is a textural wonder with a crispy diced sweet potato and panko exterior that is further enhanced with a plunge in cinnamon sugar.
Just east, in the Nolita neighborhood, a postage stamp-size takeout window at Two Hands Corn Dogs, based in Buena Park, Calif., pumps out its own Seoul street-food version of this classic. The quality of its all-beef hot dog and its fermented wheat batter have an undeniable impact on the overall flavor. Of the five-piece Mega Box we ordered, two variations stood out: the Spicy Dog, which gets its heat from red chile mayo and a post-fry coating of Flamin' Hot Cheetos crumbs, and the Crispy Rice Dog, which is rolled in arare rice pearls after the batter is applied. A light dusting of sugar adds to its decadence.
At Jongro Rice Hotdog in Brooklyn, the Ramyon Noodle Chips Hot Dog sees an all-beef dog dipped in rice batter to order and then rolled in dry bits of ramen noodles. The result is a stunning showcase of visual and textural appeal. Its Volcano dog also gets the classic rice batter treatment with panko, but trades the beef dog for a spicy chicken and pork sausage. To further customize the corn dog experience, Jongro offers five dipping sauces: "boom boom," Sriracha mayo, honey mustard, housemade cheese sauce and ketchup.
Menu Standout: Dalgona Candy
It hasn't been that long since Dalgona coffee took social media by storm. The Korean-style whipped coffee, inspired by Dalgona candy, is made by whisking together instant coffee granules, sugar and water until it achieves the consistency of whipped cream and is then poured over iced milk.
Today, Dalgona candy itself has earned greater awareness in the wake of Netflix sensation "Squid Games." The candy is made by melting sugar with baking soda, which forms into a whipped caramel consistency. As depicted in the show, it is then pressed into wafer-thin rounds, with a simple design etched into the centers. Our New York research revealed that many restaurants are riding the coattails of the show's success by incorporating Dalgona candy into their menus. With the recent news of a greenlighted second season of the wildly popular series, there is ample time to cash in on this sales-building menu opportunity.
At new Korean concept Yubu, located in the East Village, Jason Kim serves several Dalgona almond "milk" coffee and tea drinks, filled with pieces of housemade Dalgona candy.
In Williamsburg, specialty "pon de ring" doughnuts are the focus of the newly opened Mochi Mochi rice-ring doughnut concept. The menu spotlights a handcrafted "Squid Game" Doughnut that features a Dalgona glaze, along with studs of Dalgona candy pieces. Inside the building, which houses multiple concepts, Afternoon sells replicas of the style of Dalgona candy featured in the show.
FROM SLUSHIES TO SOFT SERVE
Our research discovered a number of newly opened concepts promoting a range of frozen novelty must-haves. At Edith's Sandwich Counter, the Instagram-famous Iced Cafe Slushie, is machine spun using a base of cold-brew coffee with oat "milk" and tahini. The combination of the temperature and the use of plant-based fats creates a slush that appears separated but reveals an irresistible granular freeze with creamy flakes.
In Brooklyn, Lu Nguyen, chef of Em Vietnamese Bistro, offers a lineup of tropical slushies designed to teleport your soul to warmer climes. The Pineapple Express is made simply with fresh pineapple juice, mint and lime, while the Watermelon Cooler is a blend of fresh watermelon juice and condensed milk.
At the new Rockefeller Center location of David Chang's fast-casual fried chicken concept Fuku, the Fuku Colada slushie machines spin an insanely delicious mixture of pineapple, orange juice, coconut cream, nutmeg and simple syrup. And back at Two Hands Corn Dogs, a Horchata Slush elicits double takes for its service mode: The traditional beverage made of rice milk, cinnamon and simple syrup is found on tap, like a 7-Eleven Slurpee!
A short walk from Two Hands, on the ground floor of the Nolitan Hotel, is Kimika, an Italian-Japanese restaurant, where Christine Lau, executive chef, menus a Yakult soft-serve dessert that is downright intoxicating with its blend of sweet and savory flavors. The soft-serve base is made with the Japanese fermented and sweetened probiotic milk Yakult and gets a swirl of kimchi caramel, a fold of roasted Concord grapes and a finish of crispy chicken skin streusel and peanut brittle.
Returning to Shukette in Chelsea, the flavor experience discovered in her tahini and oat "milk"-based soft serve is nothing short of a "mic drop" moment. It's topped with candied butternut squash and crunchy hazelnut pieces and garnished with a cotton candy-like nest made of confectionary halva floss.
As our research reveals, the resilience and adaptability that New York operators continue to demonstrate, despite ongoing challenges, provide much-needed inspiration for the greater foodservice industry.