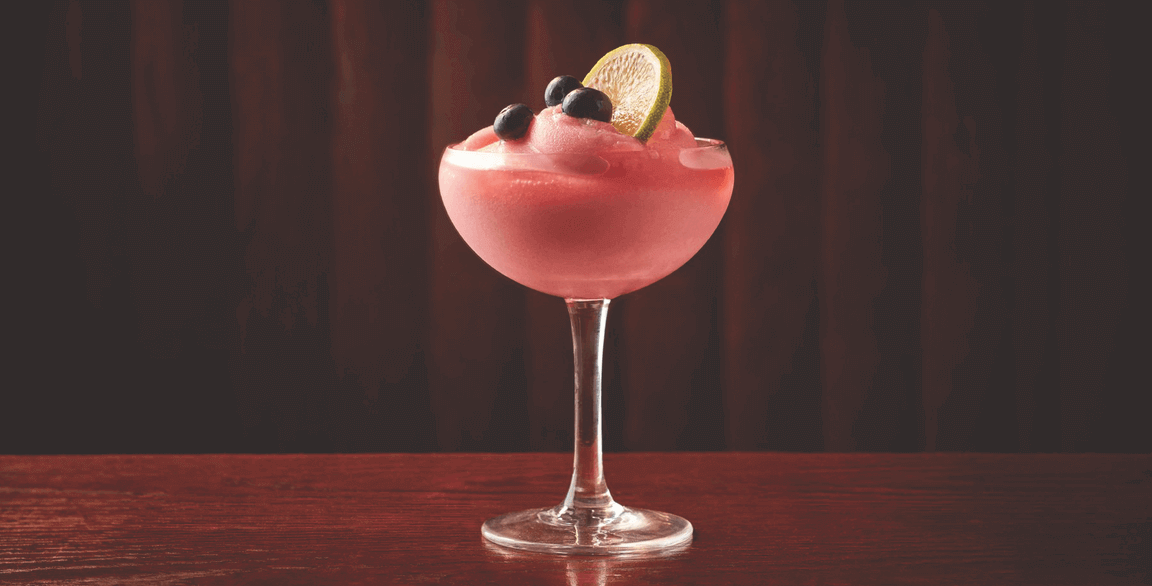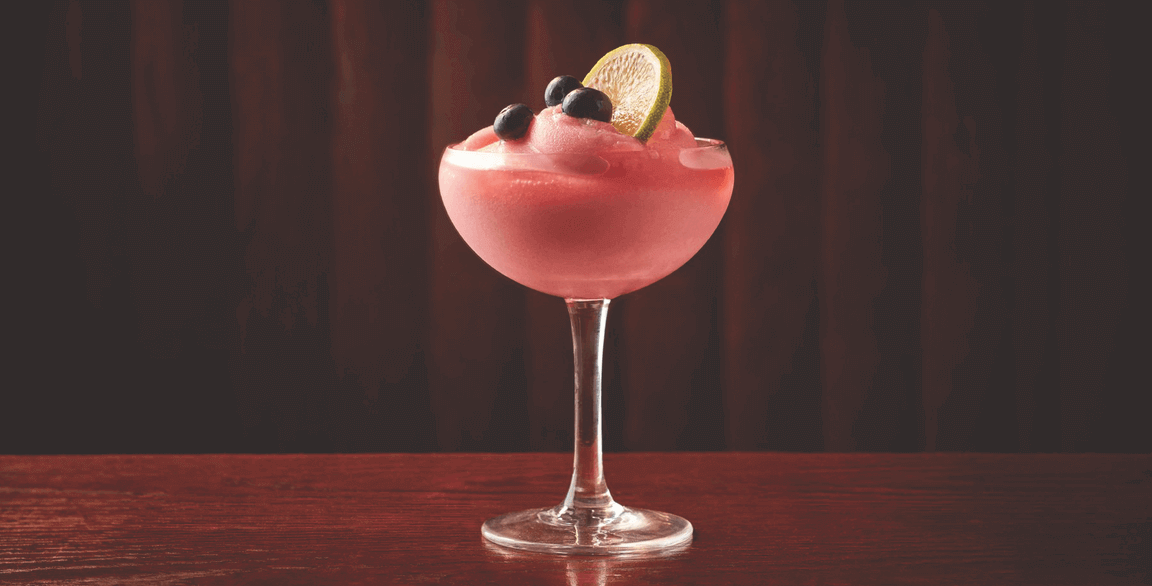 By Rob Corliss
April 18, 2022
Frozen drinks that were historically relegated to summertime sipping have now charmed their way to year-round service, thanks to a number of factors. Pre-batching potential promises reduced complexity during busy service hours, making the frozen drinks category appealing to labor-stretched operators today. At the same time, frozen cocktails tap into a fun, approachable vibe, delivering a fresh experience to consumers seeking something outside of their conventional bar splurges. Certainly, the success of frosé and the subsequent joy in exploring the potential of other drinks in this category, like the Negroni, have opened up the playing field.
Opportunities abound, as mixologists continue to explore, developing something entirely new or turning existing cocktails into frozen concoctions with creative flavor twists and the spin of a blender. Either approach will reap benefits, leveraging simple back-of-house execution. Plus, as ready-to-drink (RTD) canned cocktails have shaken off stigma and continue to gain popularity, and batched cocktails have become a popular to-go offering, frozen cocktails might follow suit in both formats.
Trends that support the ongoing proliferation of frozen cocktails include novel formats featuring tequila, gin and rum; a deep well of creativity found in Tiki drinks; the influence of tropical flavors; and consumer passion for return-to-retro drinks with a twist. Read on for 10 opportunities that capitalize on frozen indulgence all year long.
1
Frozen Mimosa/Bellini
Luxury libations have strong appeal among diners seeking unfussy, high-quality drink experiences. Translation? Menu frozen versions of classic brunch beverages, staying focused on simplicity, as well as the integrity of the ingredients.
TRY THIS
Frozen Mexican Mimosa: Blood orange juice + cava + Grand Marnier + ice + chile-spiced rim
Frozen Aperol Peach Bellini: White peach purée + prosecco + Aperol + ice
MENU SIGHTING
Frozen Bellini: Cruzan peach rum, white sangria and Champagne
—Drunk Munk, Scottsdale, Ariz.
2
Piña Colada
Consumer familiarity with the piña colada bodes well for acceptance of modern interpretations. Take it from lowbrow to highbrow by introducing liqueurs, nut "milks," alternative fruits and unexpected spices.
TRY THIS
Papaya Colada: Rum blend + Thai coconut "milk" + papaya + ginger + lime juice + ice
Almond-Cherry Colada: Rum + almond "milk" + amaretto + frozen dark cherries + ice
MENU SIGHTING
Turmeric Piña Colada: Plantation Original dark rum and Plantation 3 Stars rum, coconut, pineapple, lime and turmeric
—Kinda Tropical, Austin, Texas
3
Frozen Gin and Tonic
Capitalize on gin for the menu win. A frozen G&T is a fancy sibling of a frozen lemonade. Upgrade this pure refreshment with interesting fruit treatments and garnishes.
TRY THIS
Frozen Cherry Gin and Juice: Gin + tonic + lime juice + cherry juice + ice + rhubarb swizzle stick
Frozen Smoked Pineapple Gin and Tonic: Gin + Empirical Spirits Charlene McGee + lime tonic + frozen pineapple + ice + lemongrass swizzle stick
MENU SIGHTING
Frozen Gin and Tonic: Citadelle gin, grapefruit sherbet, lime sherbet, mint cordial and Fever-Tree tonic water (with optional Campari float)
—Eight Row Flint, Houston Heights, Texas
4
Coffee-Based
With consumer demand for specialty coffee beverages continuing to skyrocket, frozen coffee cocktails that serve up equal parts fun and extravagance hit the mark. Make coffee the star and lean on its rich attributes.
TRY THIS
Frozen Coffee Mudslide: Espresso + Kahlúa + vodka + Baileys Irish Cream + vanilla frozen custard + ice + chocolate syrup
Frozen Bourbon Coffee Cream: Cold-brew coffee + bourbon + sweetened condensed milk + ice
MENU SIGHTING
Mr. Bigglesworth: Frozen pumpkin spice latte with aged cachaça and Bajan rum
—Grand Army, Brooklyn, N.Y.
5
Frozen Cosmo
The frozen format accentuates the citrus-infused, crisp, tart refreshment of the iconic Cosmopolitan. Amp up that tartness further with trending fruit or floral ingredients that mimic the cranberry juice and deepen the drink's signature pink-red color.
TRY THIS
Frozen Pomegranate Cosmo: Pomegranate vodka + triple sec + cranberry purée + ice + pomegranate arils
Frozen Hibiscus-Raspberry Cosmo: Citrus vodka + Cointreau + hibiscus syrup + whole frozen raspberries + lime juice + ice
MENU SIGHTING
Frozen Big Berry Cosmo: Three Olives blueberry and citrus vodkas, pomegranate, and fresh lemon and lime juice
—Carmine's, based in New York
6
Frozen Daiquiri
A timeless ingredient trio is the signature of this cocktail, so deliver the unexpected in the frozen format. Showcase blended rums, dark rum or uniquely aged rums (bourbon casks). When using simple syrup, infuse it with spices, herbs or even tea. Incorporate familiar—yet unexpected—fruit flavors.
TRY THIS
Frozen Passionfruit Daiquiri: White rum + lime juice + roasted bananas + passionfruit purée + vanilla + ice
Frozen Poppin' Blueberry Daiquiri: Dark rum + crème de violette + lime juice + frozen blueberries + ice + elderflower whipped cream + Pop Rocks
MENU SIGHTING
Moonrise Daiquiri: Fukucho "Moon on the Water" Junmai Ginjo Sake, Hoshinomura Hojicha, Ten to One rum, Demerara, lime and Bolivian cola bitters
—Kumiko, Chicago
7
Layered Look
Two different yet complementary frozen cocktails swirled or layered in a glass deliver big, Insta-impact. A stunning visual and memorable flavor concoction both wow guests with a premium cocktail experience while serving up a double dose of fun and whimsy.
TRY THIS
Big Texas: Swirled frozen sangria (red wine, orange juice, triple sec, raspberries) + frozen ranch water (tequila, lime, Topo Chico)
Mango Madness: Layers of frozen horchata (dark rum, rice milk, coconut orgeat) + frozen mango Daiquiri (white rum, mango, lime, simple syrup) + hot cinnamon rim
MENU SIGHTING
The Mix: Half frosé (Tati rosé, Dolin blanc, peach purée and Demerara syrup) and half frozen margarita (Conciere gold tequila, triple sec, strawberry purée and housemade lemon-lime syrup)
—Tonic at Quigley's Pharmacy, Washington, D.C.
8
Adult Slushies
Elevate timeless cocktails with a playful slushie application. Operators can leverage nostalgia as the hook and then tout these enhanced classic flavors as adult slushies boasting premium appeal.
TRY THIS
Lychee Mojito Slushie: Gold rum + lime juice + soda water + lychee purée + fresh mint + ice
Negroni Slushie: Campari + gin + sweet vermouth + ice + orange peel twist
MENU SIGHTING
Borrachata: Centenario rum, Fernet-Vallet, coconut orgeat and rice "milk"
—Nido's Backyard, Oakland, Calif.
9
Granita-Inspired
The icy, shaved texture of granita lends a clean mouthfeel to cocktails while providing opportunities to introduce signature differentiation. This can be as simple as pouring alcohol over a housemade granita. Reach for sophisticated combinations to ensure it reads like a granita rather than a shaved ice.
TRY THIS
Frozen Honeydew Mule: Vodka + ginger beer + honeydew-simple syrup granita + lime juice
Frozen Busy Bee: Bourbon + lemon juice-orange blossom honey granita + bitters splash
MENU SIGHTING
Tequila Surrender: Mix of Shore Leave cocktail (crushed ice, rums, Madeira, molasses, passionfruit, lime and Angostura bitters) and three different types of orange, topped with a mezcal-pomegranate granita
—Shore Leave, Boston
10
Ice Cream-Based
The addition of ice cream to a cocktail intentionally blurs the line between dessert and beverage, lending an extra creamy texture that makes for delicious decadence. Get creative with presentations to deliver bona fide outrageous indulgence.
TRY THIS
Frozen Fuzzy Cream: Peach schnapps + vodka + orange juice + fresh peaches + vanilla ice cream
Frozen Old Fashioned Cream: Whiskey + orange juice + fresh cherries + vanilla ice cream + maraschino cherry topper
MENU SIGHTING
"Stay Puff" Marshmallow: Marshmallow vodka, RumChata, Frangelico and ice cream mix
—Blackstrap BBQ, Winthrop, Mass.