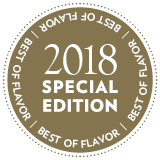 There's so much innovation in the pizza space today, including better-for-you advances. Taking its wholesome brand to the next level, RedBrick Pizza Kitchen Cafe developed the Pizza-zzalada, a salad-pizza hybrid.
Says CEO Craig Erlich, "The Pizza-zzalada is a combination of flavors, textures and temperatures that work together for a really exciting eating experience."
It starts with the brand's SuperFood Multigrain crust, in which multigrain dough gets power boosts from organic chia and flax seeds, açai berry and sprouted red-grain flour. This thin, nutty crust is baked until crispy, and, while still warm, it's topped with a fresh-tossed salad—with ingredients and dressings chosen by the guest. The introduction of a warm, nutrient-dense crust to the salad category demonstrates forward movement in functional foods.
The Pizza-zzalada was a smart investment that's paying off. "This menu item replaces typical pizza toppings with a lighter, hand-tossed salad, while still maintaining the delicious elements of a traditional pizza," says Erlich. "It has really resonated with our lunchtime crowd looking for healthier offerings in the middle of the day."
Seasonal produce provides many takes on the concept, while future variations may involve crust fillings that pack even more flavor into the Pizza-zzalada experience.