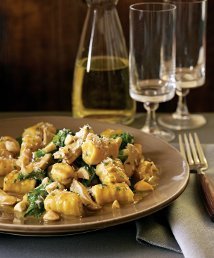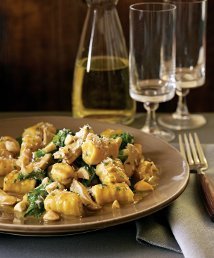 In this dish, the almond nut flavor brings enticing richness to the potato-based pasta, and the Parmesan Almond Cream demonstrates the decadence and texture almonds can bring as they are blanched, toasted and rough-chopped to near Reggiano form.
INGREDIENTS
Almond Gnocchi
560 g russet potatoes (baked peeled, and put through a slicer)
280 g finely ground toasted almonds
3 eggs
200 g flour
30 g salt
Chicken Thighs
10 chicken thighs
3 sprigs sage
2 sprigs marjoram
2 sprigs thyme
1 bulb garlic
240 ml white wine
2 Liters chicken stock
240 g broccoli rabe trimmed of stem and rough chopped and blanched
480 g almond gnocchi
240 mL almond milk
120 g almonds (peeled toasted, and rough chopped)
120 g Reggiano Parmesan
INSTRUCTIONS
Almond Gnocchi
Combine all ingredients and knead lightly into dough, let rest for 10 minutes. Break off into ropes and slice into ½ inch pieces on a slight bias. Roll on a gnocchi paddle and blanch in salted water until they float, remove from water with a skimmer and cool in a stainless steel pan with extra virgin olive oil.
Chicken Thighs
Trim chicken thighs of excess fat. Season and brown in a large sauce pot. Deglaze with white wine. Add chicken stock to cover along with garlic and herbs. When thighs are done, cool them in braising liquid.
When cooled, remove chicken and pull it apart, reheat liquid and strain it.
For service; in a small sauté pan, heat braising liquid and add chicken, broccoli rabe, chopped almonds and 2 Tbsp. of almond milk. Adjust seasoning and add fresh herbs (chopped parsley and the same herbs from the braise), add hot gnocchi and let it cook in the simmering mixture for 1 minute.
Place in bowl and offer shaved Reggiano Parmesan cheese, tableside.
RECIPE NOTES
Recipe by Four Seasons, Chicago, Executive Chef Kevin Hickey, Courtesy of the California Almond Board