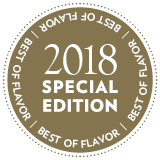 Classic Italian whole-fish preparation gets a modern American makeover at Brunos Italian Kitchen. Paired with fresh produce and a housemade salsa, the Grilled Mediterranean Sea Bream is a standout at this neighborhood Italian bar and restaurant concept.
"Seafood lovers really appreciate the whole-fish presentation," says Chef/Owner Peter Serantoni. "That, combined with vibrant, fresh, complementary flavors and seasonal farmers' market vegetables, makes this preparation a favorite among our guests."
A 1.25- to 1.5-lb. sea bream (or orata) is gutted, scaled and cleaned, then stuffed with salt, oregano and lemon slices. The fish is scored on both sides and rubbed with olive oil and sea salt, then seared. "The sweet fresh flavor of the fish should not be overpowered," says Serantoni.
To complement the fish without stealing its thunder, he pairs it with roasted seasonal farmers' market vegetables and fingerling potatoes. A house-cured green olive and lemon salsa adds a signature touch.
All of the elements work together to make a well-rounded plate that's decidedly on-brand, as Brunos features seasonal whole fish and shellfish specials throughout the year.