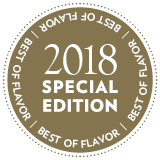 We've all seen how avocado has become a menu star, even propelling a micro trend with avocado toast. Its popularity has spurred development at Wendy's, which created the Southwest Chicken Avocado Salad as a way to serve it up to their guests.
The salad, built on a bed of chopped greens, features avocados seasoned with lime and salt. Grilled chicken breast, diced tomatoes and applewood smoked bacon top the salad, which is then garnished with pepper Jack cheese and dressed with a zesty Southwest ranch dressing.
"Wendy's R&D team wanted to incorporate avocado into a salad because of its heightened popularity," says Shelly Thobe, Director of Culinary Innovation. "Avocados are being used more and more in personal dishes at home, as well as across restaurant menus, giving the fruit some serious consumer appeal. Similarly, Southwest flavors are approachable, and create excitement in a salad."
The use of avocado has also inspired a Southwest Chicken Avocado Sandwich, featuring the same bold and zesty flavor profile between two premium buns.