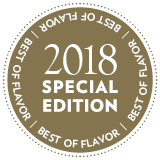 In the world of condiments, chow-chow, also known as cha-cha, stands out with its Southern charm. This pickled relish is sweet, vinegary and hot, and plays counterpoint to many Southern favorites, like the ones served at South Kitchen & Jazz Parlor.
"Chow-chow, or cha-cha, has a savory flavor profile that has a nice spice effect when it hits your palate while eating some black-eyed peas, Hoppin' John or collard greens," says Donnell Jones-Craven, Executive Chef.
His version sees fresh green tomatoes, cabbage, celery, onion, bell peppers and jalapeño cooked down with sugar, water, pickling spice, celery seed, dry mustard and turmeric. "If you close your eyes, you sense the smell of turmeric, mustard and vinegar, and you know that you're on your way to a good batch of cha-cha," he says.
The relish adds a bright, acidic, sweet and sour foil to many Southern dishes. "It goes quite well as an accompaniment with these dishes that many people are not familiar with," says Jones-Craven. "It has the appeal of a good pico de gallo that accompanies guacamole with sizzling fajitas."
Chow-chow is one of those homey touches that pulls in a warm sense of place. "It makes you think of the significance of family ties, traditions and fellowship, which we all need to help us stay connected to one another," he says.
"That's what food does—it connects us to our roots, our heritage, our being."