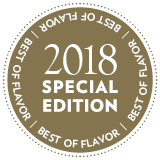 Ramen is certainly enjoying its day in the sun. From no-broth ramen dishes to global takes on this Japanese staple, ramen is everywhere—thanks to its savory, complex and comforting base.
Mŏkbar, with locations inside Manhattan's bustling Chelsea Market and in Brooklyn, menus a Korean take on ramen. The Mŏkbar Classic, featuring pork and ramen noodles in a broth teeming with Korean flavors, is a hit.
"It's our most popular dish," says Chef/Owner Esther Choi. "It's many of our regulars' go-to."
The dish begins with Mŏkbar 's classic housemade broth, which merges Japanese broth with Korean ingredients. Pork bones, chicken bones, chicken feet, and trotters are boiled to give the broth meaty flavor.
Then come dried anchovies, dried kelp, shiitake mushrooms, onions, carrots, celery, spinach, bean sprouts, scallion, nori and gochujang.
Braised pork completes the savory profile. Says Choi, "It has everything you want in a bowl."
With optional add-ins like a poached egg, bulgogi and various kinds of kimchi, customization adds further depth and Korean influence to each bowl, making this global mash-up a signature dish and bankable success.