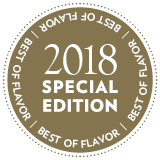 Brennan's, a Southern California pub, offers eclectic takes on casual fare, from a Spicy Chicken Melt sporting harissa aïoli and red-wax Gouda to a Radish Panzanella with breakfast radishes, croutons, pickled red onions, a soft egg and sauce verte. But one of its most compelling offerings lives on the sweet side of the menu.
The Butter Cake with seasonal fruit and vegan honeycomb ice cream is both delicious and completely plant-based—a bold move considering that the very name implies dairy-laced decadence.
"After the first bite, the response is often a mix of sweet bliss quickly followed by disbelief that it's actually 100 percent plant-based," says Chef Kyle Brown. "Upon cracking into its caramelized sugar crust reminiscent of crème brûlée, you reach the center of the butter cake's warm, rich, cheesecake-like core."
Achieving the consistency and promise of butter cake on a vegan scale required meticulous research. "I spent two months of trial and error, tweaking measurements, testing vegan substitutions—like flax versus chia versus tofu 'eggs,' as well as soy-based or coconut-based vegan cream cheeses—to create the perfect butter cake recipe," he says. The winning combination remains proprietary, but the result has been a huge success.