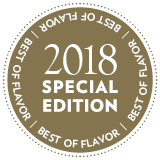 Minigrow and its larger sister concept Honeygrow are fast casuals that specialize in customizable noodle dishes and stir-fries, respectively. Minigrow offers an array of "umami-spiked vegetables" and "labor-intensive ingredients," from shiso basil pesto and slow-roasted pork shoulder to togarashi ranch and dashi-poached salmon. It's all about customer-driven experience—well, almost.
The Chicken Jawn is the exception, a curated entrée of fresh three-wheat noodles, whole roasted chicken, sweet-and-sour onions, black truffle, miso corn, chives and Parmesan. No substitutions allowed.
"This is our star dish. It doesn't allow for any modifications or substitutions—we believe the flavorful components all add up perfectly," says Justin Rosenberg, CEO and Founder. "Like the word 'jawn'—this dish 'is what it is,' and it rewards believers with an indulgent, comforting, wholesome combination of savory flavors."
The noodles are tossed in tare (a soy-based sauce) and vegetable stock, then topped with hand-torn roasted dark- and white-meat chicken, sweet-and-sour onions (roasted in oil, balsamic vinegar, clover honey), miso corn (miso, butter, ginger juice, salt), black truffle, chives and Parmesan.
"This dish is very rich with a buttery, earthy flavor," he says. "It's a top seller. It can be ranked up there with the best noodle dishes at any restaurant, coming out in under two minutes and under $15."