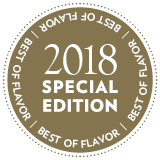 Diners can taste what the nose-to-tail movement is all about, just by ordering the Pork Tasting charcuterie board at fine-dining steakhouse Rare Steak and Seafood.
For the shareable plate, Executive Chef Marc Hennessy utilizes naturally raised heritage pork from the Shenandoah Valley in Virginia. The board stars pâté, slow-cooked belly, chicharrón and lardo.
"This dish allows the guest to have four different flavor experiences, with different techniques building complex levels of flavors due to the varied cooking and spicing styles: pâté with nutmeg and brandy; belly with black peppercorn and mustard; skin with dried yellow chile; and lardo with fat and salt," says Hennessy.
"Plus, it showcases the ways non-luxurious parts of the animal can still be enjoyed, and that no piece needs to go to waste." Hennessy pays close attention to the textural contrast and flavor complexity of all his dishes. "I think the dish will change seasonally—especially as the relationship with my producer changes," he says.
"I like to keep moving forward, and I love teaching my culinary team these techniques."