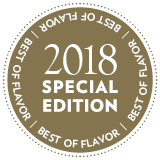 Catering to carnivores, barbecue joint Blue Oak BBQ offers The Doobin Lubin, which marries pulled pork or brisket with smoked sausage in a sandwich bursting with flavor. "It's the best of both worlds with the sausage and brisket combination of flavors," says Co-owner Philip Moseley.
The double quantity of meat is also a draw for this fan favorite. Guests' choice of oak-smoked prime brisket or pulled pork is combined with house spicy green-onion sausage on a sesame seed bun. That spice is tempered with the cool and refreshing pop of ginger-sesame coleslaw.
Pickles and raw onion finish things off with a crunchy tingle, rounding out a profile that delivers a well-balanced array of flavors and textures.
New Orleans natives Moseley and Co-owner Ronnie Evans opened Blue Oak BBQ in 2012, and are part of the city's burgeoning barbecue scene. Blue Oak started as a pop-up at a bar, then evolved into a brick-and-mortar shop in 2016, one of many new barbecue joints that demonstrate barbecue's rise as a major player in regional cuisine.
There appears to be little reason to modify The Doobin Lubin anytime soon. Says Evans, "It will probably have to stay as is or there will be riots in the streets."