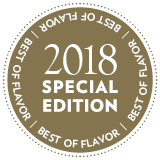 One of DogHaus' most popular menu items exemplifies the principles of a successful fast casual: a premium version of a familiar item that showcases attention to detail, from sourcing to flavor execution.
The Sooo Cali dog is made up of antibiotic- and hormone-free beef with no added nitrates, and topped with wild arugula, avocado, tomato, crispy fried onions and a spicy basil aïoli. It's served on a bun of three connected King's Hawaiian rolls for a slightly sweet finish.
"The Sooo Cali is a perfect balance of freshness and crunch," says Ilan Hall, Chef Collaborator. "The spice from the aïoli and arugula are a perfect foil to the bite of the dog. Then you have avocado and tomato, which round everything out with creaminess and acidity, and onions, which add texture and sweetness."
Hall says this build is a perfect celebration of Southern California, with attention to well-crafted fast-casual comfort food. "It stands out with many toppings guests wouldn't expect to find on a hot dog," he adds.
Even though the Sooo Cali is one of his favorite menu items, Hall feels there is always room for improvement. "The spicy basil aïoli is something I'm trying to rebuild. I want to keep everything that's great about it, and also amp it up a little," he says. "By upping the quantity of jalapeños, introducing wasabi for nasal spice, and adding lime juice, all ingredients get enhanced and everything is greener and brighter."