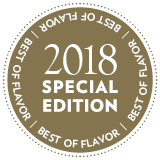 For many diners, the idea of hearty, flavorful barbecue doesn't jibe with clean and healthful eating. But the Comfort Food Bowl manages to combine those elements in a warm bowl of goodness. Square Roots Kitchen, a fast-casual lunch spot, aims to deliver health-conscious foods that satisfy not only restricted-diet customers, but also those who simply want something tasty.
The Comfort Food Bowl starts with a base of warm quinoa and the house spice blend. Juicy pulled pork goes on top, along with housemade spicy corn, black beans, cheddar and barbecue sauce drizzle.
"The dish is supposed to be evocative of that warm barbecue flavor, but with our spin on it," says Derin Alemli, Founder and CEO. "It's comfort food, but it's not terrible for you—it's made with clean ingredients and clocks in at under 900 calories."
He says the bowl was one of the restaurant's first menu items and has been a staple ever since. "It tastes great, like a home-cooked meal, and it's filling, but it doesn't leave you feeling like you just ate a Thanksgiving dinner."
A similar Spicy BBQ Wrap is also on the menu, and a family-style version of the Comfort Food Bowl is offered up to catering customers.
"We're exploring ways to get our pulled pork into other dishes," says Alemli. "It's definitely a hit!"