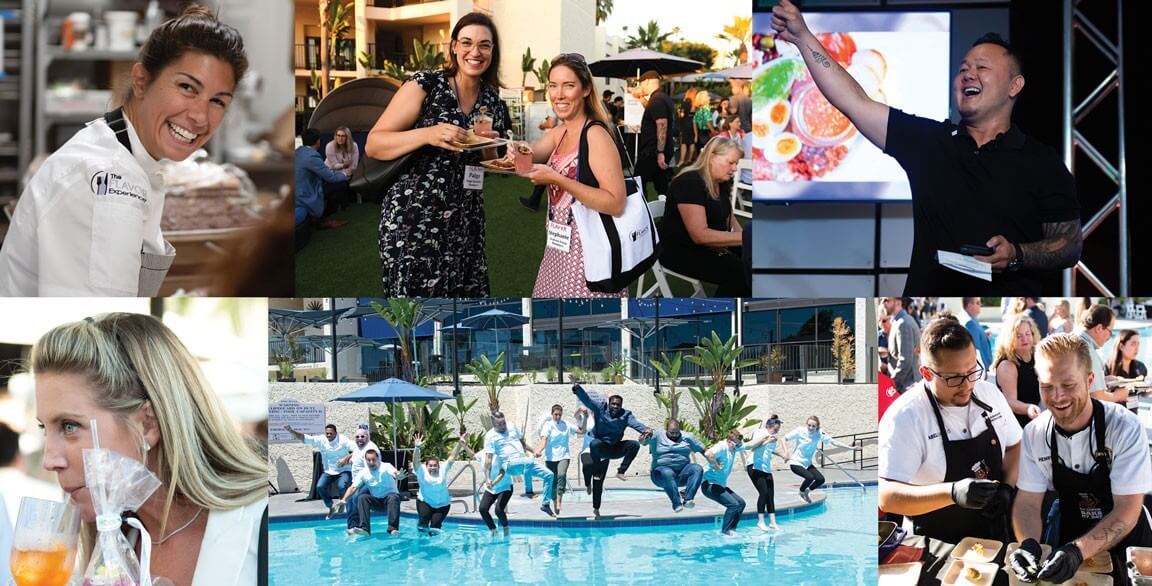 By Flavor & The Menu
September 10, 2019
Something special was in the air at this year's annual Flavor Experience, hosted by BSI Conferences, Inc., in partnership with Flavor & The Menu. The atmosphere was super-charged, reflecting back and looking forward as this singular event celebrated an impressive 15 years.
BSI President Sharyn Iler kicked off the event, explaining how the Flavor Experience has built a trusted path among menu developers, garnering a reputation for its laser focus on the business of flavor strategy. Serving up exceptional content and trend-forward food and beverage, this three-day event, held each August in Newport Beach, Calif., brings together thought leaders, chefs, marketers, colleagues and friends.
Consistent with prior years, the food and beverage offerings delivered on the trend-forward, flavor-first promise. Throughout the event, tastes were served up in innovative builds of katsu sando, kushari, okonomiyaki, shawarma, yakitori, a kokumi tasting, and much more.
On the beverage side, creative interpretations of all forms of drinks also inspired, from inventive nonalcoholic offerings to clever innovations around spritzes, interactive cocktails, cheese-capped beverages and more.
Throughout the conference, a through line of modern menu development tied together ideas around plant-forward eating, new opportunities in beverage trends, consumers' changing dining preferences, delivery challenges and street-level trend tracking, to name a few.
As always, the Flavor Experience took attendees on a magic carpet ride into the future, helping them gain a competitive advantage with food and beverage trends that will shape menu development in the coming years.
Breakfast Breakouts
Maeve Webster of Menu Matters provided a close look at influences in the dynamic breakfast space, from shifting eating patterns to global flavors. She called out a number of surprising flavors and dishes that have shown significant growth on breakfast menus over the last four years:

Street Talk
Gerry Ludwig, corporate consulting chef for Gordon Food Service and Flavor & The Menu contributor, once again spotlighted menu opportunities. He walked attendees through his street-level research, distilling trends by highlighting common themes found in new restaurants in New York, Los Angeles and Chicago.
Among the 14 categories of opportunities: katsu sando play, African cuisine, innovations in bread-and-butter service, and modern French dishes.
Flavors that inspire
A true festival of flavors—attendees enjoyed inspiring, innovative, trend-forward bites. Examples included:
Chicken Kayu: Sake-poached chicken, shiso pesto, schmaltz furikake, sea bean
Galbani Bel Paese Cheese, Roasted Pepper and Onion Okonomiyaki
Paneer Taco with Pickled Mango Slaw
Mortadella Katsu Sando
Impossible Tinga Tostada
Turkish Kofte Meatball with Beet Tzatziki
Harissa-Spiced Cassoulet
Miso Umami Egg Salad Sando
Seared Aussie Grass-fed Beef Kitfo Crisps
Warm Moroccan Hummus with Crispy Chickpea Rotini
Korean Gochujang Shawarma BBQ Beef Tacos
Mini Loaded Halloumi and Za'atar Baked Idaho Russet Potato
Mango Cake with Cardamom Buttercream and Brûléed Mango
Portuguese Malasada Stuffed with Sweet Mango Cream and Dusted with Lime Powdered Sugar
Is hummus the new queso?
Jack Gibbons, COO/President of Front Burner Brands, during a trends roundtable hosted by Flavor & The Menu's Cathy Nash Holley.
Diving into Seafood
"A narrative around foods that restore our health is a powerful one," said Barton Seaver, chef, author and sustainable seafood expert. In his keynote address, he talked about the amazing stories behind seafood that can be shared with diners, and described the vast opportunities just waiting for discovery in today's oceans.
"Out of 700 species caught, we generally eat only 10," said Seaver, author of titles such as American Seafood: Heritage, Culture & Cookery: From Sea to Shining Sea (Sterling Epicure, 2017) and Two If By Sea (Sterling Epicure, 2016).
He highlighted innovation opportunities in seafood, drawing a line between the diversity of species and menu differentiation.
The Team that makes Flavor Happen
BSI Conferences, Inc., led by Bruce & Sharyn Iler, has proudly helmed the Flavor Experience since its inception 15 years ago. During that time, the food and beverage teams have grown to execute spot-on delivery on the promise of top-notch, trend-forward flavor experiences. Photographed are the culinary team (left), led by Valeria Molinelli, and the beverage team (right), led by Barbara Akin (both seated to Sharyn's right).
A Generational Thing
Datassential's Jack Li and Colleen McClellan explored the fascinating phenomenon of a changing food landscape, thanks to migration patterns of two of the largest demographics: Millennials and Boomers.
As these generations cross into each others' traditional territories—cities and suburbs, respectively—the team reported on a few menu opportunities that appeal to both sets of consumers. Each of these food concepts score high with both Millennials and Boomers:
Inspiring Beverages
With incredible flavors and stunning eye appeal, cocktails and nonalcoholic drinks were among the favorite elements of the event for attendees.
Watermelon Cheese Fluff Tea: Fresh watermelon juice infused with white oolong tea, honey and dill, topped with savory cheese foam and matcha powder
Umami Maria: Bloody Mary loaded with umami, spiked with Spanish chorizo-infused vodka
Tura Lemon Squeezy: Tura Blueberry Ginger Kombucha with Effen Rosé Vodka, fresh, grilled lemonade, ginger
Golden Sun: Sipsmith Gin, Monin golden turmeric syrup, fresh lime, mango essence, coconut milk foam, cardamom bitters mist, 24k gold finish
California Walnut Super Shake with purple yam, walnut milk, chocolate malt
Blue Moon Dreamsicle: Lemon-lime soda with blood orange purée, Hendrick's gin, vanilla almond milk foam
Prickly Dragon: El Tesoro Blanco Tequila, dragon syrup, mezcal, fresh lime, snapdragon and citrus garnish, served in a cocktail bag
De/Re Tox: Veev Açaí Liqueur, aloe liqueur, coconut water, fresh lime, Perrier
Unpacking Delivery Opportunities
Offering delivery is a growing necessity. As much as it is an opportunity for revenue, it also presents challenges.
Melissa Wilson, principal at Technomic, moderated a panel of operators in the trenches, developing solutions and systems to streamline their off-premise businesses.
Great insights were shared by Brandy Blackwell, director of off-premise and catering for Dunkin' Brands; Efrem Cutler, senior director of product development/corporate executive chef with Bloomin' Brands; Brad Kent, chief culinary officer with Blaze Pizza; and Mindy Armstrong, director of menu strategy & innovation with Buffalo Wild Wings.
The Big Picture
What are nine macro trends influencing menu development in both food and beverage? Flavor & The Menu's Cathy Nash Holley, Maeve Webster, president of Menu Matters, and Kathy Casey, president of Kathy Casey Food Studios – Liquid Kitchen, shared forward-thinking and valuable context while describing the foodservice landscape—both today and tomorrow—in nine significant themes.
Webster painted a picture of Gen Z, saying, "They are not Millennials 2.0. They are realists, and they save money. When they do spend money, it's on food."
Casey highlighted the opportunity in "old school meeting new school." "Younger generations love the heritage of retro dishes, while older generations hold an emotional tie to them," she said.
Holley discussed an important swing in beverage preferences, sharing a newly coined term, "sober curious." "Brands are making sobriety cool, and expanding the possibilities in nonalcoholic menu development," she said.
CORE Families
The official charity of the Flavor Experience, CORE provides support to families of restaurant employees. Its executive director, Lauren LaViola, reported that the organization has raised a record $1 million over the last year, helping 200-plus families with grant supports for mortgage, rent, utilities and more. BSI's Sharyn Iler presented a donation of $13,000 to help continue that important work.