The Flavor Experience could really be called a flavor festival, because although this three-day conference is packed with menu-ready ideas and useful consumer insights, it feels like a giant celebration among friends.
Hosted by BSI Conferences, Inc., in partnership with Flavor & The Menu, this celebration, held each August in Newport Beach, Calif., brings together foodservice professionals from all segments. It features presentations, discussions and tastings that all hone in on the wonderful business of flavor.
Throughout the event, attendees were able to see around corners, exploring trends that will impact their menu development in the years to come, and, thanks to flavor-forward food and beverage sponsors, they were also able to sample an impressive array of on-trend bites and sips.
Under the guidance of Executive Chef Val Molinelli and Commer Beverage's Barbara Akin, the food and beverage menus provided an abundance of inspiration, ensuring flavor was indeed the focus throughout.
What follows is a collection of highlights and takeaways from the 2017 Flavor Experience.
Word on the Street
Gerry Ludwig, corporate consulting chef for Gordon Food Service and Flavor & The Menu contributor, kicked off the conference with his high-octane, trend-packed session, where he took us on a street-level tour of seven menu-ready trends, including 'nduja, global fried rice, boozy cereal milk and veg-centric: year three.
"Veg-centric is a unique opportunity that still escapes a lot of operators," he says. He also mentioned that when approaching modern vegetable cookery, it's important to lose the "meatless mindset," leveraging savory, rich accents inherent in ingredients like guanciale, country ham and lap cheong.
Next-Gen Flavor
Datassential's Jack Li and Colleen McClellan shared meaningful insights around emerging global flavors. They discussed consumer ratings of foods and flavors, revealing what they love and the ties that bind them.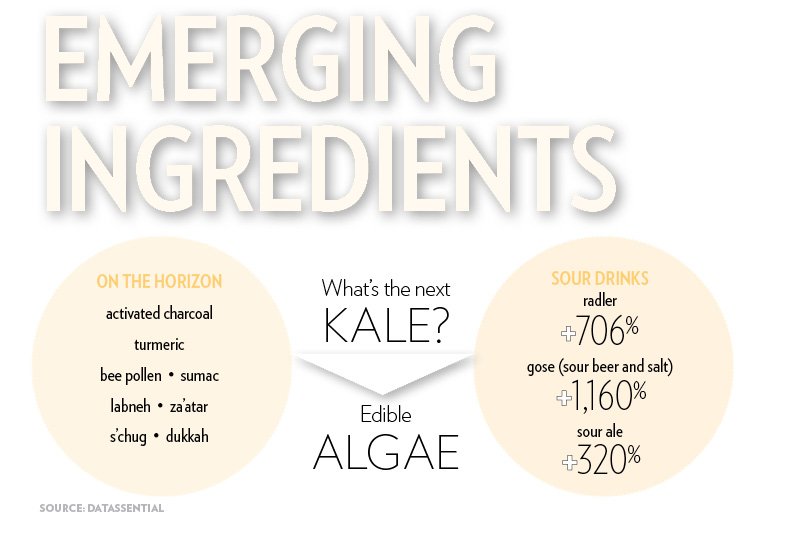 12 Knocking Opportunities
This session featured a fast-paced look at 12 trends that hold wider growth potential. Presented by Flavor & The Menu's Cathy Nash Holley; Maeve Webster, president of Menu Matters, a foodservice consultancy; and Kathy Casey, president/founder of Kathy Casey Food Studios-Liquid Kitchen, highlights included a deep dive into next-level eatertainment, sorghum, sour profiles, the new "spirited" menu and the Millennial mindset.
"Younger Millennial consumers are experiencing foodservice in alternative settings that resonate with their values of efficiency, affordability, customizability and community, and therefore driving change to the overall industry."
Cathy Nash Holley, Flavor & The Menu
Flavors That Inspire
Throughout the event, the food offerings proved to tantalize tastebuds and drive inspiration. Examples included:
Roasted Beet Poke: Roasted beets and tropical fruit featuring poke sauce with toasted sesame furikake
Red Lentil Gazpacho Soup Shooters with tandoori bacon candy
Crab Deviled Eggs with pimento cheese and pickled red onions, capers and micro collards
'Nduja and Octopus Ditalini Pasta Salad with multicolor tomatoes
Veal Yum Nua Lettuce Cups with fresh herbs and a Thai vinegar fish sauce, topped with fresh green mango salsa
Pecan Panko-Crusted Potato Fries with chipotle-maple mayonnaise
Buffalo Masala Fried Cauliflower Tempura served over ghee-infused potato purée and finished with celery leaves and a cool blue cheese drizzle
Shakshuka: Grass-fed beef and lamb, garlic-roasted tomato sauce, poached eggs, pickled sumac onions, fresh cilantro and spicy green herb sauce
Butter Pecan Fried Chicken Ice Cream topped with salted caramel and chicken cracklings
California walnut churros with spiced Mexican chocolate sauce and chopped candied walnuts
Idaho Potato Doughnut Holes with Maldon salted caramel glaze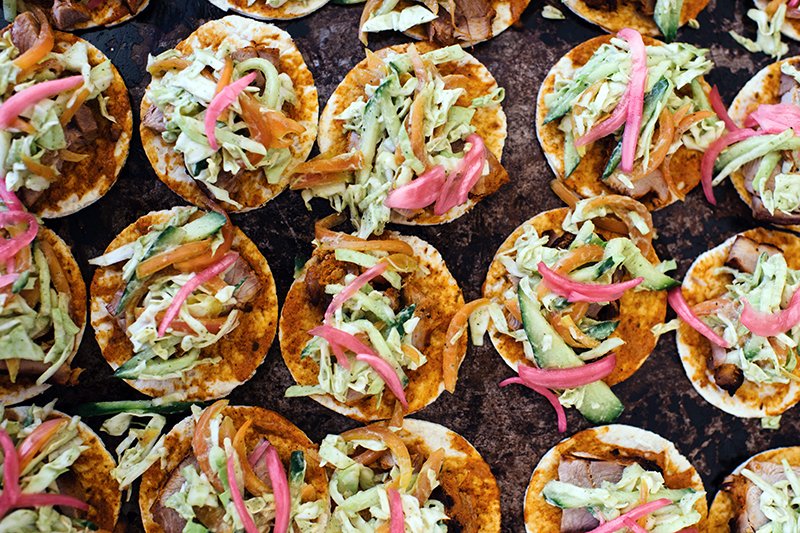 Healthy Menu Makeovers
With modern menu development focusing on mindful builds, this session gave us a taste of forward-thinking R&D. Pam Smith, RD, president/founder of Shaping America's Plate, shared her chef collaborations with chefs Jamie Carawan of Twin Peaks Restaurants and Steve Sturm of Firebirds Wood Fired Grill.
The discussion explored the thought process behind serving high-quality protein in a wholesome dish—without sacrificing flavor. Attendees were able to taste the results—Firebirds' Guajillo Mocha Rubbed Aussie Lamb Chops with red quinoa, spring vegetable pilaf, ancho demi, pumpkin seed pesto and an avocado-coconut-lime popsicle; and Twin Peaks' Adobo Crusted Aussie Skirt Steak with smoked ancient grains, summer sauté of sweet corn and grilled okra, a roasted vegetable ragoût and toasted chickpeas.
"Given the choices of ethnicity, generation, foodie status, income or gender, the top driver of flavor preferences is ethnicity."
Datassential
On-Trend Beverages
An in-depth beverage trends review was new this year, with Brian Masilionis, director, national accounts with Southern Glazer's Wine & Spirits, leading attendees on a trends tour through Chicago, San Francisco, New York and Los Angeles.
He teamed up with Jeff Fromm, president of FutureCast, a marketing consultancy that specializes in Millennial trends. Fromm provided a framework for the beverage trends, looking at them through the "Millennial mindset," a phenomenon that not only tracks this generation's influence on trends, but its influence on other generations' dining behaviors.
"Consumers date brands until they get bored. They expect change, looking for uniqueness, innovation and meaningfulness. Brands should create a culture of innovation to attract diners."
Jeff Fromm, FutureCast
Drinks kept pace with bites throughout the conference, providing attendees with inspired flavors and trend-forward ideas. Examples included:
Hibiscus Agua Fresca: Hibiscus, habanero, cucumber, lime, sumac
Honey Butterfly Tea Soda: Orange blossom honey tea citrus soda, colorful blue butterfly pea tea
Watermelon Frozé: Rosé, watermelon purée and fresh lime juice
Sparkling Negroni: Aperol, Cinzano 1757 Sweet Vermouth and fresh sour; topped with prosecco
Oh, Snap!: Sugar snap peas, gin, Manzanilla sherry, fresh lemon juice, cane sugar topped with tonic water and a spritz of absinthe
Creamy Blueberry Spritzer: Creamy blueberry ice cube made with Greek yogurt and blueberry purée, served with fresh mint and topped with prosecco
Hot Mango Lassi: Mango, yogurt, hot sauce, clover honey, vanilla, spices
Walnut Mocha Shake: Cold-brew coffee, coconut milk, bananas, Medjool dates, cocoa and walnuts
We Deliver
With the on-demand economy growing in leaps and bounds, Technomic's Melissa Wilson and Donna Hood Crecca explored the opportunities and implications for restaurant operators.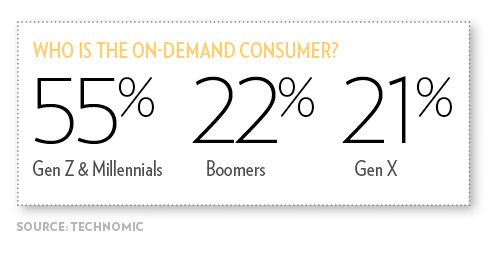 Defining Your Message
This toolbox session, moderated by Katie Ayoub, managing editor of Flavor & The Menu, tackled sustainability, drilling down on efforts that are worth it for brands as well as modern messaging.
Dan Kish, former SVP of Food of Panera Bread and founder of Food-Fixe, addressed the importance around the idea that "it's a journey, not a destination," and that it's actually valuable for brands to share that imperfect process with their guests.
Steven Goldstein, CMO of Sharky's Woodfired Mexican Grill, shared how that brand is evolving its message and reaching for younger consumers.
And Dave Zino, executive chef of the Beef Checkoff, provided valuable data and insights on what Millennial consumers are looking for in their menu selections.
Robot Revolution
Foodservice is the next frontier for robots—whether we're ready for it or not. Jack Li, Datassential, and Deepak Sekar, CEO/founder of Chowbotics, took us down the rabbit hole, exploring the automation revolution and what it means for foodservice.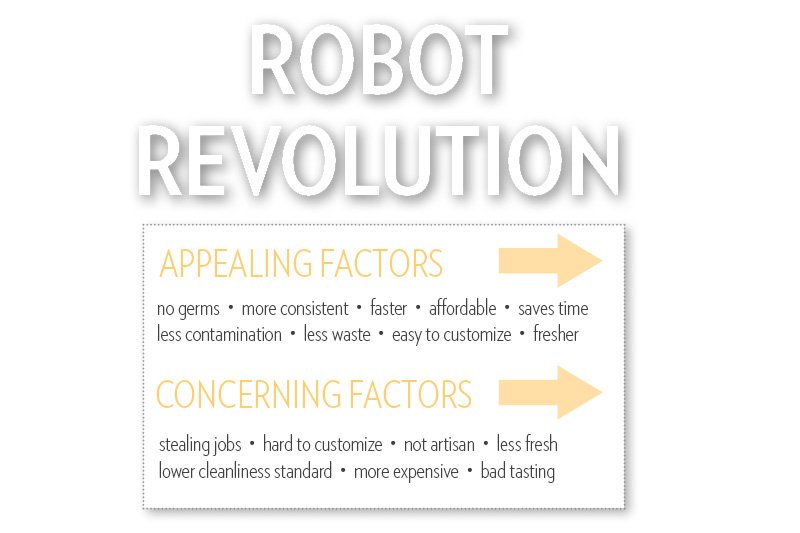 Winning LTOs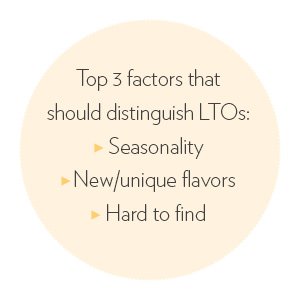 In a hands-on toolbox, Datassential's Colleen McClellan dove into the creation and marketing of a successful menu item, with teams creating an in-theory menu concept, applying their own creativity to the principles laid out in the session.
A consumer survey, conducted overnight, determined the "Best Cluckin' Croissant" a solid winner based on the proposed menu description: "This next-level grilled cheese features rotisserie chicken, applewood-smoked bacon and a blend of burrata, mozzarella and smoked cheddar cheeses, served on a flaky croissant with a balsamic onion jam."
Through this exercise, attendees learned the cues that can drive trial.
A Worthy Cause
The Flavor Experience has long supported CORE (Children of Restaurant Employees) as its charity organization, in part by raising awareness of its good deeds and also by providing generous donations. This year was no exception, with chef Jet Tila and The Moscow Copper Co. upping the ante to drive engagement among attendees.
For more information, visit coregives.org.