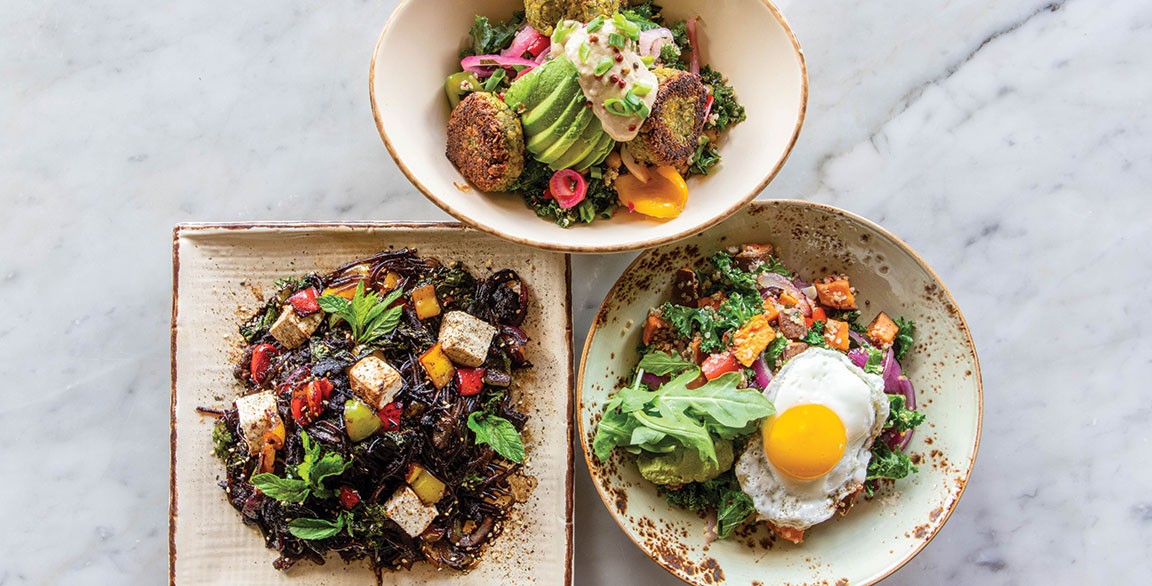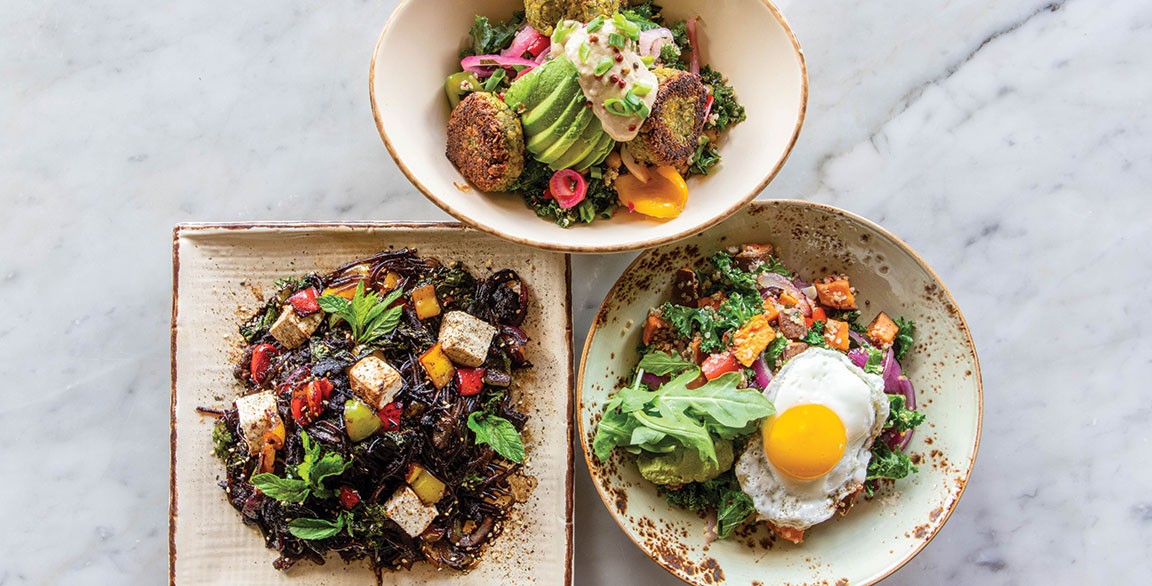 By Katie Ayoub
October 12, 2020
Whether the goal is to create a wholesome dish or an indulgent one, chefs know that in order for it to succeed, it has to be craveable. Craveability is always the brass ring, the prize in the Cracker Jack box. Plant-forward dishes caught fire years ago because chefs applied savvy cooking techniques and flavor development strategies to coax out the best of the Brussels sprout, unearth the potential of a sunchoke and reveal the flavor satisfaction of a bean-centric dish. With plant-forward cuisine's firm positioning in healthfulness already boosting consumer interest, flavor innovation has ensured the rise in consumer enthusiasm.
Mintel reports that more than half of consumers agree that restaurants should offer more plant-based options. The question is: What should those options be? Of course, there's more than one answer, but finding a flavor assist from the global pantry is a sound strategy—especially when trying to woo younger generations.
According to Datassential, 68 percent of Millennials and Gen Z have gone out of their way to try "novel global food."
Creativity in this arena abounds, with chefs melding flavors from India, Thailand, Cuba, Mexico, Malaysia and beyond with familiar formats like tacos, sandwiches, bowls, sides, salads and stews. Today's plant-based offerings that feature global touches lead with bold flavor combinations that intrigue diners and ensure a memorable experience.
Gado Gado, an Indonesian-Chinese restaurant in Portland, Ore., menus Grilled Bali Corn, turning up the flavor with a mouthwatering combination of coconut cream, sweet soy glaze, chile, lime leaf salt, palm sugar and kettle corn.
Handlebar, a comfort-centric vegetarian and vegan concept in Chicago, delivers its modern American spin on Mexican fare with its crispy Fried Avocado Tacos in flour tortillas, filled with cabbage slaw, tomatoes, refried beans, brown rice, salsa verde and housemade ranch dressing. Eastern Mediterranean flavors also show up big in contemporary plant-based flavor play.
Philadelphia street-food bar V Street applies the culinary finesse that elevates plant-forward dishes to craveable bar snacks with its Charred Berbere Broccoli with harissa hummus, chermoula and Nigella seeds.
Also in Philadelphia, Israeli hotspot Zahav pairs an entrée of meaty king oyster mushrooms with smoked tomato tahini and a lentil-and-corn salad.
REACH FOR FLAVOR
Chefs who specialize in plant-centric menus understand what a critical role flavor building plays. Reza Setayesh, chef/owner of BimBeriBon, an all-day café that specializes in gluten-free fare in Asheville, N.C., draws on global flavors in an array of plant-forward dishes. His Mongolian Noodle Bowl is a top seller, starring soy curls, tofu, sweet potato noodles, red onion, peppers and kale in a complex tamari-ginger sauce. "It's a super flavorful dish that my customers like because they're getting a similar texture from the soy curls that they would get from bulgogi beef or chicken," he says.
To achieve that pleasing texture, he rehydrates extruded and dried soy beans in a flavorful liquid of miso broth, coconut sugar, tamari, chile flakes and garlic. "The curls are plumped up, then I sear them for a nice crunch. You get that sweet, salty, umami thing," says Setayesh. He adds more flavor by tossing the sweet potato noodles, soy curls and other ingredients in a sauce made with tamari, ginger, maple syrup, garlic and mustard powder. "The dish is great on food cost, and I can't take it off my menu because it's so popular," he says.
Matthew Luaders, director of culinary R&D for CSSI Culinary, based in Chicago, suggests looking to the bold, beautiful flavors of India for plant-forward menu inspiration. "Indian cuisine is still having a moment on American menus," he says. "Many chefs automatically reach for a lentil variety, but chickpeas and kidney beans also play a prominent role in this hearty and robust cuisine, often replacing animal protein in curry-based dishes or tikka masala."
He suggests creating a chickpea tikka masala with paneer, then building it into a naan wrap or grain bowl, with flavorful toppings like chutneys, pickles and fresh herbs. In fact, beans overall are great flavor carriers, offering a familiar and satisfying base for global exploration. "As beans take on flavor easily, they are a natural fit for big flavors common in world cuisines: hot chile peppers, aromatic curries, umami-rich fish sauce, and so much more," he says. "You can also infuse flavor into the bean itself, like in a miso-pickled chickpea salad or a chamoy-braised kidney bean chili or a sambal-spiced hummus."
GLOBAL FORMATS
Many snacks, sandwiches, bowls, entrées and treats that hail from around the world have made their way onto American menus, cementing their staying power and offering proven flavor systems ripe for transplanting into plant-forward builds. Gabriel Pascuzzi, chef/owner of Stacked Sandwich Shop in Portland, Ore., taps Vietnam's successful export, the banh mi, then successfully moves it into a plant-based application.
His Portobello Banh Mi sees marinated and roasted portobello (tamari, orange, Thai chile, garlic, ginger and scallions), sautéed kale, pickled carrot, daikon radish and cilantro tucked into a toasted hoagie slathered with housemade Sriracha "veganaise" made with aquafaba.
"The sautéed kale with the seared portobello bring a meaty, caramelized flavor to the sandwich," says Pascuzzi. Mission Chinese Food, with locations in Manhattan and Brooklyn, N.Y., twists a classic with its vegan Beet Egg Roll, pairing it with hibiscus duck sauce and hot Japanese mustard, delivering a reliable crispy, savory experience, but in a creative, plant-forward way.
Winning strategies in today's plant-forward menu development dip into the deep well of global inspiration and pull together flavor combinations that are familiar yet surprising, assertive but not alienating. Behind all of the flavor intrigue and global discovery, it's the drive to eat more plants that propels this movement forward.