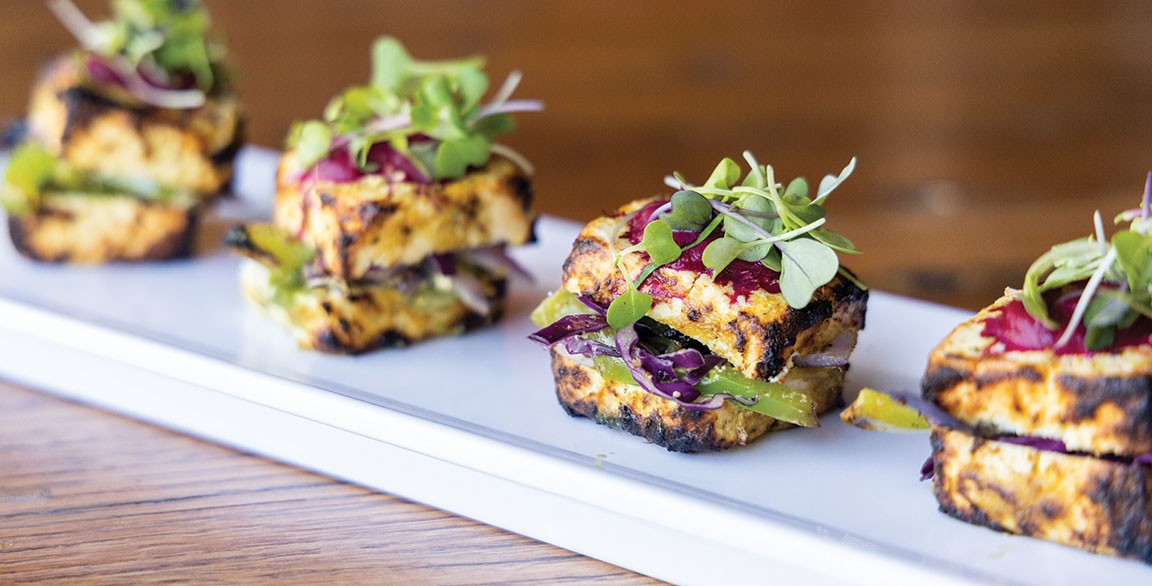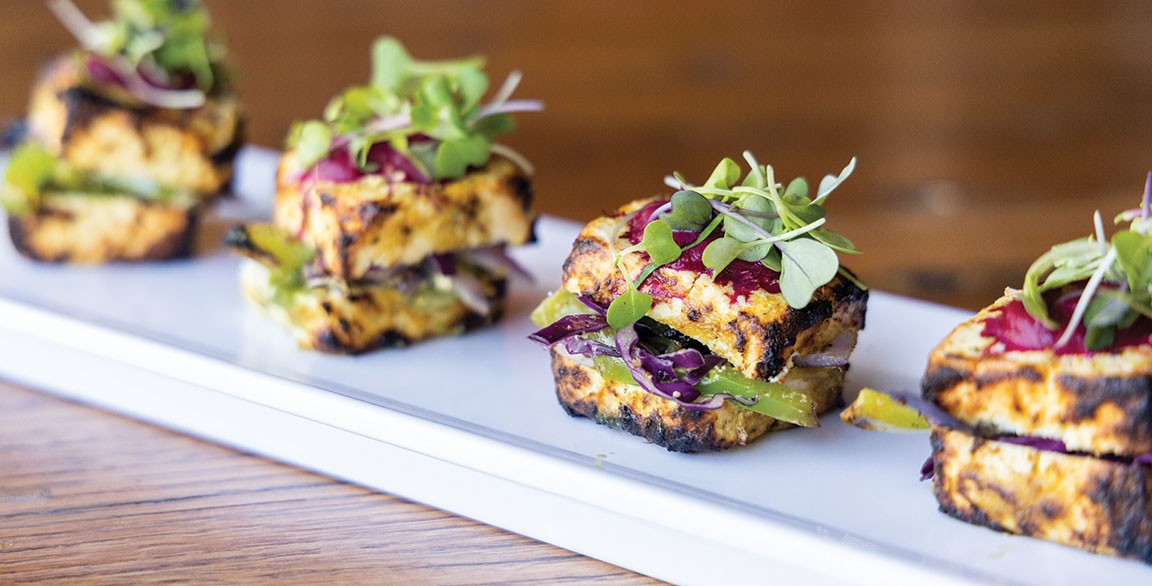 By Flavor & The Menu Staff
October 11, 2020
The trend of mashing up international flavors with brunch fare and introducing global ingredients and dishes continues, thanks to a deft balancing of the intrigue in new experiences with the comfort of familiar favorites. Plant-forward recipe development finds a natural home in the brunch space, with a number of factors driving its growth—from the interest in functional wellness and flexitarianism to the craveable flavor development inspired, in large part, by world cuisines.
Urban Village in Lone Tree, Colo., a fine-dining restaurant that draws inspiration from Indian street food, offers a number of flavorful plant-forward options. Its showstopper is the Makrut* Lime Paneer Tikka, char-grilled paneer marinated in makrut* lime yogurt, lemongrass, ginger and garlic, then cooked in a tandoor.
Executive chef Charles Mani serves the dish as a slider, adding a salad of red apple, fresh ginger and mint-cilantro purée in between two wedges of the paneer. "The flavors are bright and complex," he says. "It's a very satisfying bite."
He also features the aromatic spices and ingredients of India with familiar American brunch fare in dishes like his Village Style Omelette with tomato, onion and green chile pepper, dusted in turmeric powder. His Vegetable Masala "Burger" boasts big flavor, featuring a Southern-style potato-and-corn patty seasoned with turmeric and garam masala, along with ginger and gluten-free breadcrumbs. It's deep fried and served with lettuce, tomato and a mint-cilantro purée.
"The breadcrumbs give it a cutlet-like texture, so it's crunchy on the outside but the potato makes it soft on the inside," says Mani.
* While "kaffir lime" has long been an accepted culinary term, it is known as a racist term in South Africa and other countries. Flavor & The Menu has updated our style sheet, using the Thai-derived term "makrut lime" in its place. https://www.merriam-webster.com/dictionary/Kaffir