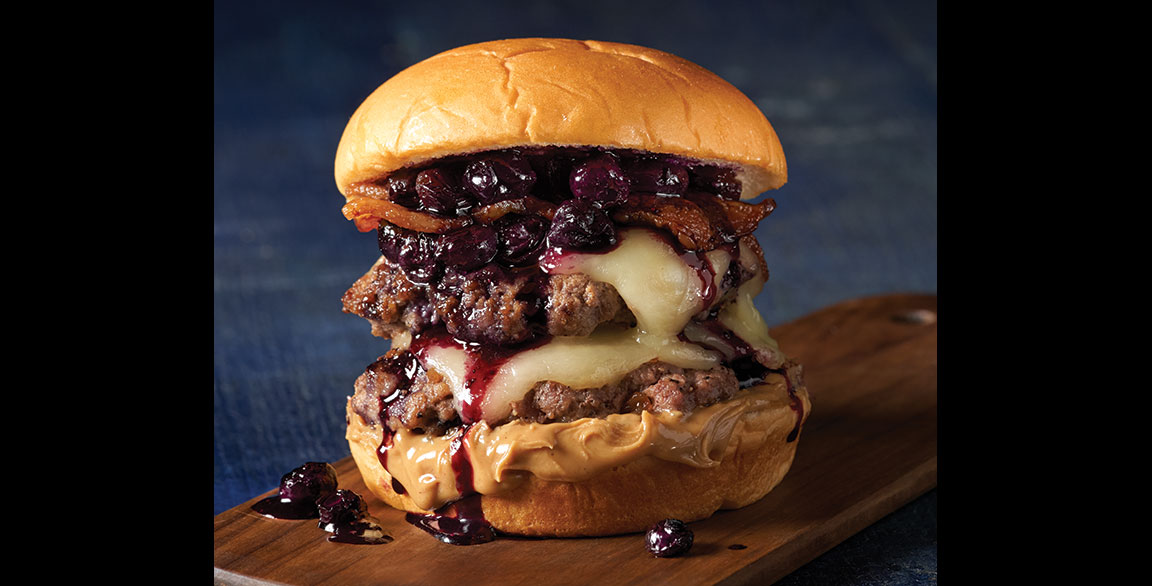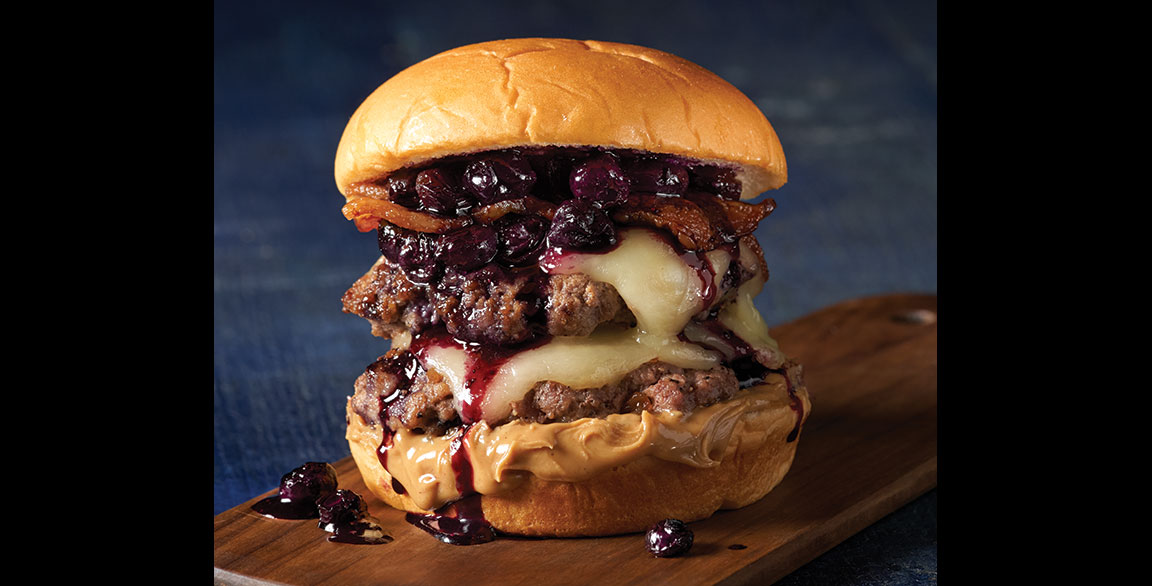 By Katie Ayoub
October 8, 2020
Chefs today are navigating new rules on a different playing field. In order to win, they're tightening menus, optimizing ingredients and cutting labor, all while keeping their focus on captivating diners with signature-yet-familiar builds. With that in mind, chef John Franke, on behalf of the Boulder-based SRG Culinary Council, set out to work on developing a recipe that met those requirements.
Franke's head-turning PB&B Burger levels up an American classic. He pulls in peppered bacon and creamy peanut butter—two iconic pantry staples—and introduces an artisan touch with sweet-tart blueberry jam. Caramelized onions, white American cheese and two beef patties on a King's Hawaiian hamburger bun round out the profile.
"The jam adds a tangy, cooling contrast against the peppery bacon and savory beef, and the peanut butter lends a softer flavor," says Franke.
This burger wins with diners because it gives them the comfort, intrigue and flavor they seek. It wins on the operations side because it optimizes on-hand ingredients. In particular, the blueberry jam offers unique flavor impact and menu versatility. To make the jam, Franke sources IQF blueberries, relying on their structure.
"They keep their shape and texture for the most part while cooking slowly. In addition, they produce an optimal amount of moisture for the right jam consistency with a minimal amount of thickening agent," he says. He suggests savory applications for the blueberry jam beyond the burger, including as a condiment for roasted meats, deli sandwiches and breakfast classics.
For a modern spin on an Eastern Med favorite, he likes including blueberry jam in tzatziki, then drizzling it over lamb shawarma in a puffy pita.
THE BLUEBERRY JAM
Whole blueberries add unexpected bursts of flavor.
THE PEPPERED BACON
Substitute with a brown sugar-red chile spiced bacon.
THE PEANUT BUTTER
Introduces an unctuous saltiness.