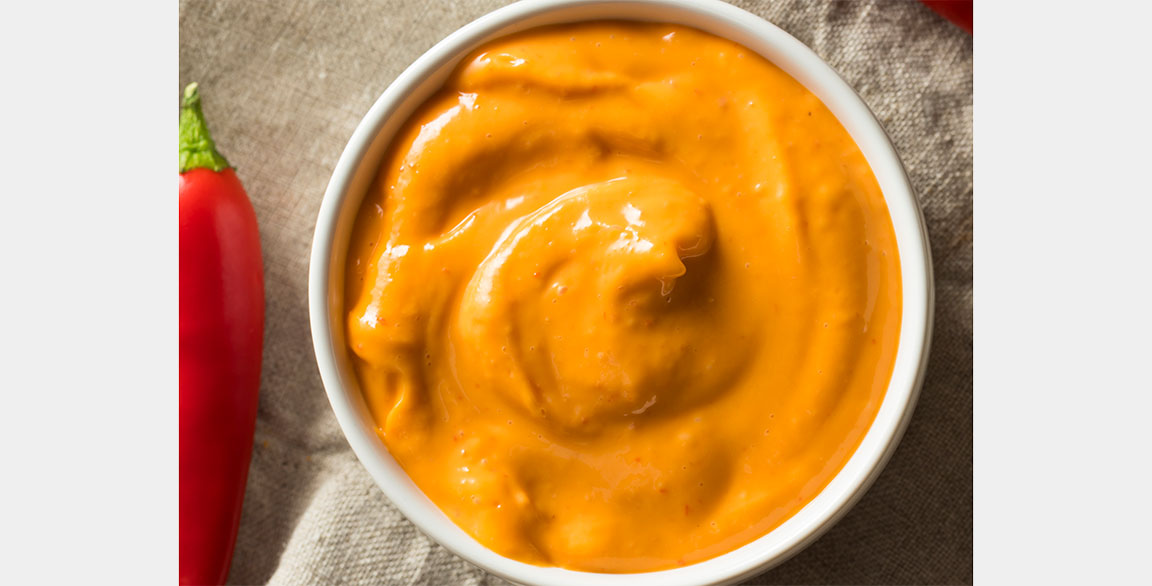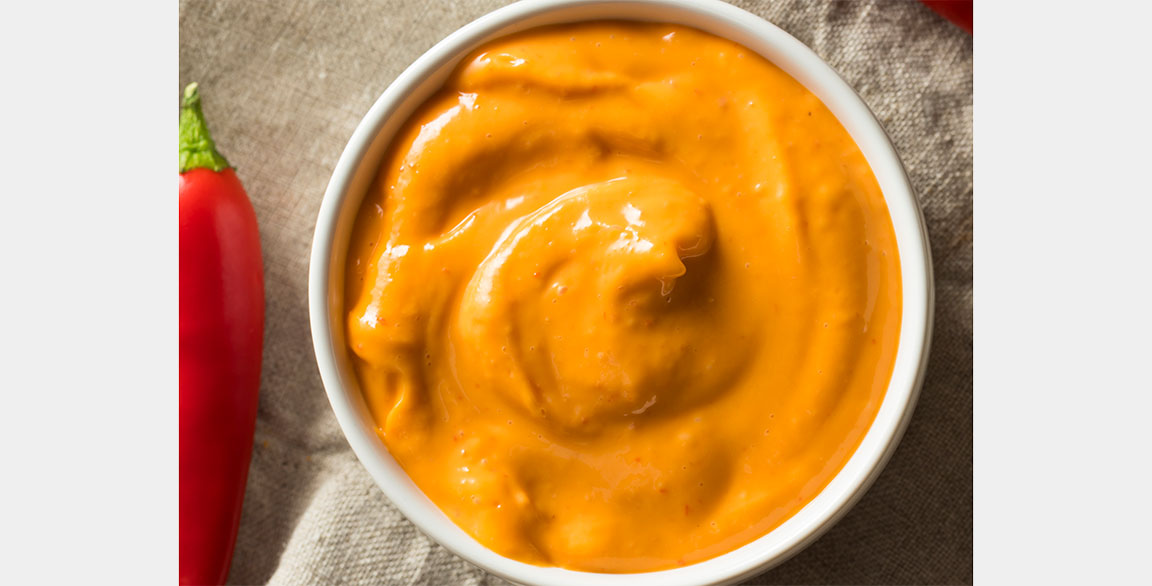 By Patricia Fitzgerald
October 28, 2021
As the American love affair with spicy heat grows deeper and more enduring with each passing year, operators are turning up the temperature across the menu in response. This includes offering trend-forward dipping sauces that give a welcome kick to items prime for dunking and elevating their crave quotient.
"From a younger consumer point of view, extreme heat is considered something to brag about," says Maeve Webster, president of Menu Matters, a leading foodservice consultancy. In addition, she notes, the stress of the pandemic is another key factor driving the demand for spicy taste experiences. "Extreme heat can be a way to throw caution to the wind and fly in the face of nearly two years' worth of anxiety and threat. So, I'd expect this trend to continue over the next couple of years."
Research from Datassential tells an impressive tale about the domination of spicy hot flavor profiles in dipping sauces. Tracking menu mentions over the last four years, Datassential found a whopping seven different flavor systems increasing their presence in the dipping sauce segment with triple-digit percentages:
Nashville Hot : +261%
Green Chile: +261%
Manchurian: +152%
Gochujang: +122%
Chili Garlic: +117%
Red Chile: +111%
Spicy Honey: +102%
Menu trend-watchers won't be surprised to see that several of the top-ranked dip flavors are rooted in Asian cuisines, which have heat levels that tend to outstrip traditional American profiles. "This is where a lot of the really challenging peppers are coming from, as well as some of the hottest sauces and preparation styles," says Webster.
Regional Heat
Given that chiles come pre-packaged with a cuisine-origin backstory that can be easily recognizable to consumers, chile-spiked dipping sauces are a savvy way to bring a regional touch to the menu. The classic French dip gets a Southwest spin in the Spanish Hot Chile Dip sandwich at Albuquerque's Church Street Café. Housed in Casa de Ruiz, one of the oldest structures in New Mexico, the menu offers traditional Southwestern fare with signature tweaks. The sandwich is loaded with shredded top round roast and served with housemade red chile dip, a signature recipe, allowing customers to dip the sandwich for a kick of heat to their liking.
And while there is a distinction between dips and dipping sauces on menus, it makes sense that menu developers are applying more heat to shareable dips, too.
There may be no menu frontier left that Nashville Hot hasn't already conquered, with its role as a fiery flavor coating firmly established. However, there remains plenty of opportunity in its usage as a dip. At Anzie Blue, a restaurant and coffee shop in Nashville, the Nashville Hot Chicken Dip is one of the most popular dishes. This is the restaurant's take on Buffalo chicken dip, given a regional spin with spicy Southern fried chicken blended with cream cheese, sour cream and sharp cheddar for a creamy, craveable shareable with a kick of heat. It's served with fried pita chips for dipping.
Green Chile-Artichoke Dip spices up the starters menu at Campus Lounge, a Denver landmark now in its fourth iteration serving New American cuisine in a family-friendly environment. With the regional green chile profile giving an intriguing spin to this classic dip, which is served with carrots, celery and garlic toast points, this is the perfect shareable for nearby college students.
Whether giving classic dip recipes new energy or introducing patrons to new-to-them global dishes that feature spicy dipping sauces as an essential component, this menu category can serve as an effective entry point for flavor exploration. "Even over the course of the pandemic, when we saw both consumers and operators taking less risks and choosing more familiar foods, there were numerous spicy flavors and sauces that continued to increase their menu penetration," says Mike Kostyo, trendologist at Datassential.
To attract diners already further along the flavor comfort curve, spicy dipping sauces provide operators with opportunities to demonstrate their commitment to innovation. "You can't just put jalapeños on nachos and call it a day," says Kostyo of the impact these flavor boosts can have in menu distinction. "Consumers want more complex spicy flavors, particularly from global cuisines, and a little heat in dishes where you might not expect it."