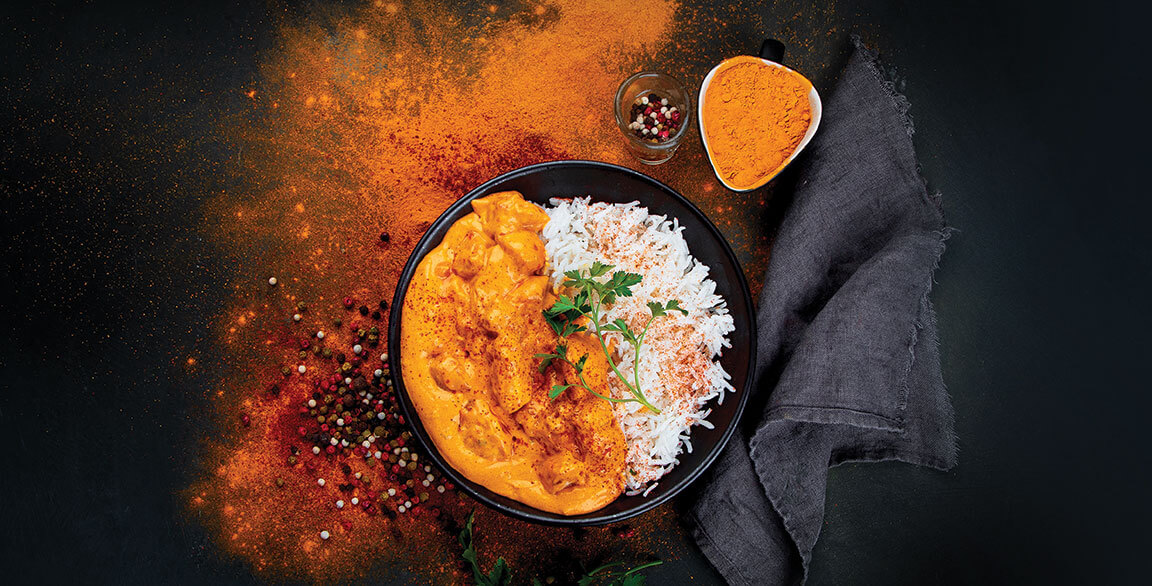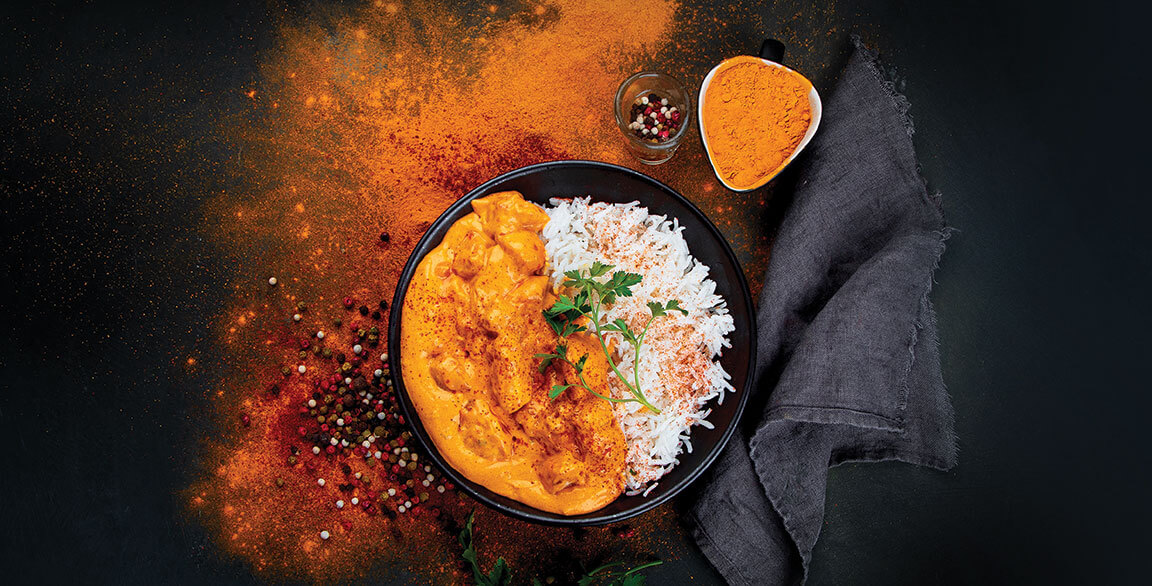 Intriguing, assertive, redolent, aromatic and punchy flavors from North Africa, the Middle East, India, Latin America, Asia and the Mediterranean are informing menu innovation and driving consumer excitement. Foodservice operators are tapping deep wells of culinary creativity in translating and introducing different flavor profiles to an eager audience. Seasoning blends are an effective tool to elevate the ordinary, add authenticity and address consumer cravings. In fact, consider upping the ante by creating housemade seasoning blends, adding a signature spin and lending that valued artisan appeal.
Versatility is the operational hallmark, pulling seasoning blends into new areas of the menu. Consider the success of everything seasoning as impetus for experimentation—it has moved well beyond its original confines as a bagel flavor.
Here, we offer ideas to extend the use of global seasoning blends by dipping into the unexpected, with the goal of creating indelible food moments.
1

Furikake

This Japanese blend of seaweed, bonito flakes, sesame seeds and salt is a versatile finishing topper sure to generate attention. Leverage its umami punch, subtle crunch and the influence of Asian flavors to add surprising intrigue across the menu.
Try This >
Tokyo Bee's Knees: Sakura gin + honey + lemon juice + furikake-rimmed glass
Olympic B-Fast Toast: Slice of toasted sourdough spread with red miso butter + scrambled eggs + furikake
2

Togarashi

A blend of chile, citrus peel, sesame seeds, ginger and seaweed, Japan's togarashi is bright, lively and bold. Emphasize its complexity, noting the acid-free notes as a differentiator for guests seeking a replacement for conventional hot sauce.
Try This >
Togarashi 'Bama Ribs: Smoked pork ribs + Alabama barbecue sauce + togarashi
Splendid Greens: Mixed greens + shelled edamame + pickled Asian pear + togarashi-tahini dressing
3

Adobo

The go-to, all-purpose Latin/Caribbean blend of oregano, pepper, garlic, onion, cumin, turmeric and chile powder is more flavorsome than spicy. This provides a vast canvas for using the seasoning on dry rubs and marinades to deliver comforting flavor.
Try This >
Adobo Mushroom Tacos: Adobo-seasoned portobello slices + pepita pesto + Cotija cheese crumbles + white corn tortillas
Adobo Mac and Chicken Cheese: Baked mac and cheese + adobo-seasoned chicken skin/breadcrumb topper
4

Ras el Hanout

This North African blend of turmeric, paprika, ginger, cardamom, coriander, cinnamon, clove, nutmeg, allspice, cayenne, black pepper and cumin evokes strong flavor. Feature this on menu items where guests expect bold tastes, but will discover the surprise of a deeper food experience.
Try This >
Moroccan Carrot Cake: Ras el hanout-spiced carrot cake + cream cheese frosting + toasted pecans
Cauliflower Couscous: Riced cauliflower + ras el hanout + sliced almonds + golden raisins + chopped red bell pepper/red onion mix
5

Garam Masala

The fragrant warming spices of cinnamon, coriander and cardamom in this Indian blend play well in creamy applications and baked goods. Create interest by leveraging the interplay of garam masala with cool, rich ingredients, bringing a new sophistication to mainstream menu offerings.
Try This >
Vanilla Funnel Cake Delight: Garam masala-spiced waffle cone + vanilla frozen custard swirled with sugar-soaked, fried jalebi pieces (an Indian sweet snack)
Masala Egg Salad: Chopped hard-boiled eggs + garam masala-spiced yogurt/mayonnaise + hot mango chutney + sliced scallions
6

Al Pastor

This Latin mix of assertive ingredients—onion, garlic, chiles, achiote and cumin—offers an easy way to deliver trending flavors. Look beyond meat applications and feature as a rub/marinade on fruits and vegetables or as a component in batters and coatings.
Try This >
Glazed Pastor Pineapple: Grilled fresh pineapple quarters + al pastor + orange juice + brown sugar
Savory French Toast: Thick-sliced brioche slices + al pastor egg batter + tomato relish + chorizo crema
7

Za'atar

A Middle Eastern blend of sumac, sesame seeds, thyme and oregano, za'atar lends tart, herbal nuttiness that opens up other flavors. As a fragrant seasoning, it's an effective means for introducing diners to unexpected, exotic variations on menu classics.
Try This >
Za'atar Margherita Pizza: Za'atar/olive oil-seasoned flatbread + sliced tomatoes + mozzarella
Chicken Meatball Soup: Za'atar-spiced mini chicken meatballs + chicken broth + orzo + Swiss chard + red pepper flakes
8

Baharat

A Middle Eastern blend of paprika, cardamom, cumin, clove, cinnamon, nutmeg, black pepper, coriander and allspice, baharat lends warm, smoky and earthy notes. Use its savory flavor to accentuate aromatics and appeal to adventurous palates.
Try This >
Fried Eggplant Baharat: Baharat-spiced, fried, breaded eggplant slices + cashew cream + blistered cherry tomatoes
Middle Eastern Bolognese: Baharat-flavored lamb Bolognese + tagliatelle + feta crumbles + mint
9

Tempero Baiano

This seasoning, originating in the Bahia region of Brazil, is a distinctive blend of oregano, parsley, basil, chile flakes, white and black pepper, cumin and nutmeg. Operators can lean into trending South American cuisines blended with non-traditional elements, creating compelling flavor stories.
Try This >
Brazilian Chicken Salad: Roasted chicken chunks + tempero Baiano + lime aïoli + roasted golden beets + green apples + raisins + crispy salted potato matchsticks
"Peppered" Calamari: Black bean purée flavored with tempero Baiano + fried calamari + orange segments + quick-pickled yellow peppers + romesco sauce
10

Quatre Épices

This European blend of four spices (white pepper, cloves, nutmeg and ginger) is a noted cold-weather seasoning. The gingerbread-like flavor makes it ideal for autumn menus, along with a host of different savory applications, while its tingly notes can take dessert into new realms.
Try This >
Scalloped Butternut Sweets: Sweet potato slices + quatre épices-butternut cream + white cheddar cheese
4-Spiced Apple Butter: Granny Smith apples + apple cider + quatre épices + brown sugar + vanilla