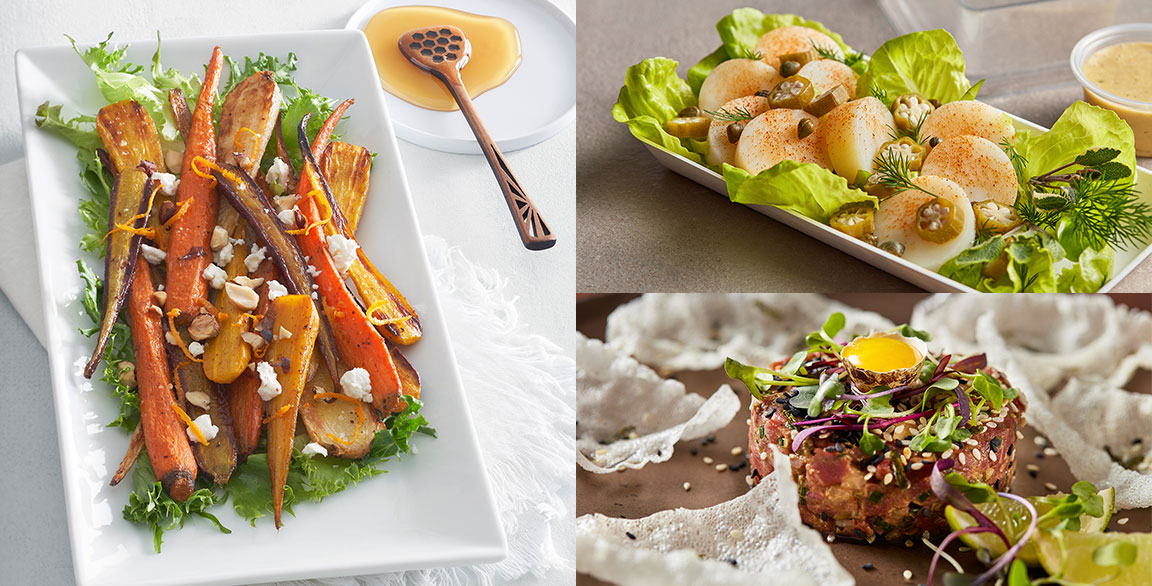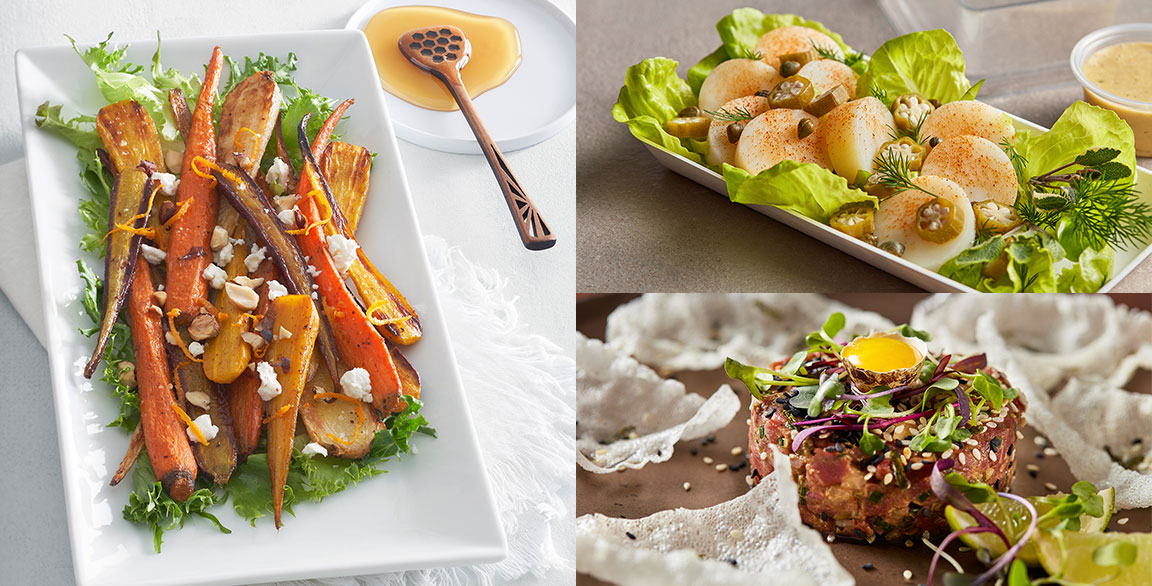 By Flavor & The Menu
September 27, 2021
Kitchen Collaborative is a recipe-development initiative formed by Summit F&B and Flavor & The Menu. To fuel flavor innovation, a group of talented chefs partnered with sponsor brands and commodity boards to create recipes that showcase the passion and potential of our industry.
CHEF SPOTLIGHT: Brandon Hudson
As Culinary Project Manager for HelloFresh, the meal kit subscription service provider, Brandon Hudson is attuned to maximizing a pantry and generating complex flavor dimension from simple ingredients. This expertise is front and center in the three recipes Hudson developed for Kitchen Collaborative. His Honey-Roasted Carrots With Ras el Hanout and Idaho® Red Potato Salad With White Anchovy Dressing reflect influential contrasts from Spanish regional cuisines, while his Aussie Beef Tartare with Kimchi elevates a classic with an injection of immune-boosting fermented veggies.
Honey-Roasted Carrots With Ras el Hanout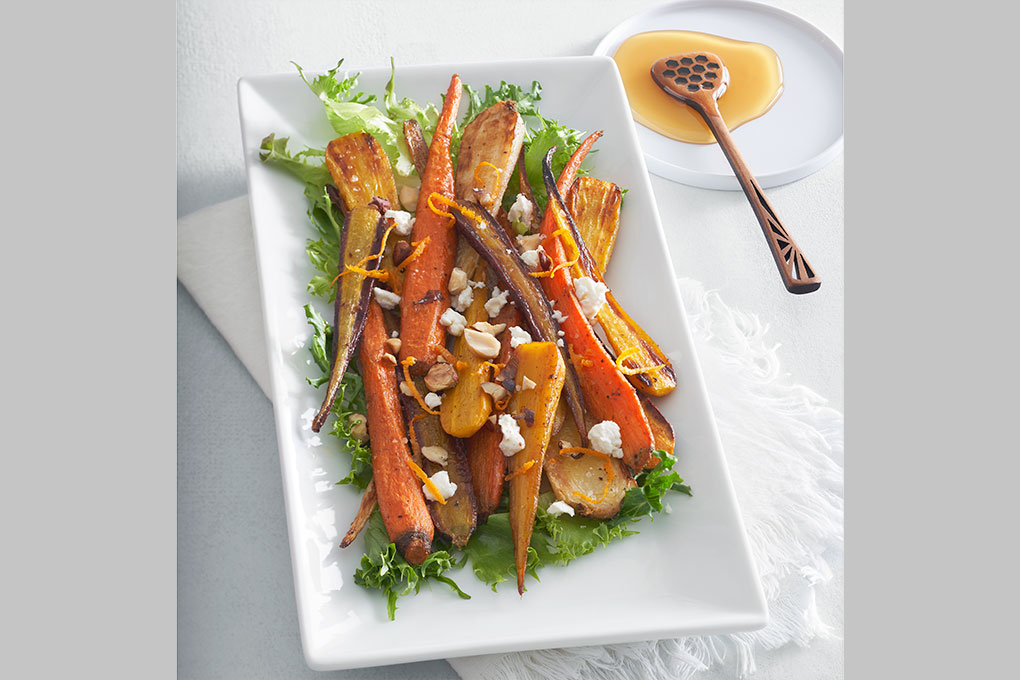 National Honey Board
Hudson's Honey-Roasted Carrots with Ras el Hanout represents the chef's take on a simple, clean small plate that takes diners on a flavor journey across the Atlantic to the southern reaches of the Iberian Peninsula. "I was fortunate to live in several regions of Spain, including Sevilla, where Moroccan flavors infuse the Spanish food scene," says Hudson. "I love using these warm spices with carrots—and I think they pair really well with honey, also."
Hudson tosses the carrots in a 50/50 olive oil blend, adding ras el hanout, salt and pepper and then roasting them at 425 degrees for 15 minutes, turning them halfway through. Near the end of the process, he pulls the carrots out, tosses them with 2 tablespoons of honey and then returns them to the oven for just a minute. "Roasting with honey can be tricky, especially with ingredients that have longer cooking times; it can result in a burnt flavor. I want to avoid that in this dish, while still allowing the carrots to finish cooking with the honey," he explains.
The cooled carrots are cut in half lengthwise with slices placed on top of frisee. Hudson adds a crumble of goat cheese and sprinkle of toasted hazelnuts on top before drizzling a touch more honey over all the components. The final garnishes are a second drizzle—this time of Cara Cara orange juice—some orange zest and, finally, the remaining ras el hanout. "My thoughts for this dish are as a tapa or a shared small plate that stands alone or perhaps is paired with lamb in some way," says Hudson.
Idaho® Red Potato Salad With White Anchovy Dressing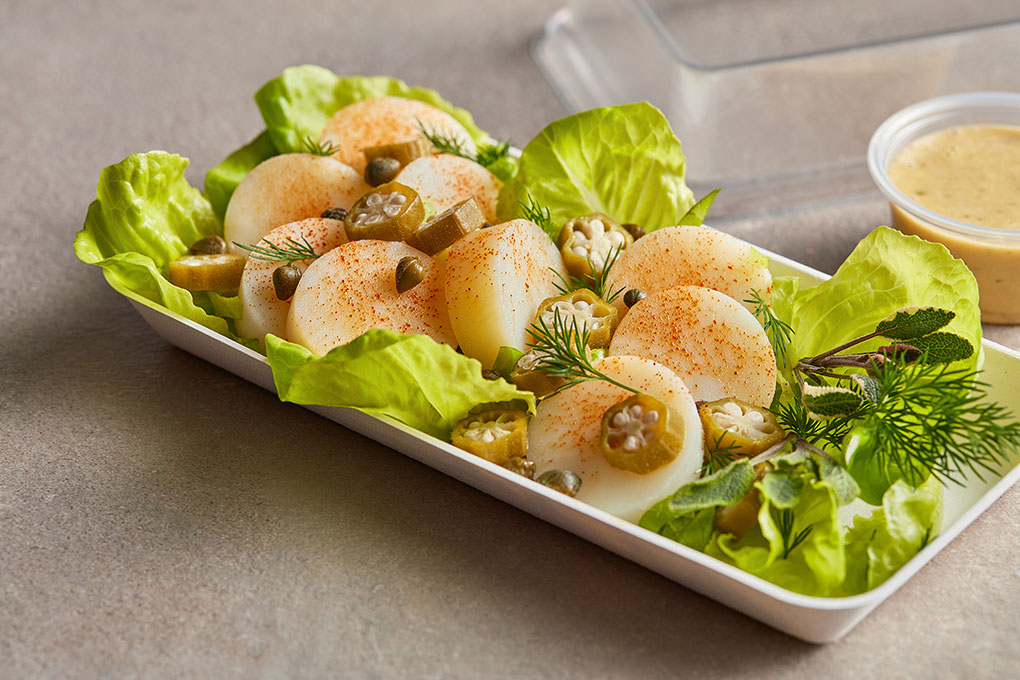 Photo: Carlos Garcia // Food Styling: Peg Blackley & Bree Williams
"One of my favorite Spanish dishes is Galician octopus with red potatoes, dressed with olive oil and smoked paprika," says Hudson. "I remember loving the simplicity of the dish. I wanted to elevate it in my own way and let the red potatoes shine." The result, Idaho® Red Potato Salad With White Anchovy Dressing, is a modern take on an American classic, imbued with a Spanish influence.
Hudson cooks the potatoes, adding just salt and olive oil, sous vide. Once cooled, he uses a ring mold to cut uniform medallions. These are placed on butter lettuce, cut in a fine chiffonade. But it's the dressing and garnishes that provide the evocative flavor notes.
"The white anchovy dressing was something that I felt gave the dish that light oceanic flavor, but also the necessary acidity that a potato salad would need," explains Hudson. The dressing is made from a blend of white anchovy fillets, lemon, parsley, balsamic vinegar, egg yolks, Dijon mustard and garlic. To garnish the dish, he uses smoked paprika, capers and, in a departure from the Spanish coast, slices of pickled okra! "This was more of a connection point to where I grew up in Arkansas," Hudson says. "And it added some nice texture and a pop of acidity.
Aussie Beef Tartare with Kimchi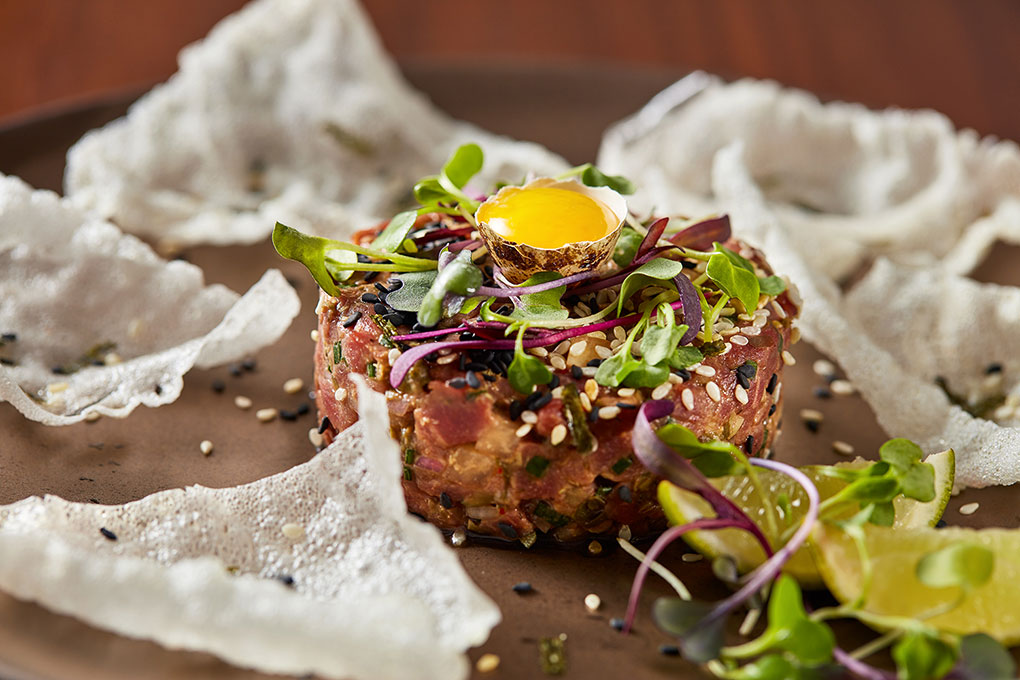 Photo: Carlos Garcia // Food Styling: Peg Blackley & Bree Williams
Accepting the challenge to use grassfed beef tenderloin and create a recipe that also reflects the current obsession with immunity boosters, Hudson took something of a counterintuitive approach by starting with the raw meat classic beef tartare. His trend-forward spin was to pair it with kimchi, leveraging the health benefits found in naturally fermented vegetables. His Aussie Beef Tartare with Kimchi and Furikake, featuring the clean flavor and lean profile of Australia's grass-fed beef, would be a great steakhouse starter, Hudson says.
Confessing that the tenderloin is one of his least favorite cuts of beef, Hudson explains his thought process for the dish: "I wanted to do something flavorful with beef tenderloin that allowed it to shine. I think this cut represents itself best in a tartare form. I love the way kimchi and beef pair together, believing that the gut benefits of kimchi would outweigh any negative thoughts about tartare."
Indeed, Hudson's enthusiasm for kimchi is irrepressible. "I absolutely love using kimchi and its juice in cooking," he says. "There is so much flavor, and it has that great marriage of heat, acid and funk from the fermentation that I find exciting."
The dish is simple to prepare. "It's very important to keep the beef extremely cold. Placing the tenderloin in the freezer 10 to 15 minutes ahead of cutting and taking out small amounts at a time makes it much easier to dice," Hudson says. For the kimchi, he combines daikon kimchi brunoise, rice vinegar, Dijon mustard, shallot brunoise, kimchi juice, chopped capers, finely sliced chives, salt and pepper. For each serving, he gently packs 4 ounces of the tartare in a ring mold placed slightly off-center on the plate and then garnishes it with a pinch of furikake. Butter leaves, rice crisps or wonton chips can be accompaniments used for scooping.
Project Management: Summit F&B
Photography: Carlos Garcia // Food Styling: Peg Blackley & Bree Williams