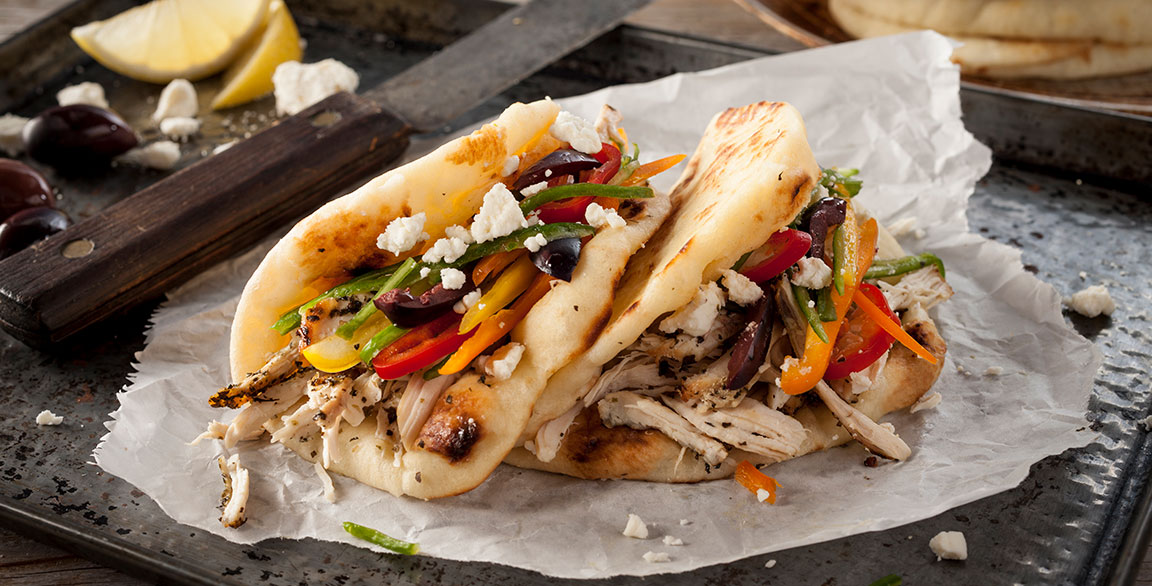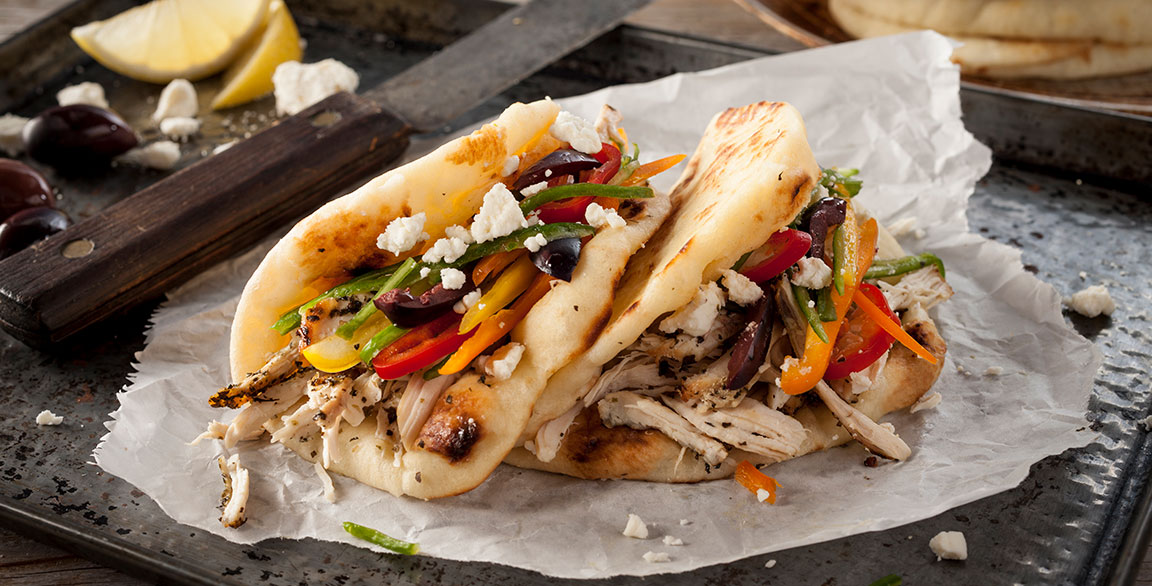 By Flavor & The Menu
September 29, 2021
Foodservice products that can act as flavor carriers are the big win for operators today, offering brands the opportunity to easily execute trend-forward builds. And flatbreads and naan are a perfect example, carrying creative comfort and global builds alike. These growth products have craveability built in, with their trademark "bubbles" and char spots, and desirable chew.
Naan and flatbreads are the perfect platform for modern menu innovation, thanks to their broad consumer embrace, their ease in menu maneuvering, and their ability to hold well through takeout and delivery applications. Capitalizing on their nimble nature to tap into trends is easy, as any flavor system has a home atop or tucked into these comfort-based carriers.
One of the most popular trending uses of naan is as a taco carrier, offering the ability for a more hefty build with a satisfying chew. Fast-casual brand Corelife Eatery uses naan as the base of its many taco offerings, with builds ranging from Buffalo grilled chicken with shredded napa cabbage and blue cheese dressing to ahi tuna poke with avocado, pickled onions, cucumbers, napa cabbage, and hot sauce.
There's no end to applications carried by naan, from a Sausage & Egg Breakfast Naan Taco and Naan French Toast to a Naan Banh Mi and Cinnamon Sugar Naan Dippers. Similary, flatbreads
offer craveable flavor in builds like Shakshuka Flatbread and Walnut Bacon Brie Flatbread Pizza. In fact, any signature dish can easily be turned into an innovative flatbread.
PROCESS TO PERFECTION
As its name suggests, Stonefire Authentic Flatbreads takes its calling of making one-of-a-kind flatbreads seriously. Founded by two brothers who made it their mission to commercialize the type of quality naan one would find in India, Stonefire is a family business steeped in tradition, with a process that results in versatile products offering housemade quality that can work across multiple menu items and dayparts.
There's a reason why Stonefire is the No. 1 brand of naan in the United States.* While creating authentic hand-stretched naan isn't rocket science, making it on a global scale is a more complicated process. In fact, there were a few blown up ovens along the journey to making Stonefire's patented 1,000 degree tandoor tunnel oven technology, which replicates a traditional tandoor clay oven on a high-volume scale.
Starting with premium, clean ingredients and no artificial additives, Stonefire's naans, flatbreads and pizza crusts are crafted with new processes and equipment to reach the artisan quality the company demands.
Stonefire's naan is hand-stretched and baked at high heat to achieve perfect bubbles and char with a hint of smoky flavor when it moves through the oven. While its naan is authentically made with real buttermilk and ghee, the rest of Stonefire's flatbreads and crusts are made using a vegan recipe. Additionally, Stonefire's flatbreads and pizza crusts are naturally fermented in small batches, which draws out authentic flavors and textures.
MENU SOLUTIONS FOR TODAY
Beyond its superior quality, Stonefire's naan, flatbreads and crusts provide foodservice operators plenty of solutions for today, optimizing labor and inventory challenges while offering a simple, brilliant canvas for signature menu offerings.
Stonefire's fully baked naan, flatbreads and crusts can be prepped and finished in minutes without sacrificing appearance, flavor or authenticity, while providing a consistent experience each and every time.
No proofing or handling frees skilled labor for more value-added tasks that drive profit. Oven versatility translates to superior performance in deck, brick, wood-fired and conveyor ovens. And shipped frozen, Stonefire's naan, flatbreads and pizza crusts mean operators can thaw only what they need with a seven-day ambient shelf life.
In these days of making sure all food products work harder across the menu, Stonefire's versatile bases give foodservice operators endless mix-and-match possibilities, increasing menu variety while helping to optimize labor and inventory and further proving that naan and flatbreads are the right choice for today's menus.
For more information, visit foodservice.stonefire.com
*Source: IRI, NPD