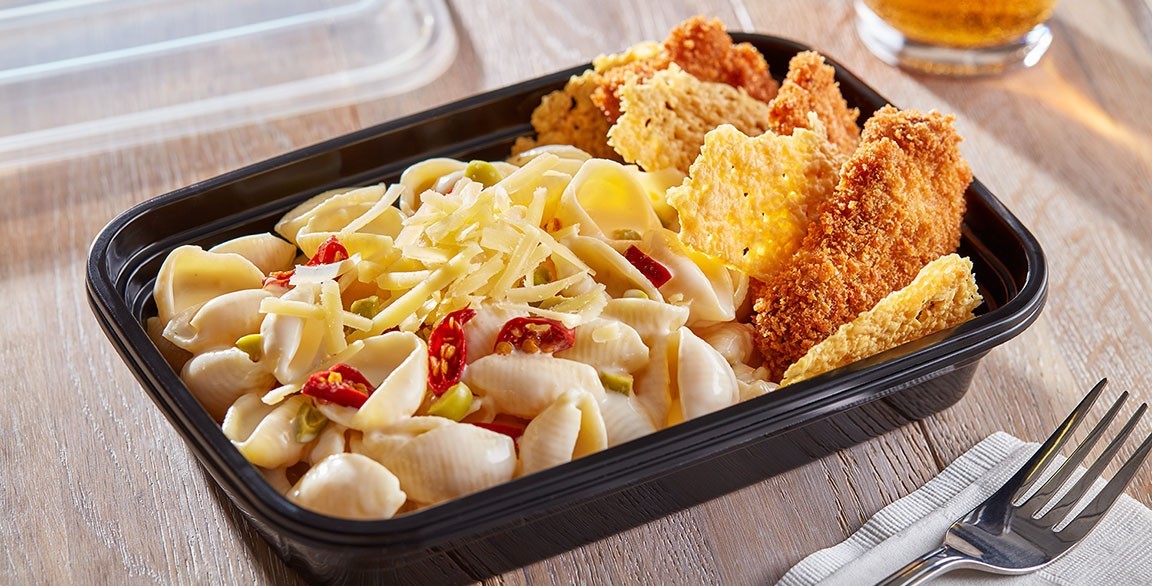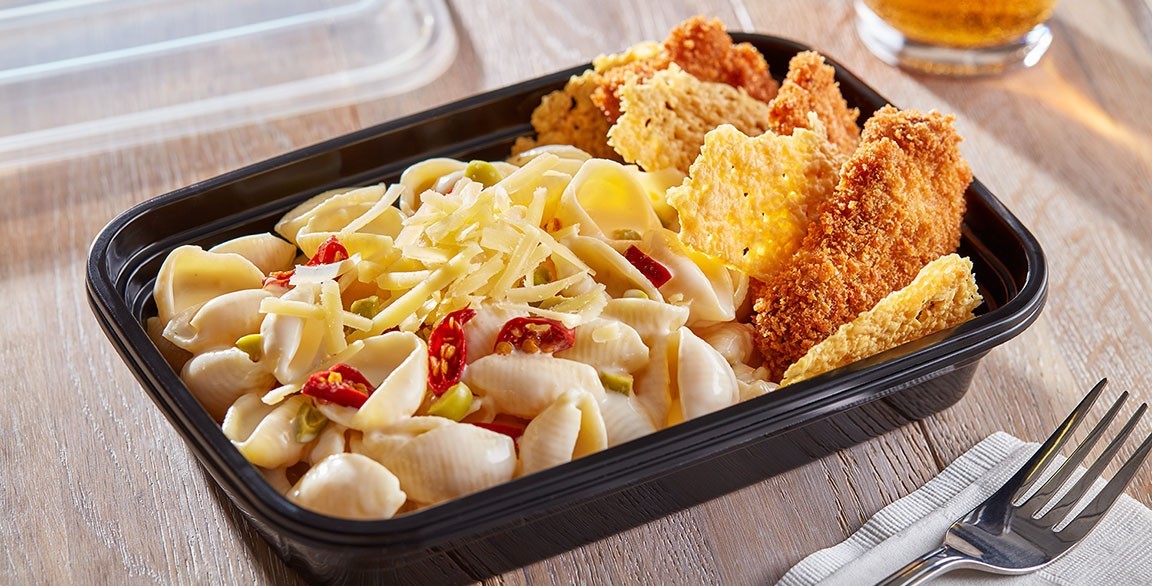 SICILIAN MAC & CHEESE WITH PANKO TOGARASHI CHICKEN AND DRY JACK CHEESE CRACKERS
Recipe courtesy of Jeffrey Meyer, VP of Culinary, Macaroni Grill & Sullivan's Steakhouse, and his daughter Madison.
Sponsor: California Milk Advisory Board
Servings: 24
INGREDIENTS:
Dry Jack Cheese Crackers:
12 ounces Real California Dry Jack cheese, shredded
Panko Togarashi Crusted Chicken Thighs:
48 skinless, boneless chicken thighs
2 tablespoons togarashi seasoning
1 ½ cups all-purpose flour
12 eggs, lightly beaten
6 cups panko bread crumbs
Vegetable oil, as needed
Sicilian Jack Cheese Sauce:
3 quarts Real California heavy cream
6 cups Real California half and half
12 tablespoons cornstarch
6 tablespoons water
1 ½ pounds Real California Sicilian Jack cheese, shredded
1 ½ pounds Real California mozzarella cheese, shredded
6 ounces Real California Dry Jack cheese, shredded
1 tablespoon kosher salt
1 teaspoon, freshly ground black pepper
Pasta:
4 to 6 gallons water
1 cup kosher salt
8 pounds medium shell pasta
Garnish:
Castelvetrano Olives, diced 1/8 inch
12 ounces Real California Dry Jack cheese
Calabrian peppers, diced 1/8 inch
DIRECTIONS:
To prepare Dry Jack Crackers, preheat oven to 350°F. Place cheese in 1-ounce mounds on silpat-lined baking sheet. Spread each mound to 3 to 4-inch diameter. Cook for 10 to 15 minutes until golden brown. Remove from oven and allow to cool to room temperature. Break into pieces 1 to 2-inches each and reserve.
To prepare Panko Togarashi Crusted Chicken Thighs, cut each chicken thigh lengthwise into 4 strips. Place strips in stainless steel bowl and mix in togarashi seasoning, stirring to coat evenly. Marinate in refrigerator for 2 hours before breading. To bread, dredge strips first in flour, then eggs and last in panko breadcrumbs. Refrigerate 30 minutes before frying.
To prepare Sicilian Jack Cheese Sauce, pour heavy cream and half and half into large saucepan over medium heat; bring to a boil. While cream is heating, mix together cornstarch and water in small bowl; whisk slurry into boiling cream mixture. Whisk, boiling until thickened. Remove from heat and whisk in shredded Sicilian Jack, Mozzarella and Dry Jack cheeses. Whisk in salt and pepper, adjusting seasoning to taste.
To prepare Pasta, bring salted water to a boil. Add pasta and cook until al dente, about 8 minutes. Drain well.
To serve, fry eight breaded chicken strips per serving in ¼ inch vegetable oil heated to 350°F, until golden brown on all sides and strips reach internal temperature of 165°F. Transfer to paper towel to drain.
While chicken is frying, combine one portion cooked pasta with enough cheese sauce to coat well. Place in serving bowl. Top with chicken strips. Evenly distribute diced olives over pasta. Place ½ ounce shredded Sicilian Jack cheese in center. Place ½ teaspoon diced Calabrian peppers on top of shredded cheese. Place 4 pieces cheese crackers around plate at 12, 3, 6 and 9 o'clock.
Project Management: Summit F&B Photography: Carlos Garcia // Food Styling: Peg Blackley & Bree Williams