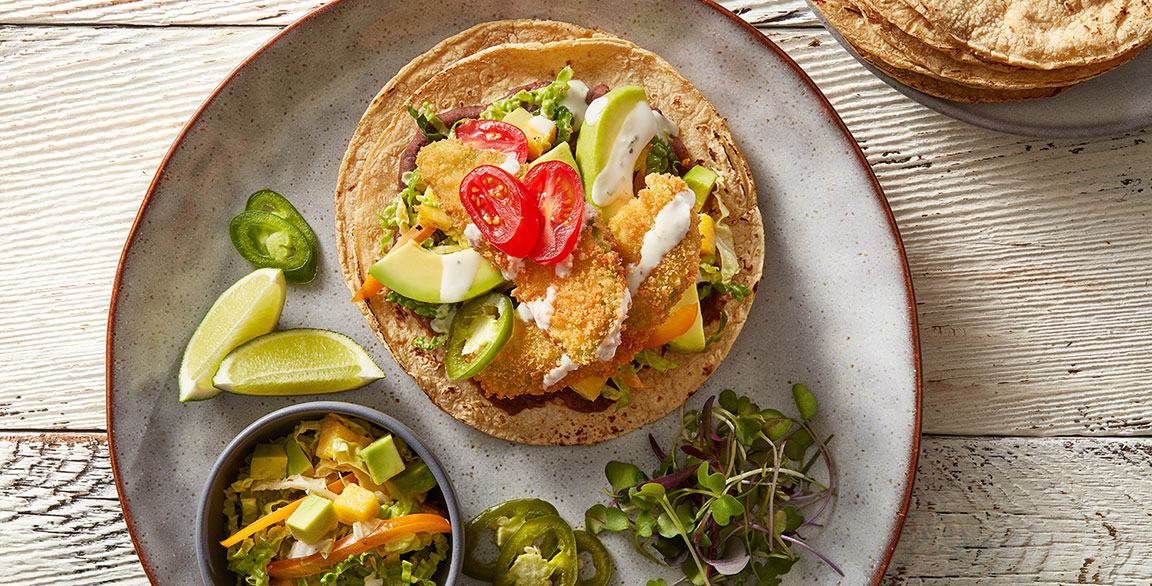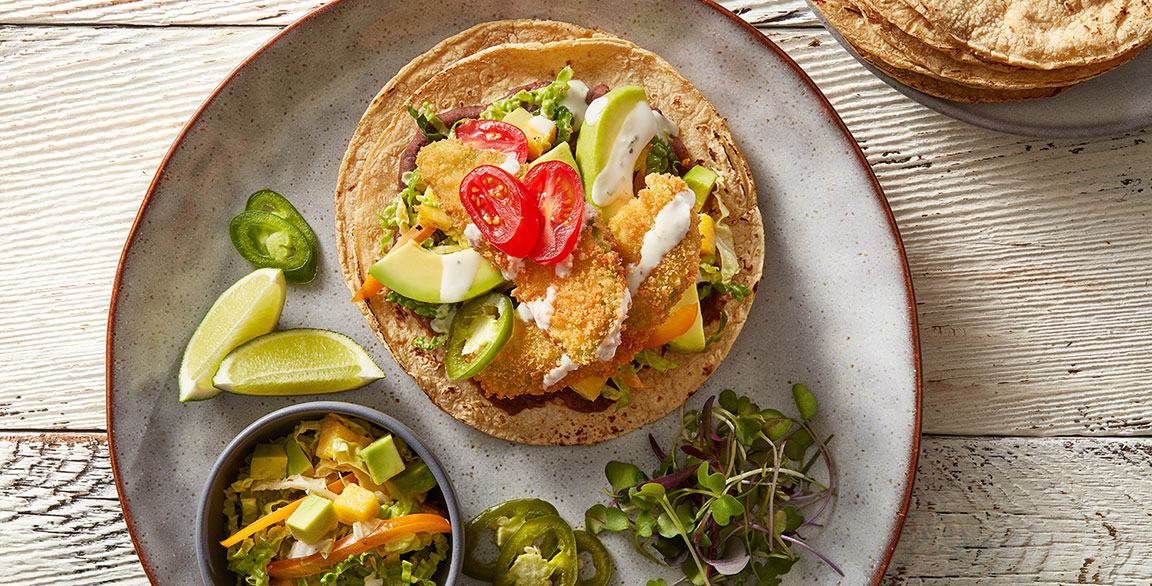 3-Way California Avo-Tacos
Recipe courtesy of Chef Jeffrey Meyer,VP of Culinary, Macaroni Grill & Sullivan's Steakhouse, and his daughter Madison.
Sponsor: California Avocado Commission
Servings: 24
INGREDIENTS
96 corn tortillas, 6"
48 oz. Black Bean Mash (recipe follows)
96 Fried California Avocado Slices, ½" thick (recipe follows)
96 Pickled California Avocado Slices, ¼" thick (recipe follows)
96 oz. Lime Crema Slaw (recipe follows)
8 Tbsp. Lime Cream Sauce (recipe follows)
96 grape tomatoes, sliced 1/8" on the bias
48 fresh jalapeno pepper slices, cut 1/16" on the bias
6 limes, each cut into 8 wedges
Black Bean Mash
6 cups canned black beans, drain liquid and save 1-1/8 cups
1 Tbsp. garlic powder
1 Tbsp. cumin
1 Tbsp. ancho chili powder
2 tsp. smoked paprika
2 tsp. kosher salt
2 tsp. black pepper, table grind
Lime Crema Slaw
24 oz. Napa cabbage, shredded
24 oz. mango, diced ¼"
24 oz. ripe California Avocado, pitted, diced ¼", peeled
24 oz. orange bell pepper, julienned 1/8"
24 oz. lime crema
1 Tbsp. kosher salt
1 Tbsp. black pepper, table grind
Fried California Avocado Slices
6 cups all-purpose flour
32 oz. vegan eggs
24 cups panko breadcrumbs
8 ripe California Avocados, seeded, cut into ½" slices, peeled (approximately 12 slices per avocado)
Pickled California Avocado
2 cups white wine vinegar
4 Tbsp. kosher salt
4 Tbsp. sugar, granulated
4 Tbsp. Aleppo pepper
8 ripe California Avocados (slightly firm), seeded, cut into ½" slices, peeled (approximately 12 slices per avocado)
2 jalapeno peppers, sliced 1/16" on the bias
4 garlic cloves
Lime Crema Sauce
24 oz. vegan mayo
12 oz. lime juice, fresh squeeze
4 Tbsp. lime zest
2 tsp. kosher salt
2 tsp. black pepper, table grind
INSTRUCTIONS
Black Bean Mash
In a stainless-steel mixing bowl, combine all ingredients and mash mixture to a smooth consistency.
Adjust seasoning with kosher salt and black pepper to taste.
Lime Crema Slaw
In a stainless-steel mixing bowl, combine Napa cabbage, mango, avocado, orange bell pepper, lime crema sauce, kosher salt and black pepper. Mix evenly.
Fried California Avocado Slices
Place flour, vegan eggs and panko breadcrumbs in 3 separate bowls.
Place avocado on a cutting board and halve, pit and peel.
Then cut into ½" slices lengthwise.
Dredge each avocado slice in flour, vegan eggs and panko; then refrigerate
Preheat pot with vegetable oil filled ¼" from bottom of pot and heat to 350°F.
Fry breaded avocado pieces for 50 seconds or until golden brown.
Transfer to a paper towel lined plate and drain well.
Pickled California Avocado Slices
Combine white vinegar, kosher salt, sugar and Aleppo pepper. Bring to a boil and let cool to room temperature.
Halve and remove pit; cut into ½" thick slices lengthwise, separate peel from slices. Place avocado slices in wide mouth mason jar.
Place jalapeno slices and garlic clove in jar.
Pour pickling liquid over avocado.
Seal jar and gently roll jar to distribute seasoning.
Place in refrigerator for 2 hours before using.
Lime Crema Sauce
In a stainless-steel mixing bowl, combine vegan mayo, lime juice, lime zest, kosher salt and black pepper. Mix evenly.
Assemble, per order
Work area and utensils must be clean and sanitary.
Place 4 corn tortillas on a flat top and char lightly.
Double stack corn tortillas forming 2 stacks. Evenly spread 1 oz. of Black Bean Mash on the two top facing tortillas, leaving a ½" border from edge.
Place 2 oz. Lime Crema Slaw on top of the Black Bean Mash.
Then place 2 Fried California Avocado Slices and 2 Pickled California Avocado Slices on top of Lime Crema Slaw on each taco
Drizzle ½ tsp. Lime Cream Sauce on each taco in a zig zag pattern.
Place 1 slice of grape tomato in center of taco.
In a ramekin, arrange in overlapping layers: 2 slivers of fresh sliced jalapeno, 2 lime wedges and 1 pickled jalapeno slice from the Pickled California Avocados.
*Large avocados are recommended for this recipe. A large avocado averages about 8 ounces. If using smaller or larger size avocados adjust the quantity accordingly.
Project Management: Summit F&B
Photography: Carlos Garcia // Food Styling: Peg Blackley & Bree Williams