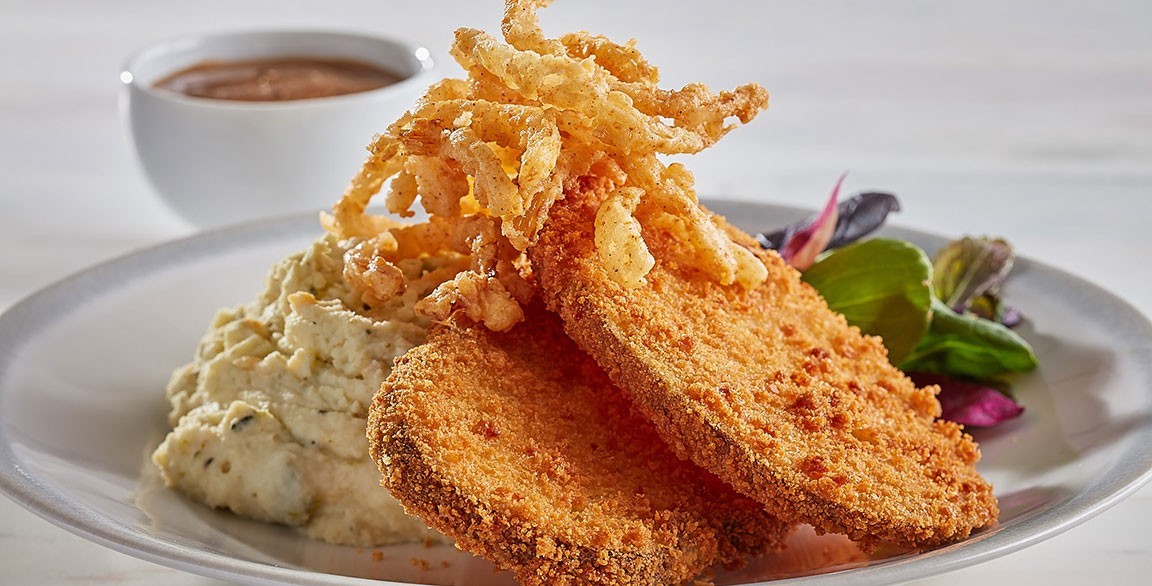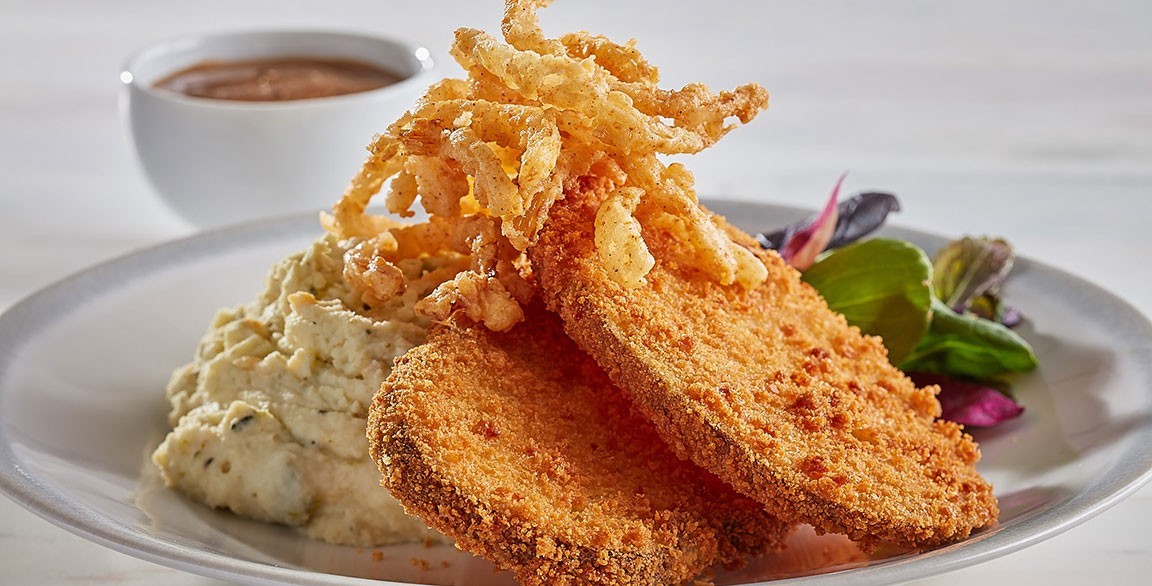 Crisp Idaho® Potato Steak with Peppercorn Gravy
Recipe courtesy of Chef Steven Sturm
Sponsor: Idaho Potato Commission
Servings: 24
Ingredients:
Potato Steak Breading:
5 pounds all-purpose flour
5 pounds panko bread crumbs
1 pound cornstarch
1 pound cracker meal
1 pound tempura mix
2 cups seasoning salt
1 cup garlic powder
1 cup ancho powder
Peppercorn Gravy:
6 cups brown gravy
3 cups heavy cream
½ cup cracked peppercorns
Poblano-Jalapeño Purée:
1 ½ pounds poblano peppers
2 jalapeño peppers
Mashed Potatoes:
12 ½ pounds Idaho® gold potatoes
2 ounces salt
3 cups milk
1 pound butter
2 cups grated Parmesan cheese
4 cups grated sharp Cheddar cheese
1 ½ cups sour cream
2.4 ounces salt
0.3 ounce ground white pepper
Idaho® Potato Steaks:
24 (60-count) Idaho® russet potatoes, baked and cooled
As needed seasoned flour
As needed egg wash
12 cups fried onion straws
24 sprigs fresh cilantro
Directions:
Make the breading: Combine all the ingredients and mix well.
Make the gravy: Whisk together the ingredients in a pot and bring to a simmer.
Make the purée: Put all the peppers on a hot grill and blister them all over. Cover and steam.
Remove the skins, stems, and seeds and purée the roasted peppers. Reserve.
Make the mashed potatoes: Bring the potatoes and 2 ounces of salt to a boil and cook until tender. Drain.
In a large mixer with a paddle attachment, combine the warm potatoes, milk, butter, cheeses, sour cream, salt, and white pepper. Add 3 cups of the poblano-jalapeño purée. Mix to mash them together. Keep warm.
Make the potato steaks: Trim off two long sides of each cold potato, then halve them to make 2 steaks per potato.
Bread the potato steaks with seasoned flour, shake off the excess, dip in egg wash, shake off the excess, and coat in the breading. Press the breading on well. (The steaks can be frozen at this point and reserved.)
For each serving, cook 2 steaks in a 350-degree deep fryer for 6 minutes (8, if frozen). Drain.
Place a scoop of mashed potatoes at 11:00 on a plate.
Place one of the steaks down on the plate and shingle the other off of it.
Top the steaks with 3 ounces of gravy, allowing it to pool around the potatoes.
Top the steaks with ½ cup onion straws and a sprig of cilantro.
Project Management: Summit F&B
Photography: Carlos Garcia // Food Styling: Peg Blackley & Bree Williams