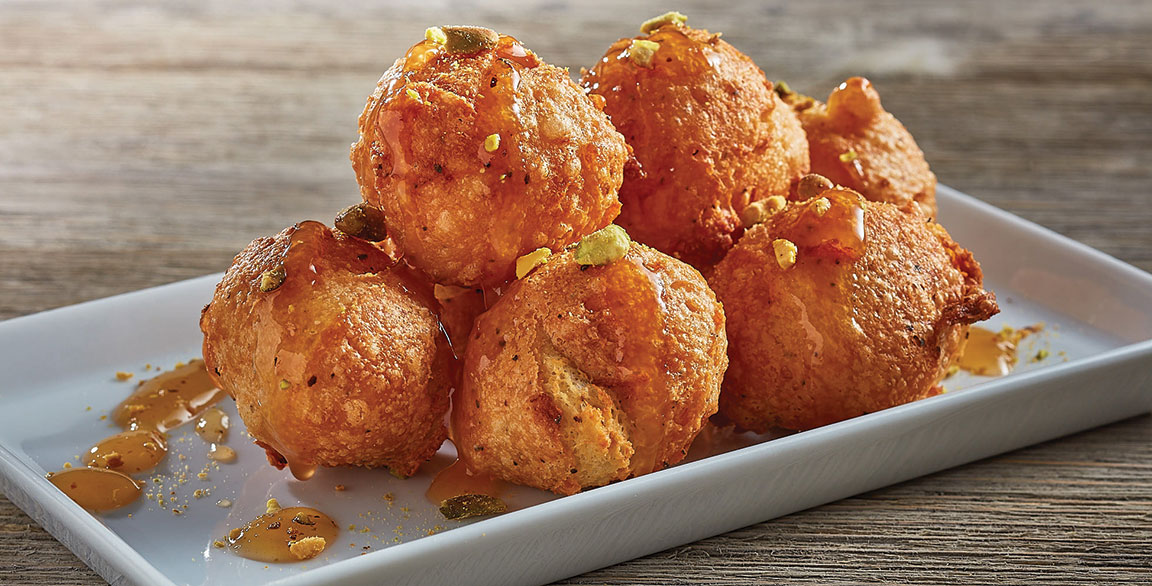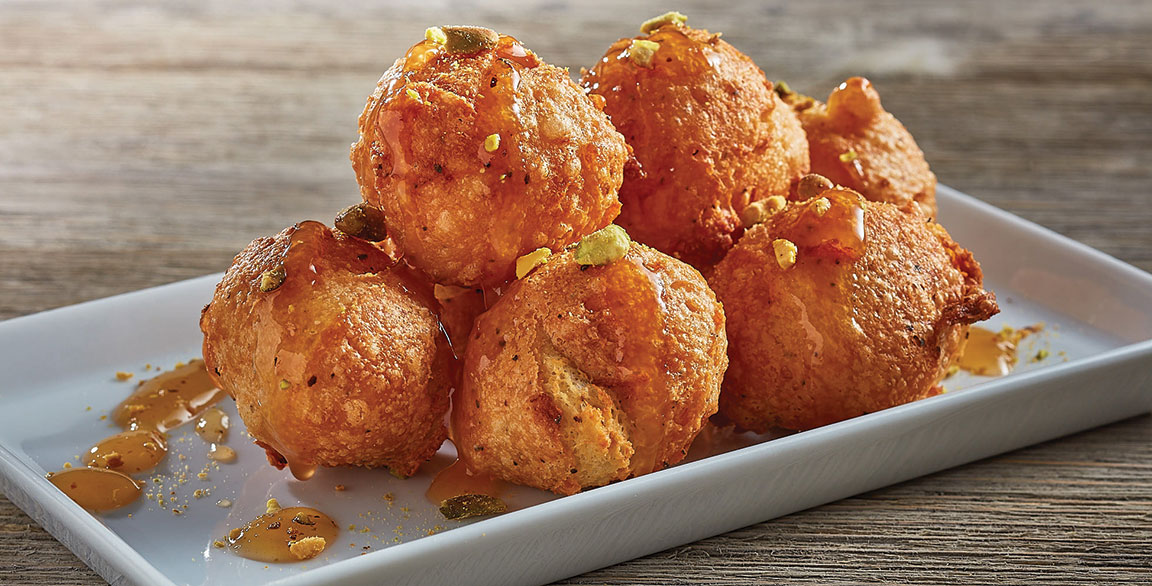 Boursin® Black Pepper Beignets with Honey-Chile Glaze
Recipe courtesy of Chef Steven Sturm
Sponsor: Bel Brands USA
Servings: 24
Ingredients:
Honey-Chile Glaze:
2 cups honey
3 cups pineapple juice
1 ounce minced chipotle pepper
1 tablespoon adobo sauce from canned chipotles
¼ cup cornstarch
¼ cup water
Boursin® Beignets:
4 cups water
1 cup butter
1 tablespoon kosher salt
5 cups all-purpose flour
12 eggs
3 ¾ pounds Boursin® Black Pepper cheese
1 ½ cups crushed pistachios
As needed cracked black pepper
Directions:
To make the Glaze: Combine the honey, juice, chipotle, and adobo sauce in a pot and bring to a boil. Reduce the heat to low.
In a small bowl, whisk together the cornstarch and water. Whisk it into the honey-chile mixture and simmer until it coats the back of a spoon.
Strain and cool.
To make the Beignets: Combine the water, butter, and salt in a pot and bring them to a boil. Reduce the heat to low.
Gradually stir in the flour, mixing until it forms a ball and cleans the sides of the pot. Transfer the dough to a stand mixer.
On medium speed, add one egg at a time, letting each incorporate.
Add in the Boursin®, breaking it into chunks. Use a spatula to scrape the sides and bottom of the bowl to evenly incorporate. Refrigerate until needed.
For each serving: Scoop 7 #40 scoops of the beignet mix into a 350-degree fryer. Cook for about 4 minutes, until browned. Drain and blot on paper.
Stack 5 beignets in a bowl, with the last 2 on top. Drizzle 2 tablespoons of the glaze over the top and garnish with 2 tablespoons pistachios and a little black pepper.
Project Management: Summit F&B
Photography: Carlos Garcia // Food Styling: Peg Blackley & Bree Williams