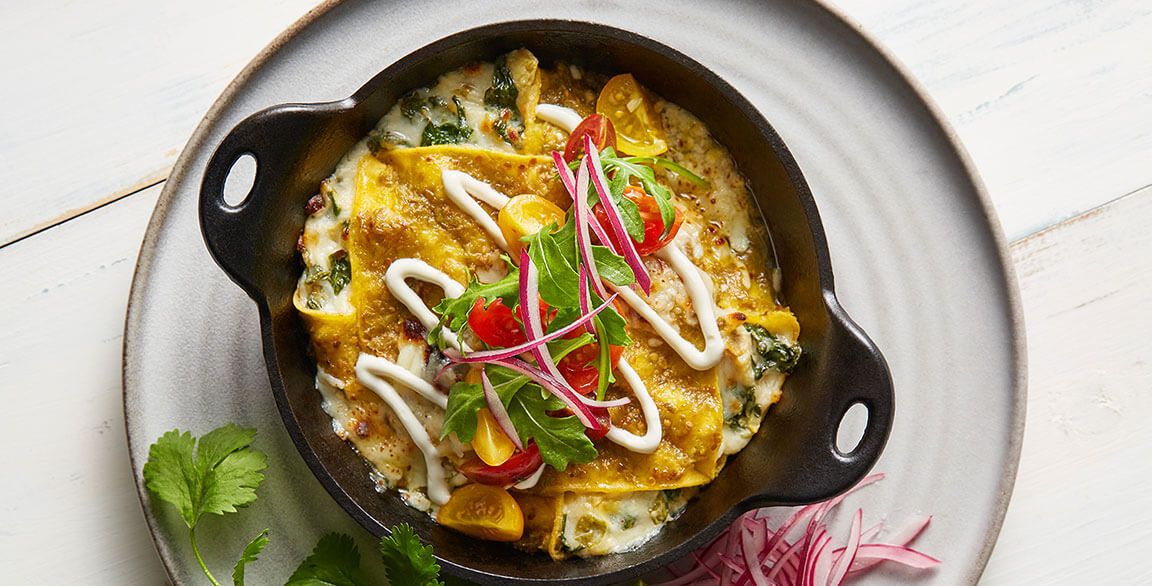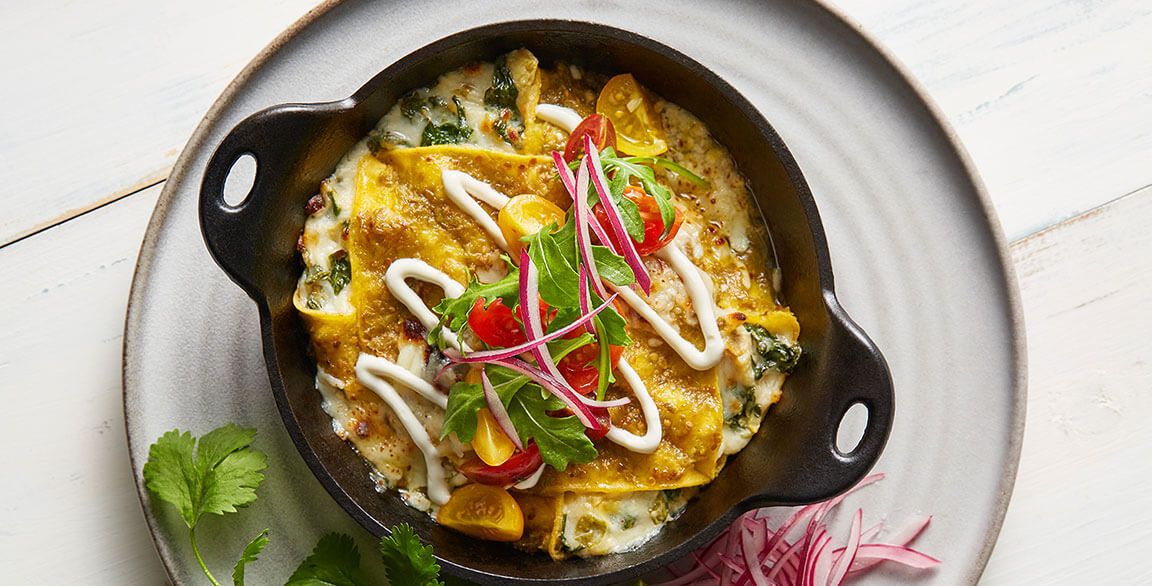 Cheesy Cal-Mex Spinach and Artichoke Enchiladas
Recipe courtesy of Chef Alex Sadowsky
Sponsor: California Milk Advisory Board
Ingredients
Spinach and Artichoke Filling
3 Tbsp Real California butter
¼ cup seasoned flour
2 cups Real California whole milk yogurt
1 cup Real California whole milk
1 Tbsp chicken base
½ cup chopped green onions
1 tsp chopped garlic
1 tsp ground black pepper
1 tsp cayenne pepper
1 lb Real California Oaxaca cheese, shredded
1 cup Real California Parmesan or Dry Jack cheese, shredded
1 lb frozen spinach, chopped, thawed, drained well
2 cups artichoke hearts, drained, ¼-in rough chop
Marinated Cherry Tomatoes
1 cup cherry tomatoes, halved
1 Tbsp olive oil
1 tsp chopped garlic
1 tsp kosher salt
Salsa Verde
2 lb Roma tomatoes
2 lb tomatillos, husk removed
2 lb jalapeño peppers, stems removed
½ cup chopped garlic
½ ea white onion, peeled
½ lb Serrano chiles
1 qt water
¼ cup kosher salt
½ cup fresh lime juice
4 bunches cilantro
Enchiladas
8 ea corn tortillas, 6-in, fresh
2 cups Spinach and Artichoke Filling
12 oz Real California Oaxaca cheese, shredded, divided
¾ cup Salsa Verde
¼ cup Real California whole milk yogurt
¼ cup Marinated Cherry Tomatoes
¼ cup chiffonade arugula
¼ cup sliced red onion
1 tsp chiffonade cilantro
Directions
For the Spinach and Artichoke Filling: In a small pot, melt the butter over medium-high heat. Add the flour to make a roux and stir constantly for 3 minutes, until blonde in color. Pour into a 1/9 pan.
Put a small pot on the stove over medium heat. Combine the yogurt, milk, chicken base, green onions, garlic, black pepper, and cayenne pepper, and bring the mixture to a simmer. Cook for approximately 5 minutes.
Turn the heat down to medium low. Add the reserved roux with a whisk. Once fully incorporated, turn the heat back up to medium high and allow the mixture to cook for 15 minutes.
Add the cheeses, whisking constantly until all the cheese is melted.
Add the spinach and artichoke hearts to the mixture and mix well with a kitchen spoon to combine all the ingredients. Cover and refrigerate.
For the Marinated Cherry Tomatoes: Combine all the ingredients in a bowl. Using gloved hands, mix thoroughly; set aside for service.
For the Salsa Verde: Place the tomatoes, tomatillos, jalapeños, garlic, onion, and Serranos in a large stock pot and cover with tap water by 1 in. Bring to a boil and cook for 20 minutes, until all products are soft to the touch.
Strain the liquid and reserve ½ cup of liquid. Place the boiled vegetables into a large food container.
Add the salt, lime juice, cilantro, and reserved liquid and pole blend or process for approximately 1 minute, or until smooth. Cover and refrigerate.
For the Enchiladas: Preheat the oven to 450 degrees F.
Place the tortillas evenly on a flattop and reheat for 1 minute.
Remove and top each evenly with ¼ cup Spinach and Artichoke Filling and 1 oz shredded Oaxaca or Mexican-style mozzarella cheese, ensuring every tortilla has full coverage. Carefully roll each tortilla and place them onto an ovenproof plate seam-side down.
Ladle the Salsa Verde over the top of the enchiladas until completely covered. Sprinkle the remaining Oaxaca cheese down the middle of the enchiladas, leaving space on the sides that is not completely covered by cheese. Bake for 5 minutes, until cheese is completely melted, and enchiladas are bubbling hot. Carefully remove the enchiladas from the oven.
Drizzle the yogurt in a zig-zag pattern from corner to corner. Carefully top the hot enchiladas with the arugula, Marinated Cherry Tomatoes, and red onion. Evenly sprinkle the cilantro over the enchiladas (not just in the center) and serve.
Project Management: Summit F&B
Photography: Carlos Garcia // Food Styling: Peg Blackley & Bree Williams