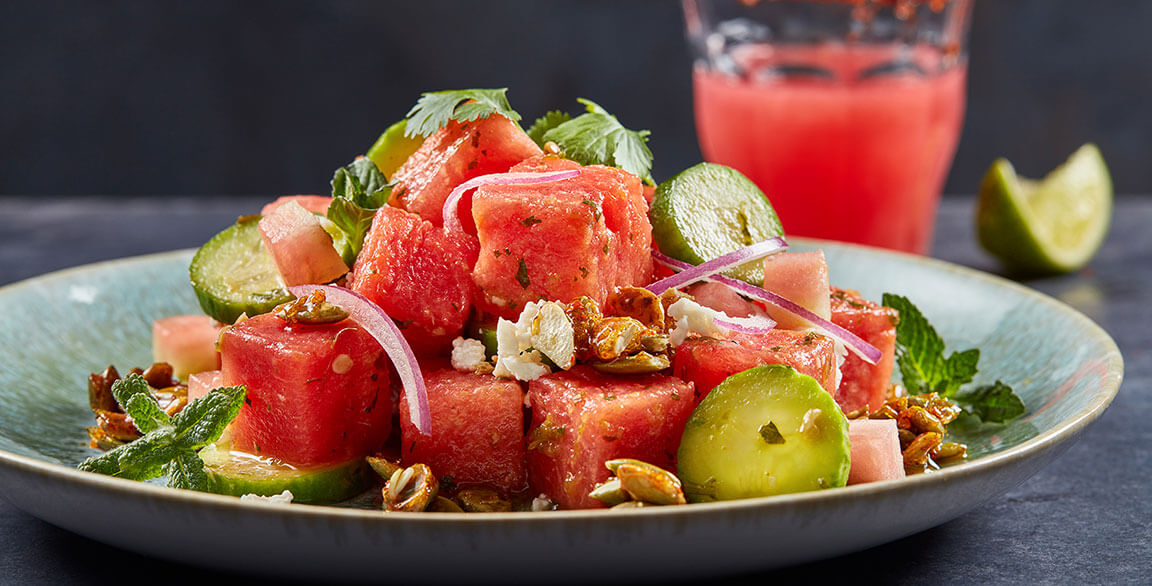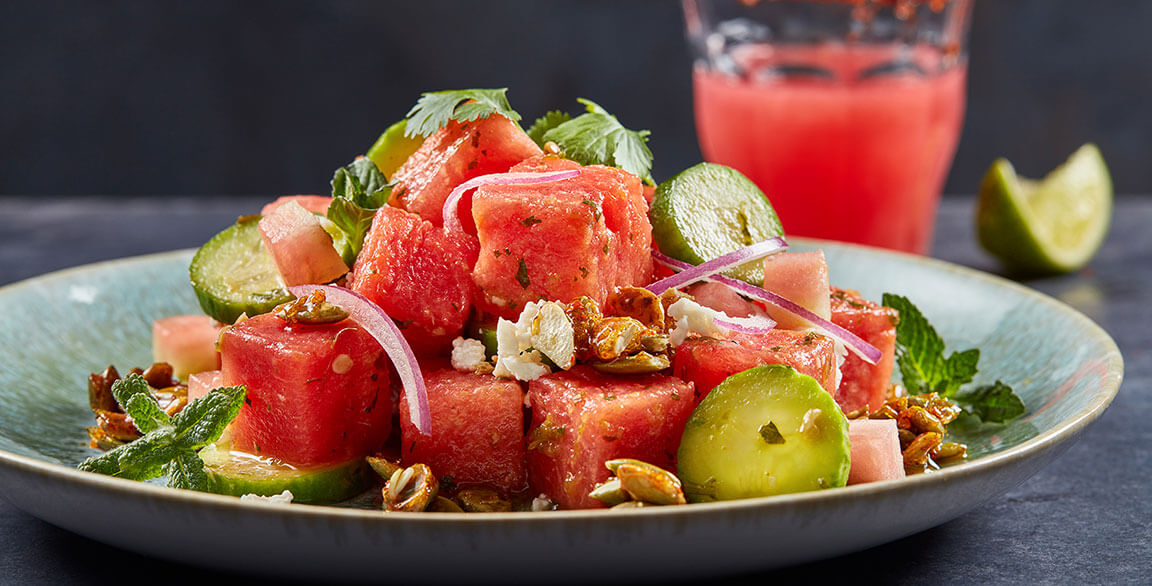 Smoked Watermelon Salad
Recipe courtesy of Chef Alex Sadowsky
Sponsor: National Watermelon Promotion Board
Serves: 1
INGREDIENTS
Smoked Watermelon "Ham"
About 10 lb seedless watermelon
¼ cup BBQ rub
Pickled Watermelon Rind
8 cups watermelon rind, peeled, 1-in x 1-in pieces
6 cups water
1 cup canning salt
4 cups sugar
2 cups apple cider vinegar
6 cinnamon sticks
1 tsp cloves
1 tsp black peppercorns
Tajin Candied Pepitas
1 cup raw pumpkin seeds
¼ cup white sugar
2 tsp Tajin seasoning
Jalapeño Vinaigrette
1 cup red wine vinegar
¼ cup fresh lime juice
¼ cup honey
¼ cup roasted garlic
1 tsp cayenne pepper
1 tsp kosher salt
1 tsp ground black pepper
1 tsp white sugar
1 cup cilantro
½ cup jalapeño peppers, roasted and peeled
1 cup olive oil
Salad Assembly
10 oz Smoked Watermelon "Ham," chunked
6 oz seedless cucumber, sliced ¼ in thick
1/4 cup Jalapeño Vinaigrette
1/4 cup Tajin Candied Pepitas
1/4 cup queso fresco, crumbled
1/4 cup pickled watermelon rind, diced ¼-in
10 ea mint leaves, fresh picked
10 ea cilantro leaves, fresh picked
1/4 cup red onion, thinly shaved
DIRECTIONS
For the Watermelon "Ham": Preheat a smoker to 225 degrees F. Load with applewood chips and follow directions for your smoker.
Completely peel the watermelon and reserve for Pickled Watermelon Rind.
Using a paring knife, score the outside of the watermelon ½ in deep in a criss-cross pattern. Rub the watermelon with the BBQ rub and allow it to marinate for 1 hour.
Place in the smoker and smoke for 30 minutes. Remove from smoker and place into walk-in uncovered until chilled below 40 degrees F.
For the Pickled Watermelon Rind: Place the reserved rinds, water, and salt in a large bowl. Mix well and refrigerate overnight.
In a large pot, mix together the sugar, vinegar, cinnamon sticks, cloves, and peppercorns. Put over high heat and bring to a boil, approximately 5 minutes.
Strain the rinds and add them to the boiling brine. Reduce the heat to simmer and cook uncovered for 20 minutes. Discard the cinnamon sticks.
Carefully ladle the hot rinds and liquid into four 1-pint jars. Wipe the rims, center the lids, and screw on lid and bands until finger tight. Place the jars into simmering water and following basic canning procedure, bring to a boil for 10 minutes. Remove jars and let them cool.
For the Tajin Candied Pepitas: In a large skillet over medium-high heat, toast the pepitas until they turn light brown, approximately 1 minute. Remove pepitas and place them on a plate to cool.
In the same skillet, melt the sugar without stirring. Cook over medium-high heat until it turns an even golden amber color, approximately 3 minutes. Remove from the heat and toss pepitas and Tajin seasoning into the sugar. Stir using a heatproof spatula. When the pepitas all clump together, transfer them to a plate to cool. Once cool enough to handle, break into tiny pieces.
For the Jalapeño Vinaigrette: Place the vinegar and lime juice in a blender followed by all the other ingredients EXCEPT the oil. Carefully turn blender on low and allow it to blend for 1 minute. Open the lid and slowly drizzle in the oil in a steady stream. Only allow it to blend for 1 more minute. Remove, cover, label, and date until needed.
For the Salad Assembly, per serving: Place the watermelon, cucumbers, vinaigrette, and pepitas in a medium salad bowl and mix thoroughly. Place in the center of a plate.
Top with the queso fresco crumbles, pickled watermelon rind, mint leaves, cilantro leaves, and thin shaved red onion.
Project Management: Summit F&B
Photography: Carlos Garcia // Food Styling: Peg Blackley & Bree Williams