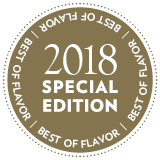 With breakfast fare finding favor with today's diners, it's time to take a deeper look at the omelette's menu potential. Few chefs are better suited to the task of elevating something unexpected and delightful than Paul Kahan, Chef/Partner of Chicago's One Off Hospitality, a restaurant group that boasts thriving concepts like Publican Anker, Blackbird and Pacific Standard Time.
His Fried Oyster Omelette with charred ramp salsa verde and lemon aïoli, created for the American Egg Board, showcases a modern take. "Unlike a traditional omelette, we use a large percentage of cream cheese, resulting in eggs that are rich and luxurious," says Kahan.
His technique ensures a flawless result—and allows for make-ahead prep. He blends eggs with cream cheese, slow-scrambles them in butter until there are loose, medium curds. He chills them and vacuum seals, pushing the eggs into a log, rolling tightly and securing them.
For service, Kahan re-therms in simmering water, then plates the omelette. Charred ramp salsa verde, studded with green chickpeas, gets spooned overtop, along with velvety lemon aïoli. Deep-fried oysters finish the dish. "We coat the oysters in crumbled salt and vinegar potato chips, which lend an acidic element that cuts through the creaminess of the eggs," says Kahan.
"This dish is a sensory roller coaster," says Phaedra Ruffalo, Senior Director of Market Development with the American Egg Board. "You get smooth, creamy, briny, crispy, smoky, salty, sour—all in one bite."