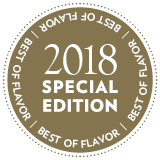 Our special "Best of Flavor" collection is a celebration of the culinary ingenuity in American menu development, where a never-ending tinkering of ingredients results in winning flavor builds.
Perusing these stories, the skill and passion are apparent in the telling of a menu item's backstory. It's an interesting study of not only flavor tweaking and balance, but also of pushing an ingredient's limits to achieve a signature, memorable flavor experience.
Take the esteemed egg as an example—a trusted menu workhorse whose a.m. boundaries are all but broken, given its unique ability to bring a halo of "comfort" to nearly any dish in any daypart. In fact, it's this inherent familiarity of the egg that has ratcheted up its culinary pedigree in recent years.
Consider Paul Kahan's take on the omelette, an inventive approach showcasing the dependable egg dish transformed as an elegant entrée, proving eggs' ability to shape-shift into a modern-day menu showstopper. We see how popular egg-centric items are being reinvented, and also, how the egg itself is being featured as a high-impact ingredient, elevating even the most basic of menu items (hello, pizza!).
More Egg Inspirations
The hearty egg sandwich is seeing creative updates, from the Southern spin of pimento cheese at Jason's Deli's to Egg Shop's soft scrambled version upgraded with Gruyère and caramelized onion aïoli.
Global brunch-friendly dishes are showcasing eggs as the comfort linchpin for what might be an otherwise unfamiliar profile. The General Public's shakshuka has a Latin twist, while Old Vine Café uses sunny-side-up eggs to make its rabbit mole dish more approachable.
At Komodo, the iconic 63 degree egg adds saucy perfection to its winning Arroz con Pato, while quail eggs transform sushi into a brunch item at NaiYaRa, where the diminutive sunny-side-up egg tops seasoned rice, kimchi and strips of Wagyu.
Chefs are also taking the egg a step further and capitalizing on the luscious yolk as a high-impact ingredient. See how Nicky's Coal Fired drizzles a sous-vide egg yolk atop its mushroom pizza (#50), or how Little Bird Bistro tops a Goat Cheese Gnocchi with cured and smoked egg-yolk shavings, both creating standout flavor experiences.
AVI Foodsystems' Joshua Miller sums up the magic of eggs from a culinary approach, saying eggs are a conversant ingredient in many cultures, enabling him and his peers to strategically hook onto its familiarity to create a best flavor build. This egg-centric menu development showcases a larger movement in foodservice—creative culinary transformations that translate into winning dishes.