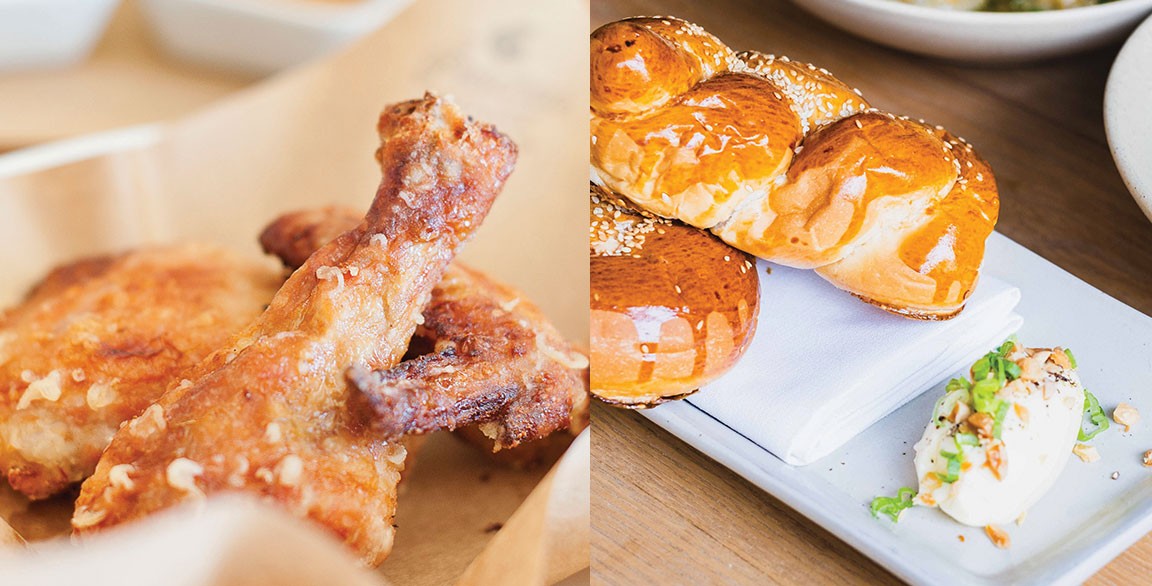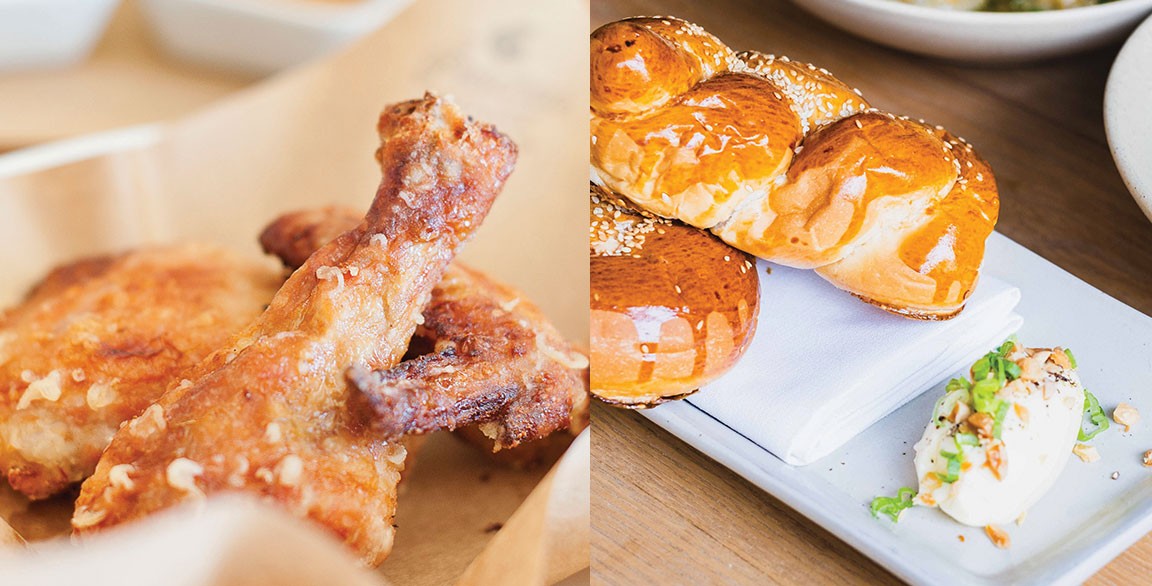 By Katie Ayoub
February 8, 2021
For the uninitiated, fried chicken skins are a revelation, providing a salty, crunchy, rich, savory bite. Menu developers are wielding this singular sensation in wildly creative ways, cashing in on fried chicken's heroic status and upping the ante by featuring what many consider the best part of fried chicken.
At New York's Kimika, a Japanese-Italian comfort food restaurant, the Yakult Soft Serve is topped with an intriguing fried chicken skin streusel.
Mason Hereford, chef/owner of renowned sandwich shop Turkey and the Wolf in New Orleans, tweaks the popular fried chicken sandwich by simply subbing in skins. His Fried Chicken Skin Sandwich features chicken skins, herb mayo, sweet hot mustard, "shrettuce," pickles, red onion, dill and hot sauce on a "schmaltzy" bun.
Beth Needelman is chef of Schmaltz, an elevated Jewish comfort food pop-up in San Francisco supported by Hi Neighbor Restaurant Group and operated out of one of its concepts, Trestle. She pairs a whipped chicken-skin butter with challah and packages it into a multi-course meal kit. "Like ice cream with all the mix-ins, butter and salted chicken skins provide a creamy mouthfeel with an ASMR-friendly crunch," she says.
"The fat and salt combination stimulates the brain and induces the appetite. The addition of chicken skins, also known as gribenes, is a treat commonly used in Ashkenazi Jewish cuisine. At a time when our clientele is looking for comfort food, it made sense to create a dish that includes chicken skins."
Needelman collaborated with Jason Halverson, chef/partner of Hi Neighbor, to create the butter. "Our technique of blanching the skins and then frying them at a low temperature allows the excess fat to slowly render off, leaving us evenly cooked golden skins," she says.
Needelman also dials up savory flavor and crispy texture in egg salad and roasted chicken sandwiches by including chicken skins, and uses them as a nontraditional salty crunch in a sandwich.
"We tested fried chicken skins with consumers. Nearly 30 percent said they were interested in trying them, yet they only appear on less than 1 percent of menus, so it's an area of opportunity."
Mike Kostyo, Trendologist, Datassential
Chicken Skins: On the Menu
Deep-Fried Chicken Skins seasoned with in-house Khao seasoning
—Khao Noodle Shop, Dallas
Crispy-Fried Chicken Skins with Sriracha honey and toasted benne seeds
—Nose Dive, Greenville, S.C.
Chicken Chicharrones: Salt and vinegar-fried chicken skins with aïoli
—The Automatic Food + Drink, Cambridge, Mass.