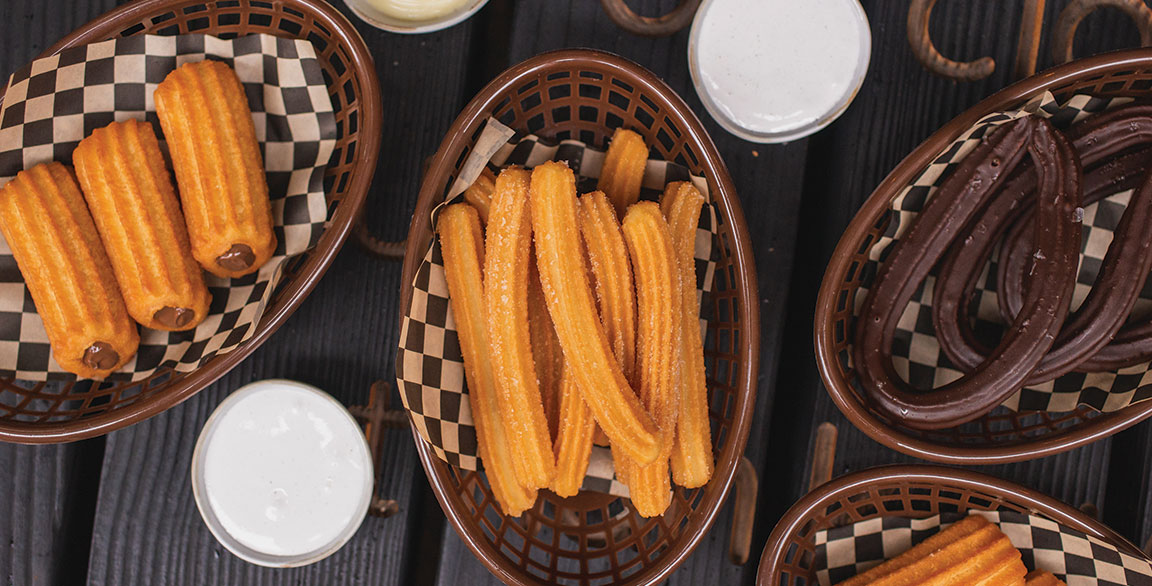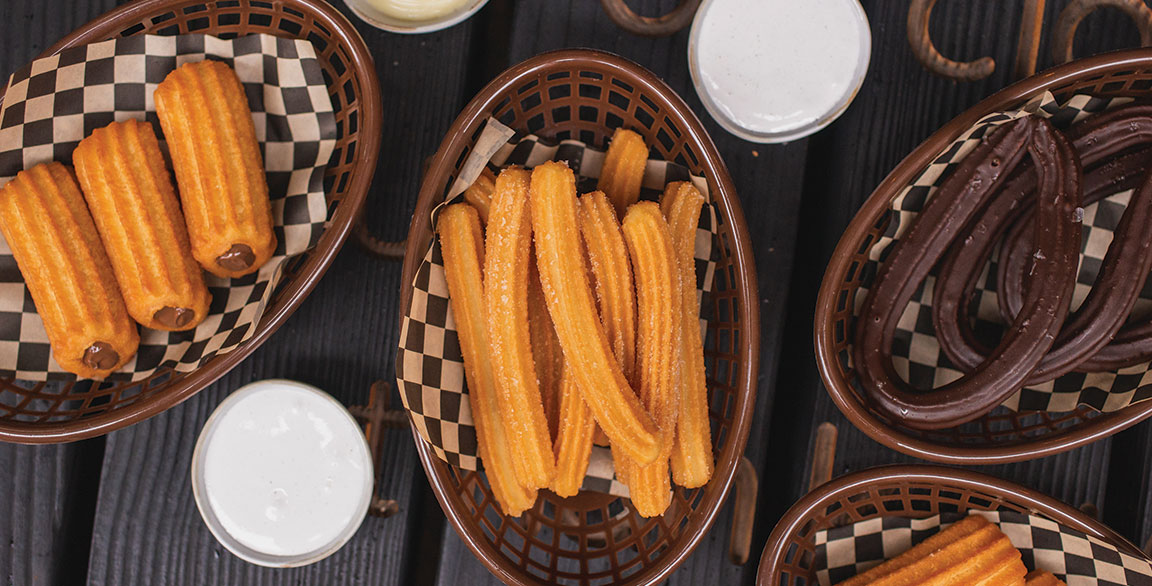 By Katie Ayoub
February 10, 2021
Is it fair food? A ballpark snack? Dessert item? Yes to everything. Churros, those crispy, golden cylinders of deep-fried dough showered in sugar, are having a moment. Born in Spain and celebrated throughout the world, creative variations are popping up on menus here. Restaurant brands are leveraging the broad appeal of this craveable, dippable snack/dessert and creating memorable versions of their own.
Masia, a modern Spanish restaurant in Portland, Ore., offers diners a joyful abundance of choices on its all-day churros menu. Jose Chesa, executive chef, serves classic churros, dusted with cinnamon and sugar; stuffed churros with either dulce de leche or Nutella; ice cream sandwiched between churro buns; and a choice of either marshmallow dip or crema Catalana for any of the churro items on the menu. Masia also makes churros a part of its to-go bundles. A recent picnic box of charcuterie, Russian potato salad and house pickles included churros as the sweet treat.
Churros are the fastest-growing dessert option on menus today.
Datassential, 2020
Concepts like The Gringo, an eclectic Mexican restaurant in Chicago, and Churroholic, based in Anaheim, Calif., add a gloriously silly side to churros, attracting younger diners and any of us looking for a little candy-filled fun. Each takes advantage of the churro's versatility which, at its core, is a simple choux pastry.
The Gringo's menu includes Pop Rocks Churros with a candy glaze and Samoa Churros with a caramel-coconut frosting.
Churroholic is equally creative in its exploration of American candy culture, with offerings like the Matcha & Pebbles Churro, a giant churro loop coated with Fruity Pebbles cereal. Churro Breakfast Bites are also on the menu, moving churros into a mini size: Fresh-cut fruit paired with churro bites are topped with whipped cream and powdered sugar and drizzled with raspberry and chocolate sauces.