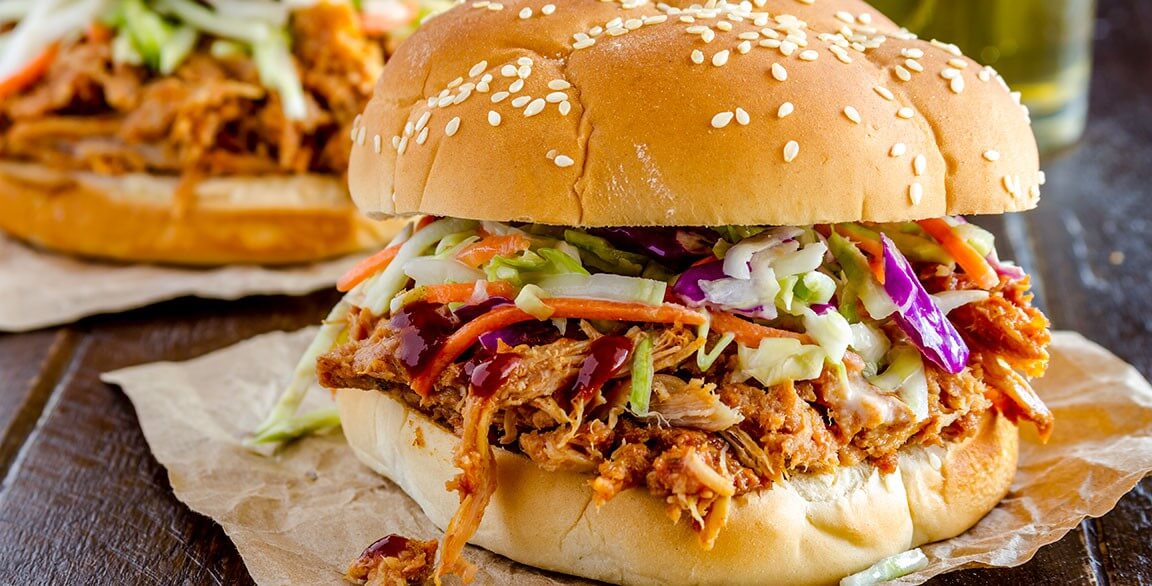 By Flavor & The Menu
March 16, 2021
Flavors on the Road
Going the distance with takeout and delivery
Varying textures in a recipe build is standard protocol, but becomes a critical strategy in takeout menu success. Time, temperature and sealed containers create challenges that require dialed up effort in both texture and flavor. They also have to calibrate against a loss of brand experience—hospitality gets muted once outside of its familiar and friendly confines. Projecting texture and flavor in a louder voice makes the takeout experience memorable and enjoyable.
In handhelds, sides and accompaniments, slaws and composed salads offer a bright, vegetal profile with a crisp, clean counterpoint. Chefs are using them strategically in their takeout menu development, differentiating with creative and bold flavor combinations, and/or employing them in nontraditional menu items.
1. CAPITALIZE ON CRUNCH
It's all about ensuring texture that doesn't fade during transport. Keep it crisp and make in interesting with vibrant colors and intriguing combinations.
Consider these crispy-textured slaws:
jicama-jalapeño-watermelon
napa cabbage-cashew pieces-celery
carrot-watermelon radish-cilantro
green apple-red cabbage-spiced pecans
pickled daikon-shishito pepper
kohlrabi-pepitas-lime zest
2. GO BOLD WITH FLAVOR
Introducing assertive flavors in takeout builds keeps the vibrancy of the experience intact. Dressings starring heat, especially when countered with acidic and sweet tones, help slaws deliver the punch that off-premise items need.
Look to on-trend flavor pairings that bring the heat:
ancho chile-lime
habanero-honey-umeboshi
black vinegar-Sriracha-brown sugar
honey mustard-cherry pepper
fresh ginger-maple-soy sauce
3. SUB IN THE SLAW
When looking to solve textural challenges, calling slaws into the field of play is a smart takeout strategy. Crunchy counterpoint goes a long way so replacing soft-textured sides like mashed potatoes helps dial up the experience. That also works with fries, replacing an operationally friendly slaw with hard-to-keep-crisp french fries or other deep-fried side.
Arnie's, a seafood concept with two locations in Washington, pairs its battered Alaskan Cod with a crunchy and bright ginger coleslaw and roasted onion tartar sauce, and at Wild Acre Camp Bowie, a tap room in Ft. Worth, Texas, the Korean BBQ Bulgogi, which sports Wagyu beef, black garlic aïoli, dill pickle, a fried egg and hoisin sauce, gets its crunch factor from a signature"Funkytown" slaw, made with red and green cabbage, red onions, carrots, jalapeño, green and red bell pepper, cilantro, honey, mayonnaise, mustard and fresh lime juice.