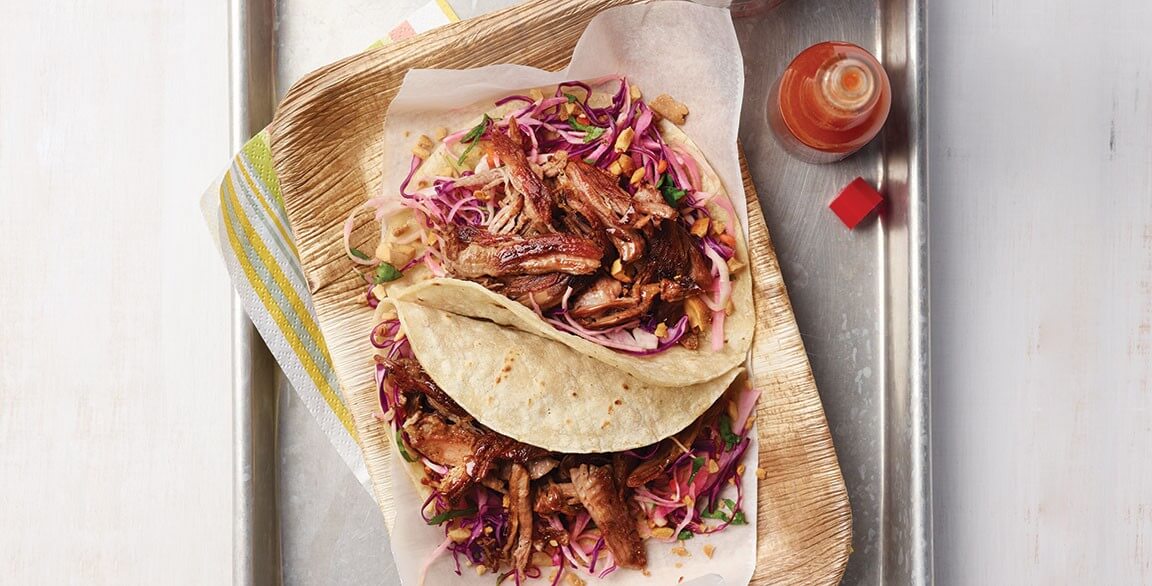 Chefs are playing with carnitas in wonderful ways, either moving them out of the taco format into menu items like bowls, sandwiches or salads, or changing up the protein, subbing out the traditional pork for beef, lamb or chicken. Carnitas are certainly worthy of interpretation. Slow-braised, flavor-rich meat that's crisped and browned before service is a craveable, delicious thing.
"Carnitas are so popular because they hit all the senses, and the technique lends itself to so many cultures," says Michelle Lainez, owner of Chef Michelle & Company, a Los Angeles-based catering company. "The opportunity here is the ability to cross boundaries with carnitas. Use the traditional technique, but switch out the protein and season it with a variety of flavors from different global hotspots."
Her fresh take: Aussie Lamb Carnitas Tacos with habanero cabbage and roasted peanuts. She uses pasture-raised leg of lamb. "It's one of my favorite cuts of meat because of its versatility," says Lainez, who was previously the executive chef of the Border Grill in Los Angeles. "It can be very modern, but it's a classic cut, dating back to biblical times. I love the way the flavors come through when it's braised."
She tops the lamb carnitas with a bright, crisp cabbage slaw, spiked with ringlets of habanero and tossed in fresh lime juice. To move the lamb carnitas into a bowl build, she suggests using citrus-scented sweet potato mash as the base. "It would also be fun to pair it with fresh pasta in a rustic, vibrant sauce using peppers and lemon," she says.