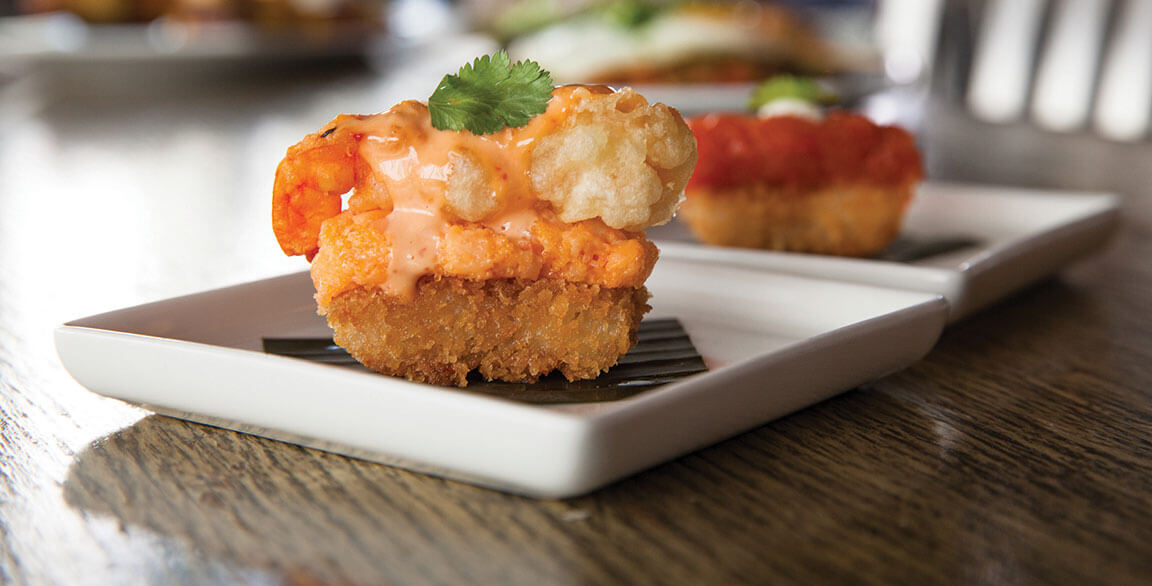 1

Addictive Benedicts

Asian condiments encompass many of the trend attributes that drive consumer interest—and they grant chefs a vast degree of exciting and creative exploration. While Asian condiments are often utilized as a stand-alone feature, they may also be a sauce, spice or ingredient in a recipe preparation meant to complement and amplify the flavor of food.

We see each condiment used interchangeably and broadly both in front of the house by guests or back of the house by chefs. The versatility of these condiments is evident in their ability to work across cuisines—and even more so when stepping outside of Asian flavor profiles. It's all about the flavor delivery, and using each judiciously for a specific desired result.
2

Chile Sauce

Established chile sauces hit a lot of the flavor traits desired by today's consumers. They deliver a multi-sensory experience and can introduce the unexpected. Position the flavorful heat with a recognizable application to tempt guests with a safe yet adventurous purchase decision.

Cajun Crab Cake Benny: Spiced crab cake, buttermilk Federal "biskit," Sriracha hollandaise
—Phuc Yea, Miami

Fireball: Spicy pork, corn, pickled radish, kale slaw, kimchi, Korean hot sauce, creamy Sriracha, crispy garlic, scallions, roasted sesame seeds, Fireball powder
—Seoul Spice, based in Washington, D.C.

TRY THIS
Roasted Gochu Squash: Butternut squash + gochujang + maple syrup + sesame seeds + scallions
Diablo Grilled Cheese: Rustic farmer's bread + caramelized onions + smoked cheddar + Gruyère + fontina + sambal oelek
3

Wasabi

Wasabi is not new, but it still maintains relevance and is destined for much more than sushi. Fusion foods that break convention will continue to grow as restaurant menus become more globalized. Expand the opportunity to cultivate interest and incorporate wasabi across the menu.

Whole Roasted Branzino with wasabi chimichurri
—Makoto, Miami

Cucumber Wasabi Sauce as a sauce option for a build-your-own Korean rice dish
—Bibibop Asian Grill, based in Columbus, Ohio

Try This
Green Herb/Wasabi Breadcrumb-Encrusted Prime Rib: Toasted panko + wasabi powder + rosemary/parsley/green onion + olive oil (blended)
Wasabi Cocktail Sauce: Wasabi + gochujang + ketchup + chile sauce + Worcestershire + lime juice
4

Soy Sauce & tamari

Soy sauce and tamari (especially low-sodium and gluten-free versions) exude versatility. This condiment can be a menu workhorse, punching up flavor and color while offering recognizable and comforting flavor notes to consumers.

Chang'An Spicy Tofu: Housemade soft tofu drizzled with soy sauce, vinegar, chile oil, with fresh cilantro
—Xi'an Famous Foods, 15 locations in New York

Green Curry: Squash, root vegetables, kale, roasted peanuts, sweet and spicy beets, tamari fried rice, oranges, coconut broth
—Birchwood Cafe, Minneapolis

Try This
Golden Dipping Sauce: Fresh-grated turmeric + pickled ginger and juice + bourbon barrel-fermented and aged soy sauce + fresh herbs
"Everything" Crispy Roasted Chickpeas (bar snack or salad topper): Chickpeas + tamari + honey + everything bagel seasoning + cayenne
5

Kewpie Mayo

Share the story and take guests on a flavor journey with the super-smooth texture and deep, addictive, savory richness of Kewpie mayonnaise. Use it for just about any preparation that calls for mayonnaise—and then some.

Crispy Brussels Sprouts with savory soy, house Kewpie, furikake
—Adana, Seattle

Shrimp & Kimchi Okonomiyaki with mozzarella, cabbage, scallion, Kewpie mayonnaise, katsuobushi
—Ukiyo, Indianapolis

Try This
Kewpie Glazed Asparagus: Grilled pencil asparagus + Kewpie mayonnaise + grated salt-cured egg yolks
Smoked Kewpie Potato Salad: Roasted chilled fingerling potatoes + Kewpie mayonnaise + smoked paprika + Pommery mustard + red onion + parsley
6

Furikake Seasoning

Although this is typically thought of as a finishing element over rice, look to feature this Japanese seasoning as an elegant star ingredient. Craft your own signature furikake blend, specific to your brand—or stay traditional, as the mixture hits multiple trend cues.

Nori Spaghettini: Dungeness crab, white miso, Buddha's hand, furikake
—Ayala, San Francisco

Oatmeal Congee Carbonara: Crispy bacon, poached egg, scallion, pecorino furikake
—Atrium, Los Angeles

TRY THIS
Umami Butter: Cultured butter + furikake + chopped fresh seaweed
Crispy Fish Slider: Tempura petite fish filet + furikake + sweet garlic sauce + green papaya slaw + toasted egg bun
7

Dark Sauces

Luxurious dark sauces add flavorful richness, complexity and texture to recipes. Their versatility adapts well with multiple applications, tying other flavors together. Utilize XO sauce as a premium finishing touch, and use plum, oyster and hoisin sauces as ingredient boosters, turning the ordinary into something special.

Khao Grapow Moo Grob Khai Dow: Stir-fried crispy pork belly with chile, garlic, oyster sauce and holy basil over rice with fried egg
—Dakzen, Somerville, Mass.

Confit Duck Foldies with mozzarella, cucumber, tamarind hoisin, cilantro, sliced onion
—Bar Peached, Austin, Texas

TRY THIS
OMG! Ribs: Baby back ribs + citrus-hoisin glaze + cashew crumble + hot mango dipping sauce
Shangri-La French Toast: Kaya-stuffed challah bread slices + plum sauce-berry compote + pistachio purée
8

Vinegar

Think beyond a marinade or salad dressing with vinegar. Use it as a tenderizer, a finishing component, or as a main recipe element. Fermentation and pickling trends have pushed vinegar to the forefront as an impactful menu callout.

Angus Reserve Steak Tartare with lime, rice vinegar, garlic, cilantro, toast points
—Braddock's Rebellion, Pittsburgh

Sweet Potato Pancake with Aïoli: Purple sweet potato, black vinegar sauce
—My Little Dumpling, Los Angeles

TRY THIS
Five-Spice Apple Sauté (top pork chops): Honeycrisp apple + black Chinese vinegar + brown sugar + five-spice seasoning + toasted sesame seeds
Miso Snapper: Miso-rubbed seared snapper + carrot-ginger-tosazu vinegar emulsion + snow pea salad
9

Curries

Asian curries present an opportunity to show off culinary acumen and authenticity, crafting housemade blends. When guests see curry on the menu, it evokes the perception of big flavors, so go bold and deliver on that promise.

Curry Bloody Mary: Curry leaves, peppercorn, cumin, ginger-garlic and green chiles
—Dosa, San Francisco and Oakland, Calif.

Red Fry Curry: Boiled eggs cooked with tomato gravy and garnished with cheese
—Eggoholic, Chicago and Schaumburg, Ill.

TRY THIS
Thai Lobster Bisque: Maine lobster bisque + red curry + coconut milk + lime-oil topper
Curried Burnt Ends Taco: Brisket burnt ends + turmeric yellow curry + roasted eggplant + shaved ricotta salata + micro radish + white corn tortillas
10

Tamarind

A few food cultures claim tamarind as a native son, including Thailand. The interest by U.S. chefs in this fruit is heightened by the appeal of bright, sour, yet slightly bitter flavors, which have become an important part of modern menu development.

Confit Chicken Wings: Tamarind glazed chicken wings with crispy garlic
—Philly Wing Fry, Philadelphia

Coconut Shrimp Toast drizzled in a tamarind glaze
—Bamboo Club, Long Beach, Calif.

TRY THIS
Thai Lemonade: Sparkling blood-orange lemonade + tamarind purée swirl + fresh Thai basil sprigs + bullet ice
Singapore Style Omelette: Chewy rice flour/egg fry + oyster mushrooms + tamarind-tomato chutney + baby arugula
Fish Sauce
Fish sauce is an easy—and exotic—way to substitute for salt or amp up condiments. It can be a stealth ingredient or used as a premium finishing touch. It's also getting called out in menu descriptions, proving consumer acceptance with evolving flavors.
Ike's Famous Vietnamese Wings: Chicken wings marinated in fish sauce and sugar, deep fried, tossed in caramelized fish sauce and garlic, served with pickled vegetables
—Pok Pok Wing, based in Portland, Ore.
Sprouting Romanesco with fish-sauce vinaigrette, red onion, cilantro
—Majordōmo, Los Angeles
TRY THIS
Larb Lettuce Wrap: Ground pork + garlic/onion/chiles/lemongrass + fish sauce/lime juice + mint + puffed brown rice + Bibb lettuce
Yellow Tomato Gazpacho: Yellow tomatoes + roasted yellow bell peppers + corn + cucumber + mango + fish sauce + garlic + vinegar + olive oil
But Wait! There's More
Two additional Asian condiments—miso and yuzu—have been gaining menu notice over the last few years, and are extending their reach beyond authentic Asian menus, delivering on the promise of flavor adventure.
These two condiments translate seamlessly onto global mash-up menus. They introduce excitement, connecting with adventurous consumers craving more from their dining experiences.
Yuzu
This citrus fruit has the ability to transport our palate with its aromatic, bright, clean, lemon flavor. Price aside, it can tap into the consumer love of fresh citrus notes, while also holding more exotic appeal. Here are examples of creative menu implementation of yuzu:
Shaved Baby Artichoke with dried miso, Parmesan, truffle-yuzu dressing
—Nahita, Boston
Calamari: Humboldt squid, cornmeal, mesquite, yuzu-chile aïoli, candied sweet peppers
—Cartwright's Modern Cuisine, Cave Creek, Ariz.
Sakura Salad: Salmon, ahi tuna, tamago, enoki mushrooms, edamame, tobiko, lemon, "street crunch," green onions, yuzu-ponzu sauce, sesame dressing
—Bamboo Asia, San Francisco
Chocolate Mousse: Banana-yuzu sorbet, kumquat-Meyer-lemon marmalade, black-sesame brittle
—Normandie, Portland, Ore.
Iced English Breakfast Tea with yuzu simple syrup
—State Bird Provisions, San Francisco
Miso
The rise of fermented foods (with downplayed funkiness) and interest in umami-rich flavors has helped drive miso's momentum. It's a wonderful ingredient, poised to reach a greater audience and introduce big, savory impact on menu items.
Housemade adaptations could see the next evolution of miso break out into new foundations, with the creation of fermented non-soy bases, such as chickpea or sweet potato miso. Here are examples of modern menu applications using miso:
Oshinko: Homemade pickled miso carrot, eggplant, curried daikon, shishito peppers
—Shun Japanese Kitchen, Houston
Cauliflower Taco with apple-miso marinade, gochujang, charred scallion salsa
—Vandal, New York
Mille-feuille Miso Katsu: Ten-layer pork katsu with black hatcho miso sauce, fresh panko, snowy cabbage and hot mustard
—Rintaro, San Francisco
Braised Collard Greens with hatcho miso, sesame paste, roasted maitake mushrooms, fried egg
—Fiona, Los Angeles
Miso de Leche Cookie: Shortbread cookie with miso de leche and matcha powder
—Pikunico, Los Angeles