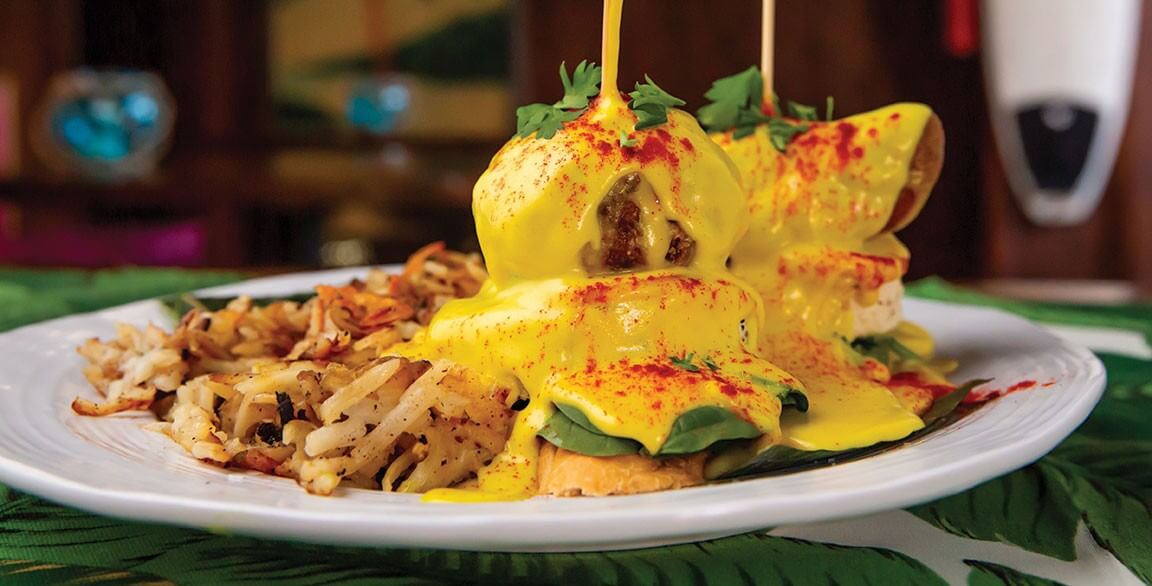 By Amelia Levin
July 21, 2019
Brunch is so much more than a late weekend breakfast. For some—and particularly younger consumers—brunch is practically a religion, one that's fueled by Bloody Marys and mimosas. According to research from Datassential, brunch has an incredibly strong four-year prognosis, ranking in the 92nd percentile for future growth potential compared to other foods, beverages and ingredients.
The stakes for operators are certainly high, as many restaurants that offer brunch understand that the game changed a few years ago.
Waffles have upped their flavor game—maybe featuring cardamom-scented batter and a topping of lemon butter, maple syrup and crushed pistachios.
Eggs Benedict may star crispy latkes crowned with a poached egg, smoked salmon, cream cheese hollandaise and fried capers.
The question around innovation is: Where do chefs go from here? As brunch lovers continue seeking out creative dishes that surprise and delight, developing recipes that deliver is crucial. Here's a look at a dozen on-trend brunch categories and the new opportunities for differentiation within each.
1

Addictive Benedicts

This poached egg dish with buttery sauce first popularized in New York City is the champion of brunchtime innovation. Chefs have been tinkering with the hollandaise, the protein element and the starch component for a while now. Today, that innovation has reached new heights, with consumers readily embracing creative takes on this beloved brunch dish.
Halfsie Benedict with fried avocado and "crab" cake or grilled tofu, fresh spinach, tomato, toasted English muffin with housemade hollandaise
—No Bones Beach Club, based in Seattle
Aloo Tikki Benedict with turmeric hollandaise, pickled onions, micro watercress and optional Alaska king crab
—Grand Trunk Road, Chicago
Carbonara Benedict: Poached eggs atop Parmesan-crusted ciabatta with thick-cut bacon, arugula, Parmesan cream, cracked black pepper and chives
—First Watch, based in University Park, Fla.
Braised Spring Lamb Benedict with soft-poached eggs and herbed hollandaise sauce
—The Albert, Chicago
2

Top-Notch Toast

This egg-battered and pan-fried sweet or savory favorite offers the perfect playground for chefs to explore new variations in the form of global spice add-ins, unexpected toppings and intriguing flavor combinations. While we've seen an explosion of soufflé pancake photos on Instagram, when it comes to actual menu adoption, French toast has stronger legs as a brunch staple. Even Taco Bell has jumped on the bandwagon, with its French Toast Chalupa featuring a folded cinnamon-spiked, bready shell wrapped around scrambled eggs and sausage or bacon with a side of syrup.
French Toast with blueberry marmalade, lemon and poppy, whipped cream
—Mordecai, Chicago
Custard French Toast with roasted Asian pear and bourbon butter
—Nopa, San Francisco
3

Smoke In the Water

While smoked salmon is a brunch fixture, chefs are either experimenting with other smoked fishes, namely trout, whitefish and hamachi, or featuring smoked salmon in new ways. These are applications that go beyond lox and bagels or Norwegian-style gravlax and toast. Propelled by an uptick in seafood innovation, creative play around smoked fish for brunch marks a serious opportunity.
Smoked Hamachi with an "everything" doughnut
—Compère Lapin, New Orleans
Potato Latke with sunny-side-up eggs, smoked whitefish, greens, pickled red onion
—Daisies, Chicago
Johnnycake with smoked salmon, crème fraîche, scallion
—Marsh House, Nashville
4

The Soft Side of Eggs

A year or so after the trend took hold, we've seen variations of shakshuka (baked eggs in spiced tomato sauce) on many brunch menus nationwide. But some chefs are getting more minimalist with their egg presentations that focus on cooking technique rather than ingredient pairings. One example is soft-scrambled eggs, cooked extra slow over lower temperature to create a pudding-like, velvety texture.
Soft-Scrambled Eggs with escargot or Parisian ham and Comté cheese
—Bistro Pierre Lapin, New York
Soft-Scrambled Eggs with shiitake mushrooms, stinging nettles, goat cheese, potatoes, toast
—Plow, San Francisco
5

Wholesome Bowls

Lately, this lunch break staple (and nice alternative to basic salad, soup and sandwich) has started to make an appearance on brunch menus as a hearty, vegetable-filled option, typically topped with a lightly fried or poached egg that adds a rich "sauce" when broken open. The key here is wholesomeness. As evidence, look to the Warm Brown Rice Bowl with kale, avocado, six-minute egg, sprout salad, sunflower seeds and optional smoked salmon or grilled chicken at Sunday in Brooklyn in Brooklyn, N.Y. Dunkin' Donuts recently rolled out a limited-time offering of two breakfast bowls, touting their calorie and protein counts in the menu descriptions. The Egg White Bowl combines egg whites, spinach, roasted potatoes, cheddar and caramelized onions, delivering 14 grams of lean protein and 250 calories.
Tofu Rice Bowl: Braised sesame tofu, crisp and sticky brown rice, housemade kimchi-style pickles, bok choy, local daikon-carrot-apple pickled slaw, chile sauce, fried local egg
—Garland, Raleigh, N.C.
White Pepper Beef Gyudon with steamed rice, pickled red onions, marinated mushrooms and poached eggs
—Furious Spoon, eight locations in Chicago
Superfood Grain Bowl: Crispy farro, quinoa, kale, radishes, sprouts, pickled chiles, shiitake mushrooms, poached egg, miso-ginger vinaigrette
—Punch Bowl Social, based in Denver
6

Time for Wine

Move over frosé, there's a new cocktail on the block. Perfect for brunchgoers and other day drinkers, wine-based cocktails are becoming all the rage, and we're not just talking about a basic sangria. Though wine on its own stands up just fine, bartenders have begun to mix it with artisanal ingredients and, in some cases, high-quality spirits—making these playful libations the ideal refreshment, especially when paired with a rich meal. In some cases, they can also be lower in alcohol, helping answer the call for low-ABV cocktails.
Mads & Chads: Lillet Rose with gin, pamplemousse liqueur, Amaro Montenegro, simple syrup, lime juice, fresh grapefruit juice, orange
—L.A. Jackson, Nashville, Tenn.
Burnt Reynolds: Montenegro wine, rye whiskey, Luxardo amaro, amaretto, apple
—Last Straw, Austin, Texas
Wolf in Lamb's Clothing: Lambrusco, gin, lemon, basil, honey
—Hot Tin, New Orleans
The Devereaux: Cava, agave lavender, gin
—Pitchfork Pretty, Austin, Texas
7

Beyond Oatmeal

Who says oatmeal has to be boring? While some chefs are introducing overnight oats to menus, others are experimenting with different grains for brunch-ready porridges. We're also seeing more applications for congee, an Asian rice porridge, that seems to be finding its way into the mainstream by way of college and university dining.
Champurrado Porridge: Ancient grains, Mexican chocolate, cinnamon, spiced pepitas and piloncillo syrup
—Spoonfed, Los Angeles
Farro Porridge with almonds, poached egg and almond cheese
—Redbird, Los Angeles
8

Chicken-and-Waffle Bonanza

Chefs around the country are experimenting with the classic chicken-and-waffles comfort brunch dish, swapping out the chicken for other proteins and even using the waffle iron itself for menu differentiation. For example, Better Half in Austin, Texas, menus Waffle Iron Hash Browns. Chicken and waffles also offer a new slate to experiment with different types of dipping sauces like peri peri, as well as flavored butters and even interesting spice add-ins for the waffle batter. Datassential reports that menu mentions have gone up a whopping 130 percent since 2014.
Quail + Waffles with cane syrup, figs and jalapeños
—Jack Rose, New Orleans
Waffled Salmon with spicy orange maple sauce
—Gypsy Café, Lincoln, N.H.
Fried Chicken & Waffles with orange-cinnamon waffles and Sriracha maple syrup
—The Rusty Pelican, Miami
Rooster Slam: Gingersnap-flavored waffle, hot honey chicken, crispy bacon, French toast, biscuit, chorizo, fried egg
—Red Rooster, New York
9

It's All Gravy

Chefs today are leveraging gravy's rich, versatile profile as a carrier for different types of meat on brunch menus, from chorizo and pork sausage to lamb and more. It brings both comfort and heartiness to a brunch dish, introducing a seriously savory, rich, craveable element.
Biscuits with poached eggs, breakfast sausage gravy and hot sauce
—Sunday in Brooklyn, Brooklyn, N.Y.
Lamb Gravy & Biscuits with two sunny-side-up eggs, buttermilk biscuits, fresh oregano
—Mason Social, Alexandria, Va.
10

Hash It Out

Hash is all over brunch menus across the country, and that makes sense—the dish offers endless opportunities for ingredient exploration, whether in vegetarian or meat-based form and loaded with all sorts of flavor add-ins, spices and more. Today, chefs are tapping into trending flavor systems, like Buffalo chicken, Mexican street corn, banh mi, and more, using the comforting, familiar hash format as a safe platform for flavor adventure.
Sweet Potato & Turkey Hash: Oven-roasted sweet potatoes, red and white potatoes, peppers, onions and turkey breast, with two eggs any style
—Hole in One, Orleans and Eastham, Mass.
Cheeseburger Hash with bacon, aji amarillo and banana pepper
—Beaker & Gray, Miami
11

Enter the Salad

Salad no longer seems to be just a lunch or light-dinner option. Many brunch menus around the country nowadays include at least one salad option, and often more, as guests brunch longer into the day and show continued interested in eating produce at all times of the day. These salads can take shape as leafy greens paired with eggs and toast, or sweet and savory fruit salads.
Breakfast Salad: Kale, strawberries, 5-minute egg, goat cheese, garlic vinaigrette and toasties
—Café Robey, Chicago
Compressed Melon: Watermelon, cucumber, ninja radish, agave grapefruit, mint
—Crown Room at Hotel Del Coronado, Coronado, Calif.
Kale Caesar Salad with soft-boiled egg, crispy bacon, crunchy cornbread, shaved Parmesan and housemade Caesar dressing
—Root & Bone, Shelborne South Beach, Miami Beach, Fla.
12 Cool Hot Beverages
A vital part of the breakfast and brunch experience, coffee and tea are being taken way more seriously than ever before. Many restaurants are partnering with local roasters and rare tea purveyors to source the best product they can. Others are adding MCT (medium-chain triglycerides) oil, turmeric and other add-ins for a jolt of nutrition. Cold brew is still trending, but now golden lattes infused with turmeric and made with alternative milks are making their way into the brunch scene. These offer a low- or no-caffeine option for those craving a warm beverage with their brunch, but without the buzz.
Baker's Latte with cardamom ghee, honey and Maldon sea salt
—Sqirl, Los Angeles
Masala Chai Latte
—Bluebird London NYC, New York
Turmeric Latte with ginger and steamed almond milk
—Superba Food + Bread, Los Angeles