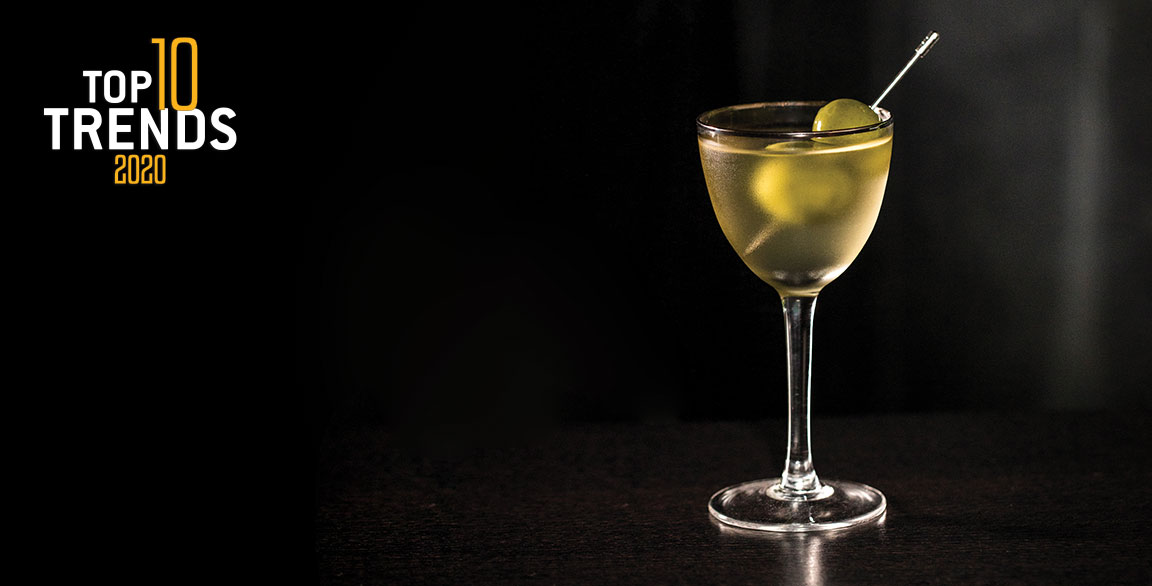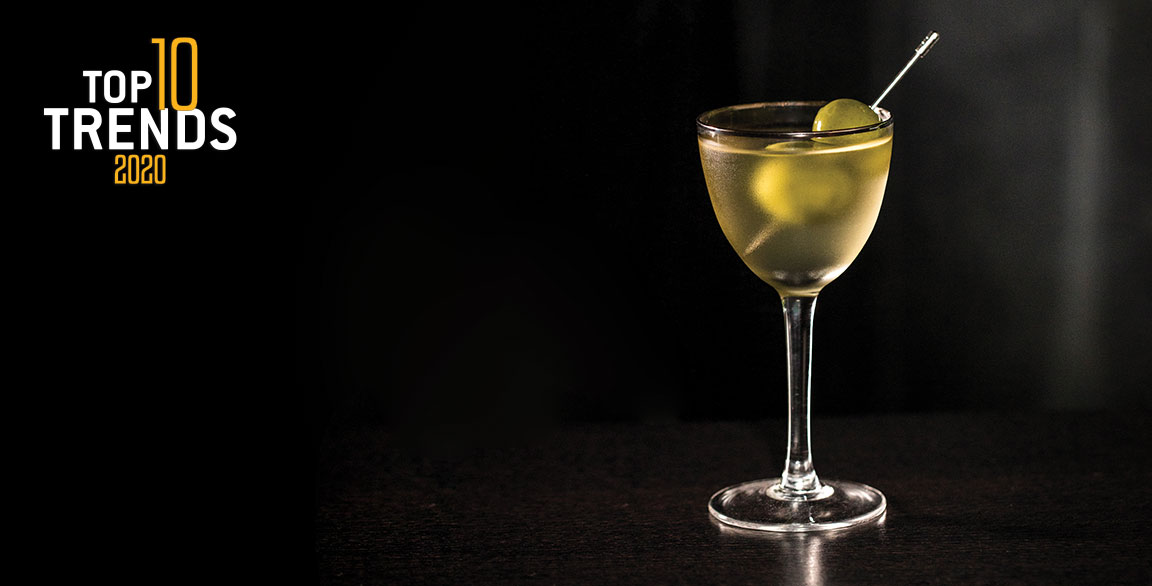 By Katie Ayoub
January 9, 2020
Consider this drink, served at The Roosevelt Room in Austin, Texas. It's called The Castaway, with coconut cream, lime juice, cucumber, ginger beer, and a sweetgrass tincture made with mint and vanilla cinnamon, designed in the style of a refreshing, crisp daiquiri.
Or mull over Serendipity, a drink on the menu at Existing Conditions, a cocktail bar in New York. Described as "a savory tropical sipper for when you're in an Old-Fashioned frame of mind," it features clarified tomato, clarified passionfruit and a grapefruit twist. Both of these drinks are alluring, sophisticated and thoroughly grown-up. They are spirit free, yet promise a flavor-forward experience.
These well-crafted nonalcoholic cocktails are supplanting mocktails, answering the call from a range of consumers. Of course, teetotalers, who don't imbibe alcohol for a number of reasons, make up one subset. There's also a rising number of "sober curious" drinkers.
This relatively new moniker applies to a variety of people: those who have renounced booze as part of a lifestyle choice, those who choose to abstain during month-long challenges like "Dry January" and "Sober September," and those who are occasionally opting out of drinking as part of an overall effort to cut back on booze.
What's important to note about the "sober curious" movement is that its followers share their abstinence gleefully. There's no shame in not drinking. There's no asking the bartender to stick a lime wedge in the seltzer to make your friends think you're sipping on a vodka soda. That trend in socializing without imbibing, proudly getting amplified through Instagram, has helped move "sober curious" ideals into modern day culture.
On top of that, ultra-slick concepts and exclusive promotions that celebrate spirit-free cocktails are hurling the whole idea into the zeitgeist.
For example, Barmini by José Andrés, a swanky bar in Washington, D.C., ran a "Virtue Day" menu, serving only zero-proof drinks, showcasing the techniques and flavors that place them on equal footing with their regular offerings.
Listen Bar, a pop-up in New York, has garnered tremendous buzz for its innovative booze-free menu served in a spirited bar environment. Getaway in Brooklyn, N.Y., a bar dedicated solely to non-alc, offers a cool coffeehouse vibe for the evening crowd.
"This isn't as much a trend as a groundswell of changing consumer behavior," says Maeve Webster, president of Menu Matters. "The sober curious movement, led mostly by younger generations, is seeing a lot of consumers turning away from alcohol. That's driving operators and manufacturers to create unique and appealing nonalcoholic beverages that play at the adult level."
5 Steps to Success
By Tony Pereyra
Creating a solid and consistent non-alc program is becoming more of a necessity, and it gives guests the opportunity to choose from high-quality options. Consider these five points when developing nonalcoholic cocktails:
It's important to start simple with quality ingredients and flavors, but a focus on execution and presentation is a must.
During R&D and menu implementation, treat non-alc beverages just like you would traditional cocktails—concentrating on balance of ingredients, flavor and presentation.
Train your staff on the intent and story around the non-alc program to help drive interest.
Consider menuing strategies—where your non-alc options will live on your menu and how they are priced, for example.
Work cohesively with the culinary team on maximizing margins and creating less waste.
CRAFTING FLAVOR
A number of trend-forward restaurants and bars are following a similar track to the sober bars and leading innovation. They're hatching strategies around their nonalcoholic adult beverages that woo the sober curious, the sober and the consumer simply looking for a well-balanced, well-crafted, alcohol-free drink. "It's not to say that alcohol-based drinks will be replaced entirely," says Rob Corliss, chef/founder of All Things Epicurean (ATE). "It is simply that operators should recognize this evolving cultural trend, rebalance their menus and implement a beverage strategy for menuing nonalcoholic creations."
What makes this category of spirit-free drinks different than the already established mocktails is a newfound approach to development. Its flavor builds carry the nuance, depth and balance of a cocktail. Justin Lavenue, co-owner/operator of The Roosevelt Room in Austin, Texas, shares the creative process behind working up the N'Artini, the bar's nonalcoholic version of a dirty gin martini.
"We started by drilling down on how we were going to try to replicate gin," he says. To introduce gin's layered botanical flavors, they landed on a base of juniper tea, along with Seedlip Spice 94, a distilled nonalcoholic spirit. "Seedlip contains notes of cassia bark that are similar to what's in Beefeater and Bombay Sapphire, and it has citrus peels, some of the most pronounced botanicals in gin," he says.
To replace a martini's vermouth, the team went with verjus, the pressed juice of unripened grapes. "Verjus introduces an acidity that is similar to vermouth," says Lavenue.
Cucumber was added to suggest the profile of a Hendricks-style gin, glycerin for viscosity, along with clarified Asian pear juice, pine needles, rosemary, winter spices, orange and lemon peel, and lemon oils for depth and roundness.
Lavenue makes a N'Artini "tea batch" with all of the ingredients, minus the verjus and olive brine, which are both added when the drink is ordered, shaken and served up with a skewer of Castelvetrano olives. "The drink is more subdued than a martini, but the ingredient play does a great job of delivering on the flavor experience," he says.
The N'Artini, along with others of its ilk in this new wave of non-alc drinks, are served as cocktails, in proper glassware, garnished, rimmed, chilled when warranted—there's no trade down in delivery. The experiential quality of these drinks is tantamount to their success.
"We make these offerings as important as the rest of our cocktail list," says Lavenue. "We're not just serving nonalcoholic drinks as an alternative. We're featuring them as a highlight."
SPIRIT-FREE STRATEGIES
Building flavor and texture in satisfying zero-proof drinks requires careful consideration. Seedlip works well as a spirit-free replacement for gin, bringing in botanicals and a clean, brisk taste, yet with a more subdued profile. That doesn't mean it's limited to non-alc versions of classic gin drinks. It offers a great pathway to grown-up versions of booze-free cocktails.
The Fat Radish, a modern British concept with restaurants in New York and Savannah, Ga., menus a refreshing, summery Seedlip Collins with Seedlip Spice 94, watermelon, basil and lemongrass.
The "No-Proof Cocktails" menu at Columbia Room in Washington, D.C., uses Seedlip in The Squash Old Fashioned, a unique take on the classic with autumn squash, orange juice, sweet whey and Seedlip Spice 94.
Provision in Austin, Texas, features it in three non-alc builds, including the Garden & Green, starring Seedlip Garden 108, cucumber, mint, cilantro, lime and coconut water. Seedlip is just one of a growing number of nonalcoholic spirit brands. This category will continue to offer up easy alternatives for spirit-free drink development.
Tea for astringency
Astringency and composite aromas are two components of a beverage build that can be hard to duplicate when alcohol is left out of the equation. Teas work remarkably well, reminding the palate of the sensations present in a number of cocktail experiences.
Existing Conditions in New York uses Mt. Olympus tea in its non-alc drink called the Doyenne. The tea fortifies the profile with astringency balanced by peppery, fragrant, herbaceous notes. The only other ingredient in the Doyenne is carbonated, clarified Comice pear.
Back at Columbia Room, the Tangle & Shrub pairs cascara tea, which introduces fruit-forward bitterness, with watermelon molasses, sparkling mineral water and a raspberry shrub.
Boston's Alcove, a modern Mediterranean spot, turns to Navarro pinot noir juice to yield a wine spritzer with the flavor of wine without the alcohol. Its Vineyard Spritz is rounded out by orange and pineapple.
Beverage developers are using syrups in creative booze-free builds to help deliver on the expectation of viscosity, as well as the nuance and intrigue of flavor play.
The TurmeGin Breeze is among the spirit-free offerings at Le Coq Rico, a French restaurant in New York. It sees a ginger-turmeric syrup with lemon juice and club soda. "This movement has helped bring forward more creative and exciting alternatives to alcoholic cocktails," says Eric Laugier, beverage director. "There is a much higher demand for these zero-alcohol beverages, and I am excited to be offering them to our guests."
Nima Kasmaii, bar manager at Ember, a modern American restaurant in Miami, agrees that the goal is to develop cocktails that are so good, the alcohol won't be missed. His offerings include Lavishly Grapefull, with grapefruit juice, lemon juice, lavender and butterfly pea syrup, which lends both viscosity and a gorgeous hue.
Bar Biscay, a Spanish and French-inspired restaurant in Chicago, created zero-proof cocktails in response to an increase in requests from guests. Its Field Day is a sober-friendly play on the classic Clover Club cocktail, blending three housemade syrups—raspberry, mint and juniper—with tonic.
Tonics, juices and sodas
Of course, tonics, juices and sodas act as lengtheners in many of these nonalcoholic cocktails, just as they do in boozed-up versions. What's interesting to note, says Maeve Webster, is that the innovation years ago at the bar around these mixers is what started stirring this whole movement. "None of the current non-alc innovation would have been possible without the craft cocktail movement that started building drinks using premium mixers, blends, herbs, bitters, and so on," she says.
"Before 'sober curious' formalized, those folks looking for non-alc options would see that innovation and ask bartenders what they could order that featured those ingredients." The expectations around adult nonalcoholic drinks went up, based on seeing the capabilities of modern beverage development. "Other lead-in steps were global flavors, interesting international sodas and kombucha—these factors changed the idea of what adult beverages could look like," says Webster.
A rising wave of innovation, tectonic shifts in cultural attitudes and an undercurrent of health and wellness considerations are presenting tremendous opportunity in the nonalcoholic beverage category. "This is one of the most exciting trends," says Corliss. "There is an overflow of untapped potential."