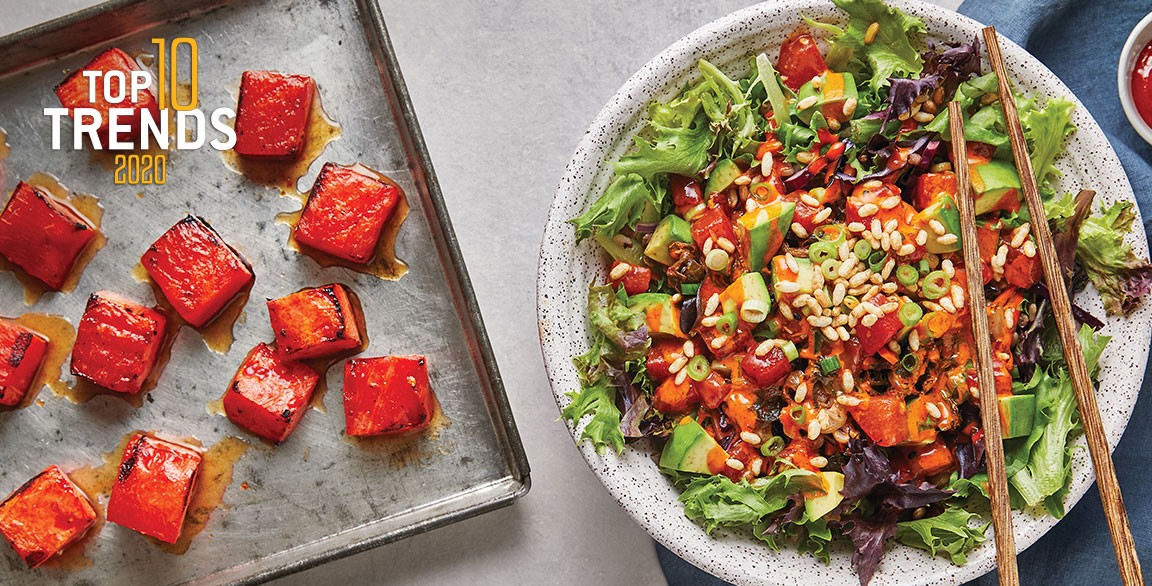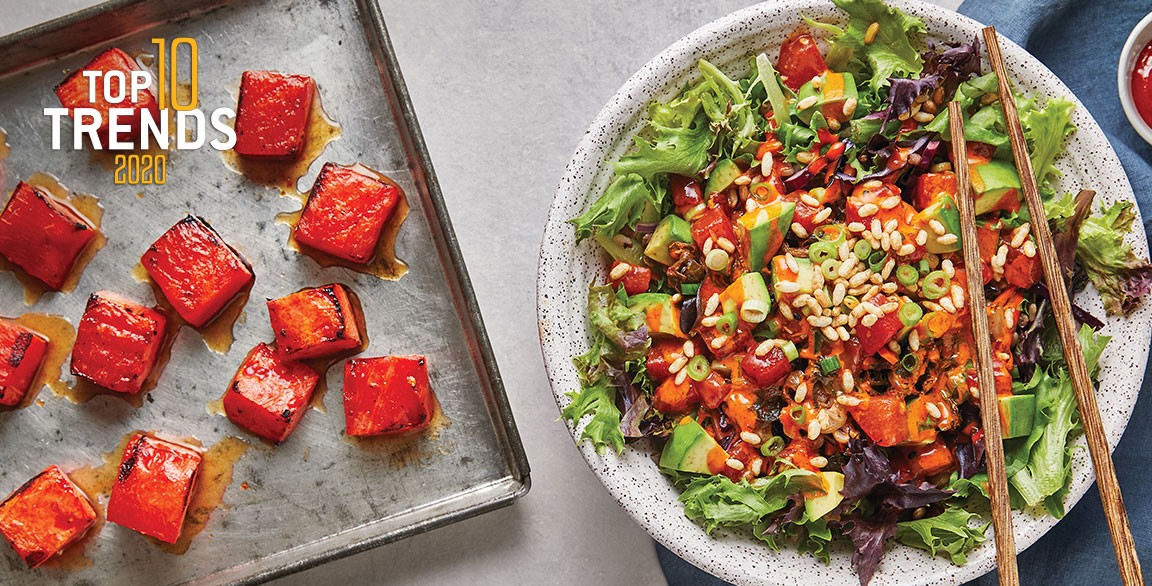 For the last five-plus years, veg-centricity has dominated discussion around innovation, making vegetables the hero by exalting flavor, often through aggressive cooking and bold finishes. Consumers have been bewitched by the clever ways that chefs have made vegetables, particularly carrots, beets, Brussels sprouts and cauliflower, utterly craveable. That serious attention to flavor development, through techniques like smoking, roasting, charring and pickling, can be applied to a variety of fruit.
Doing so offers a similar story of nutrient density and color, along with an element of natural sweetness thrown into the savory mix. It also makes a dish more seductive: stout-pickled cherries dotting oxtail ravioli, blistered grapes coloring miso caramel chicken, blueberry granita mounded atop baby greens. The plant-forward movement is helping inspire creative, high-impact uses of fruit on the menu.
Take watermelon, for example. Chefs are pairing it with jicama and Serrano chile in watermelon salsa. They're adding sumac or chile flakes, grilling and adding it to salads or chutneys. And they are adopting the Southern tradition of pickling watermelon rinds, highlighting them as a garnish in hip cocktails and as a condiment on sleek charcuterie boards. Watermelon has been acting as a front line for the fruit category, strategically and subtly moving into trend-forward applications.
Ducks Eatery, a meat-centric restaurant in New York, showcased how seriously fruit can play in modern menu development with its Smoked Watermelon "Ham." Will Horowitz, executive chef, wanted to offer a vegetarian option so he applied techniques typically used on smoked meats, yielding a smoky, salty, savory, sweet fruit-centric experience. The video of how he prepped it went viral. That's significant because, although a YouTube star fruit can't singularly ignite a new push in flavor innovation, it can help build consumer excitement and expectation.
"The plant-forward movement started with vegetables, but today, fruit serves as a whole new set of tools and ingredients chefs can tap into, especially as consumers are increasingly interested in eating more adventurously," says Linh Aven, executive chef of B.Good, a Boston-based fast casual with an emphasis on wellness. She recently launched the Spicy Korean Bowl, a plant-forward twist on a traditional poke bowl, incorporating roasted watermelon in lieu of tuna. "The watermelon is cubed, salted and roasted so that it resembles and is texturally similar to poke, without using fish," says Aven. Once caramelized, the watermelon is tossed in a spicy coconut marinade, giving it a hit of savory and smoky notes.
FRUIT'S CULINARY EDGE
Of course, chefs have been relying on fruit's sweet counterpoint for years in classical French, American and a myriad of other global cuisines. But today, it's the strategy of using fruit for unexpected complexity of flavor and intriguing textural play that sets up the opportunity for modern menus.
"I've started to see fruit used more often in savory applications that call for sugar and acid. It's a fun place to see modifiers like mango or blackberry, and it highlights the use of natural sweeteners," says Jamie Simpson, executive chef liaison of the Culinary Vegetable Institute. He suggests an easy route is through vinaigrettes, adding roasted fruit or native fruit vinegars.
Estuary, a contemporary seafood restaurant in Washington, D.C., uses a finish of fermented blackberry vinegar to punctuate its Avocado Confit and young romaine lettuce.
Simpson also believes that the creative opportunities with fruit are boundless. His blueberry cornflakes illustrate that point well. He makes a slurry out of blueberries and tapioca starch and drips it onto a silicone mat from up high "so it splashes into flakes." He then steams, dries and deep-fries the flakes. The blueberry cornflakes are served in a cereal bowl with milk. Although fruit flakes won't likely be adopted onto breakfast menus nationwide anytime soon, the thinking behind it is valuable in expanding the scope of how fruit can help create impactful menus.
B.Good's Aven is looking to coconut to help bring home the flavor profile of a vegetarian carbonara bowl, rolling out as a limited time offering. "We're currently testing to see if tossing coconut flakes in a spicy marinade and toasting them on the flattop can evoke the desired smokiness, meatiness and crispiness of bacon," she says. "We're hoping to unlock a new dimension of coconut."
The build sees a base of spiralized butternut squash topped with spinach, cremini mushrooms, a soft-fried egg, Parmesan and a creamy miso dressing made with nutritional yeast, white miso and silken tofu.
Turning to fruit for added impact in plant-based dishes is a smart strategy when looking to dial up the experience. At Flora Fauna, a New American bar and restaurant in Chicago, Jonathan Meyer, executive chef/partner, approaches development of his meat-free dishes with the idea of making them craveable for meat eaters. That's a good move considering how many diners today play the field between plant-forward and meat-centric choices.
"I want to make vegetarian and vegan dishes stand out to carnivores, so for me, that often means developing meaty, deep and savory profiles," says Meyer. A lot of fruit varietals offer textural elements that help toward that cause. And even more react well to aggressive cooking techniques and flavor infusions.
Flora Fauna's Jackfruit DanDan is among its most popular menu items, thanks to its flavor-packed profile. The dish sees cold green papaya noodles topped with braised jackfruit and finished with cashews and chile oil. He uses papaya that's on the underripe side so it holds its structure, blanching it first so it's not quite as toothsome.
"Green papaya has this great earthy, crunchy sweetness that balances out the spicy, tart flavors in the dish," explains Meyer. The jackfruit is braised in big flavors: housemade chile paste, tamari, Chinese black vinegar, tahini, sesame seed, garlic and ginger. He's working on a jackfruit bottarga, salt curing it, then letting it air dry, with the idea of using it as a finish on a lamb tartare with soursop vinaigrette.
"Fruit can handle significant prep, like salt curing, fermenting, pickling, roasting and charring," says Maeve Webster, president of Menu Matters. "It improves the experience for diners, adding flavor that builds craveability." Fruit also balances savory and spicy dishes, introducing depth of experience that is a marker of progressive menus today.
S3 Restaurant in Fort Lauderdale, Fla., pairs a sweet-heat sauce with goat cheese croquettes that sees a combination of red chile and guava, bringing in heady tropical notes as well as a solid sense of place.
At Sparrow + Wolf in Las Vegas, a flourless chocolate cake paired with ras el hanout pear butter plays off that spice's savory, warm flavors while tempering it with the sublime, fresh flavor of pear.
Santo Cielo, a globally inspired spot in Naperville, Ill., turns to pickled blueberries for a hit of acid as counterpoint to its richly flavored Chicken Confit with cheese polenta, bacon au jus and shiitake.
Fruit holds the ability to impact texture, flavor and color in plant-forward menu items. A salad of Beets and Berries at Chicago's Ēma, a modern Mediterranean restaurant, gets an unexpected underlay of strawberry harissa.
Crispy Brussels sprouts boast complexity with maple sage vin, roasted grapes, blue cheese, bacon and candied walnuts at Avelina in Denver. Pops of sweet and acid play nicely as finishes to modern pizzas, pastas, flatbreads and toasts.
In Cedarburg, Wis., Brandywine, a seasonally focused restaurant, menus a summer flatbread with roasted peach, ricotta and spreadable salami.
Don Young, executive chef at the New American restaurant WoodWind in Chicago, pushed the culinary boundaries of pineapple by accident. "I was making a grilled pineapple sauce, but I lost track of time and burned it," he says. "Still wanting to try it, I charred shishito peppers to add a light, grassy pepperiness, cilantro for herbaceous notes, fish sauce to bring out umami, and lime to add brightness and balance. While letting the sauce settle, I allowed it to naturally ferment in the cooler, causing the charred flavor to slowly meld in with the pineapple. By naturally preserving itself, the pineapple ripened further and developed more acidity, resulting in the perfect sauce."
He menus it as a "charred pineapple mole," serving it as an accompaniment to his Dry-Aged Duck Tacos.
WASTE NOT, WANT NOT
The imperative that drives management of food waste today will most likely underpin a number of menu development areas in upcoming years. In the efforts to curb food waste, the root-to-stem movement has opened up beyond ingenious components like carrot-top pesto into "ugly fruit" usage and techniques like dehydrating over-ripe fruit, then pulverizing them for use in spice blends, smoothies or baking formulas.
There's brand value in flexing culinary muscle with menu items that highlight craftsmanship, weaving in uses of peels, cores and seeds, along with the preservation techniques of pickling and fermenting fruit. But there's also a marketing upside in using fruit in trend-forward, environmentally responsible ways on the menu.
"While Millennials have certainly shown a heightened interest in restaurant mission statements that incorporate a sensitivity to the environment, Gen Z is taking that to a completely different level," says Webster. "They are the generation of environmental reckoning; recent protests and other activities around environmental awareness point to that."
Innovation in fruit-forward recipe development helps solve food waste issues. And as Webster points out, consumers will not only respond to the "Wow!" factor of that innovation, but they'll also take notice of the sustainability efforts. "Food waste is simply not a topic that is trendy or interesting, but rather an imperative for any operation that wants to remain relevant and appealing in the decades to come," she says.
It can also look pretty on the plate. At Black Bull, a Spanish concept in Chicago, the Basque Cheesecake is topped with red-wine and orange-poached pears, dehydrated pear skins and roasted grapes. Shannah Primiano, executive pastry chef, features the whole pear for this dessert, using the skin as a dramatic crunchy element.
"You can get creative with food waste," says Adam Moore, chef/founder of Flashpoint Innovation, describing applications that offer impact. "Use the cryoconcentrated juice from fruit peels and skins as alternative sweeteners, sauces or cocktail inclusions, or incorporate dried and powdered fruit into spices, seasonings and salts."
Culinary attention focused on fruit addresses the appetite for flavor intrigue, craftsmanship and stewardship. Through this, elements like smoked peach preserves and pickled grapes promise to allure.
A Natural Beauty
By Dina Paz
Adding fruit in the form of powder, frozen or dehydrated to savory applications offers another level of plant-based storytelling, amplifying its inherent better-for-you properties.
Creative examples include: fermented cherry kimchi, fruit butter, apricot and goat cheese risotto, pear and blue cheese mac and cheese, grilled peaches, pears or avocado with savory herbs and spices in grain bowls.