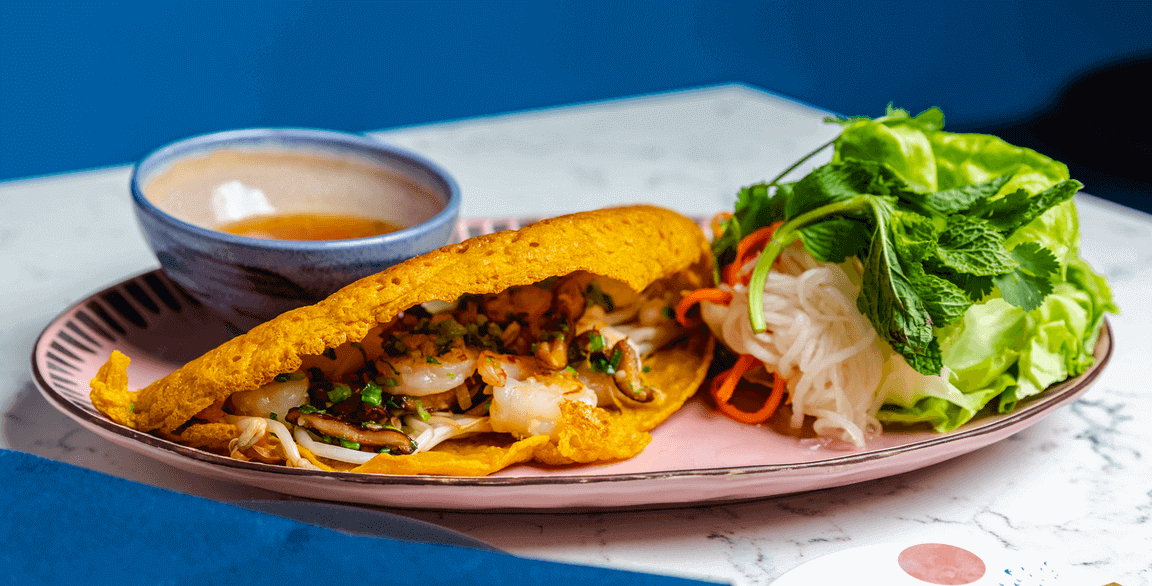 By Mike Kostyo
May 11, 2022
Ask the average U.S. consumer to name their favorite Vietnamese breakfast food and they may stare back blankly. But if they've had a bowl of pho or tucked into a banh mi, they've had Vietnamese breakfast foods. In Vietnam, breakfast is an essential, energizing meal, with street stall vendors serving up warm and comforting pho, filling chao long (pork congee), and flavorful banh mi from the crack of dawn until they sell out. Recently, however, an exciting new generation of stateside operators have been doing their part to introduce U.S. consumers to the foods and flavors of Vietnam during the breakfast daypart, featuring both traditional breakfast foods and approachable mash-ups on the menu.
"Our breakfast banh mi is very popular and sells out consistently," says chef Ron Hsu of Atlanta's Juniper Cafe, a modern Vietnamese restaurant that opened in late 2021. Hsu bridges East and West by adding an egg to his banh mi, which also includes a housemade Vietnamese sausage patty, pickled carrots, daikon and a sweet chile marmalade. It's all served on a traditional Vietnamese baguette, the French-inspired, light-and-airy banh mi carrier of choice. "The Vietnamese baguettes are less dense and have been perfected to work with their own style of sandwich fillings," says Hsu.
WAKE UP TO PANDAN AND VIETNAMESE COFFEE
While sweet flavors are far less common for breakfast in Vietnam, U.S. consumers often wake up with a sweet tooth, which is where pandan comes into play. The fragrant, tropical plant has become a go-to flavor in Vietnamese-inspired breakfast items in the U.S., adding a pastel-green hue and vanilla-esque, vaguely tropical flavor to waffles, pancakes and baked goods.
At Cong Tu Bot in Portland, Maine, which earned a place on The New York Times' "Best Restaurant List" last year, the banh pandan, or pandan coffee cake, is an eye-catching neon green creation topped with a coconut-toasted rice flake streusel. Chicago chef Thai Dang incorporates pandan into waffles for the weekend brunch at his Ca Phe Da/Dang Good Wings concept, served with a choice of chocolate, condensed milk, or caramel condensed milk sauces, alongside two other Vietnamese-inspired waffle options: black sesame and toasted peanut.
"Introducing 'exotic' ingredients into familiar dishes allows us to be approachable to all sorts of palates," says Dang. "We keep in mind that the majority of our guests have never had some of these ingredients before, like pandan: We tell them it's the Southeast Asian vanilla."
It's the ca phe da, or Vietnamese iced coffee, that inspires half of his concept's name, and the menu features everything from traditional strong black Vietnamese coffee to decadent egg custard coffee, which has become a customer favorite.
"The egg custard coffee is created by making a whipped custard that does not use raw eggs, allowing for better enjoyment and making it safer to consume. Minor tweaks like these to the original recipes have been our way to introduce exotic ingredients to our guests," says Dang.
Vietnamese coffee culture is also the focus at Jackie Nguyen's Café Ca Phe food truck in Kansas City, where she serves up options like the Electric Latte with cardamom syrup, condensed milk, and phin drip coffee (a Vietnamese slow-drip style).