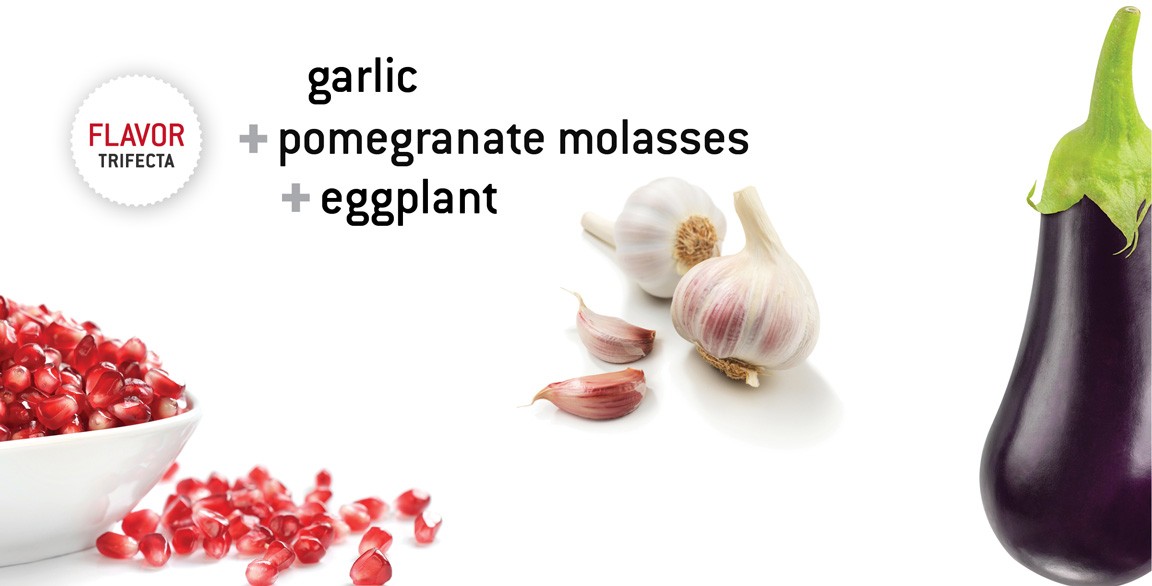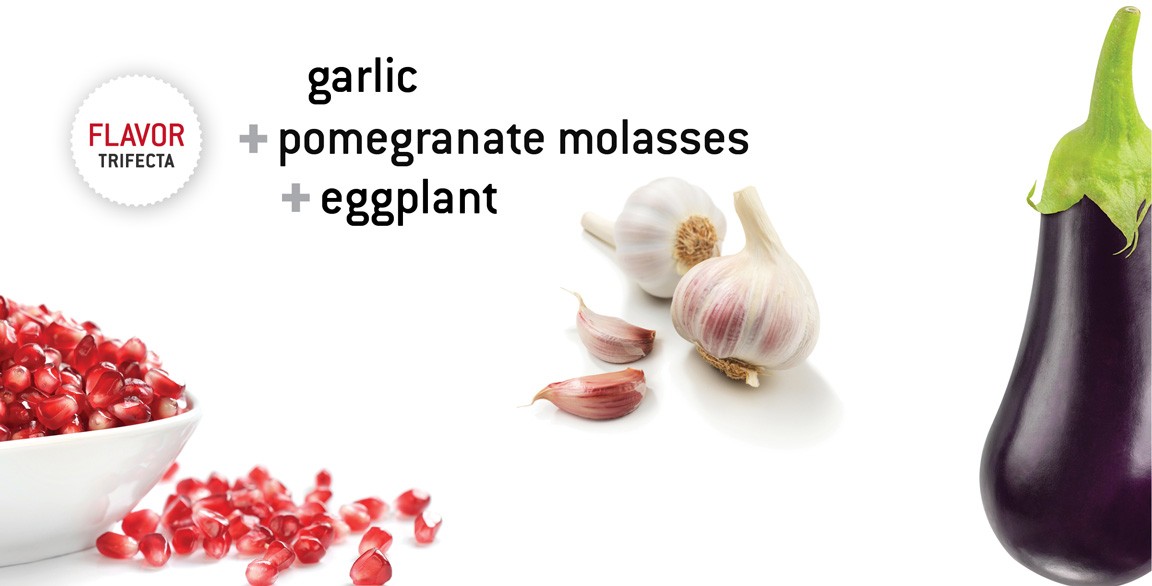 Loay Alhindi is the director of food and executive chef of Sajj Mediterranean, a fast casual based in Menlo Park, Calif., which offers a wide range of richly flavored, customizable offerings. Guests can choose from options like a freekeh bowl or a freshly baked wrap with steak shawarma or "shawafel," a combination of shawarma and falafel.
Toppings include cherry peppers, pickled turnips and sumac cauliflower, along with cilantro-mint chutney and spicy tahini sauce. Alhindi's menu development at Sajj focuses on the bright, aromatic and warm flavors of the Eastern Mediterranean.
So when we asked him to consider a trio of ingredients that bring out the best in each other, it's no wonder that he looked to the Eastern Med pantry for inspiration. He shared a trifecta of pomegranate molasses, eggplant and garlic. "They are all very Mediterranean, but you do not always see them used together in the same dish," says Alhindi.
"The pomegranate molasses has a great balance of sweet and sour flavors. It fixes the bitterness of the eggplant and reduces the sharp taste of garlic. The pomegranate also cuts the lusciousness of the eggplant's texture, and garlic brings a savory punch to the dish."
He features this trio of ingredients in a charcoal-grilled eggplant salad: diced and peeled eggplant, bell pepper, onion, tomato and garlic, tossed in a dressing made with pomegranate molasses.
Alhindi also uses the trifecta in a meatless version of moussaka, subbing in the eggplant for the traditional lamb or beef. He adds the pomegranate molasses in the final stage of cooking. "You don't want the sugar in the molasses to turn into a bitter caramel," he explains.
He sings the praises of another flavor trifecta, also drawn from Eastern Med cuisine, but one that holds broader potential. "Being a chef focused on Mediterranean and Middle Eastern cuisines, three flavors that I always love to use together are olive oil, sumac powder and fresh garlic.
The richness from the olive oil pairs wonderfully with the lemony flavor of sumac, and both are enhanced by the garlic," says Alhindi. "Sumac is an underused spice in the U.S., but it's so bright and beautiful that I wish more people would embrace it as a staple in their spice cupboard."