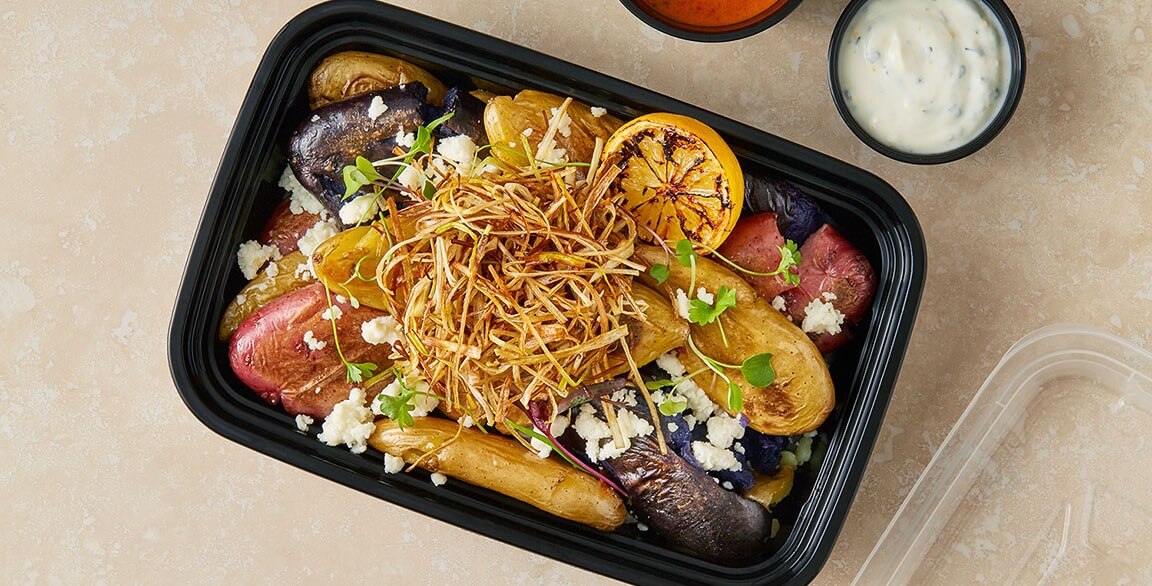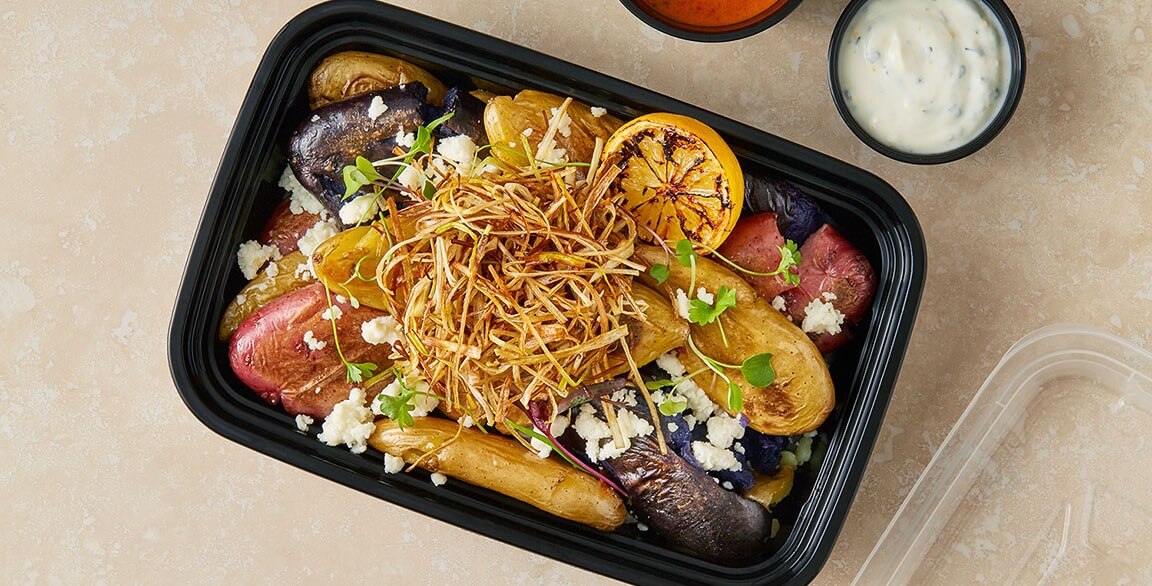 Duck Fat Crisped Idaho® Fingerlings
Recipe courtesy of Chef Dave Woolley
Sponsor: Idaho Potato Commission
Servings: 15-18
Ingredients
2 1/2 pounds Idaho® fingerling potatoes
As needed water to cover
As needed sea salt
Baking soda
3 each roasted red peppers, seeded
2 tablespoons olive oil
¼ teaspoon coriander, toasted and ground
½ teaspoon cumin, toasted and ground
1 teaspoon rough chopped fresh mint
2 teaspoons minced fresh parsley
¼ teaspoon black pepper
1 lemon, juiced
¼ teaspoon fresh thyme
2 teaspoons light sweet miso
1 teaspoon puréed chipotle in adobo
½ teaspoon cayenne
½ cup Greek yogurt
1 Meyer lemon, juiced and zested, chopped
2 teaspoons honey
3 each leeks, white part only finely julienned
2 cups vegetable oil
4 cups duck fat
As needed crumbled feta
½ cup citrus blend micro greens
Directions
In a large pot, add the fingerling potatoes with water to cover by 2 inches. Salt until the water tastes like the ocean and add the baking soda.
Boil for 15 to 18 minutes, or until potatoes are approaching being soft, just al dente. Have a large bowl or Lexan filled with ice and water.
Drain the potatoes and immediately add them to the ice bath to cool for at least 15 minutes. Drain very well, pat dry with some towels, and spread on a pan in a single layer.
In a blender, add the roasted peppers, olive oil, coriander, cumin, mint, 1 teaspoon of the parsley, black pepper, juice from 1 lemon, thyme, miso, chipotle and cayenne and season with salt. Pulse well so that it has slight, very small particulates in the sauce. Reserve in a squirt bottle for service.
In a bowl, add the yogurt, Meyer lemon juice and zest, honey and remaining teaspoon minced parsley. Whisk to combine, salt to taste, and reserve in a squirt bottle for service.
In a small pot (or in a standard fryer), heat the vegetable oil to 350 degrees F. Fry the leeks and retrieve them quickly from the oil as they start to brown. Season immediately with salt while fluffing by hand to ensure proper seasoning. Reserve for service.
Smash the cooked and cooled fingerling potatoes one at a time with the bottom of a coffee mug or measuring cup, to about a 1/3 in thick.
In a small rondeau pan or Dutch oven type pan, heat the duck fat to 325 degrees F. Cook 12 to 14 fingerlings at a time, shallow frying them until browned and crisp, 4 to 5 minutes on each side. Have a sheet pan lined with paper towels to drain off the oil and immediately season the potatoes with salt. I use a slotted spoon to manipulate the potatoes while cooking and for removal from the oil.
Plate on a large serving platter for family-style or buffet service, Add the crumbled feta and drizzle with the red pepper puree and Meyer lemon yogurt. Sprinkle the micro greens on top for flavor and garnish, pile high the frizzled crispy leeks, and serve.
Chef's Notes
Keep in mind this can be easily made into individual servings and also works well for to-go offerings, as they travel quite well. I use the sauces in squirt bottles to zigzag them on top of a larger or smaller pile of the fresh and hot smashed fingerling potatoes.
Project Management: Summit F&B
Photography: Carlos Garcia // Food Styling: Peg Blackley & Bree Williams