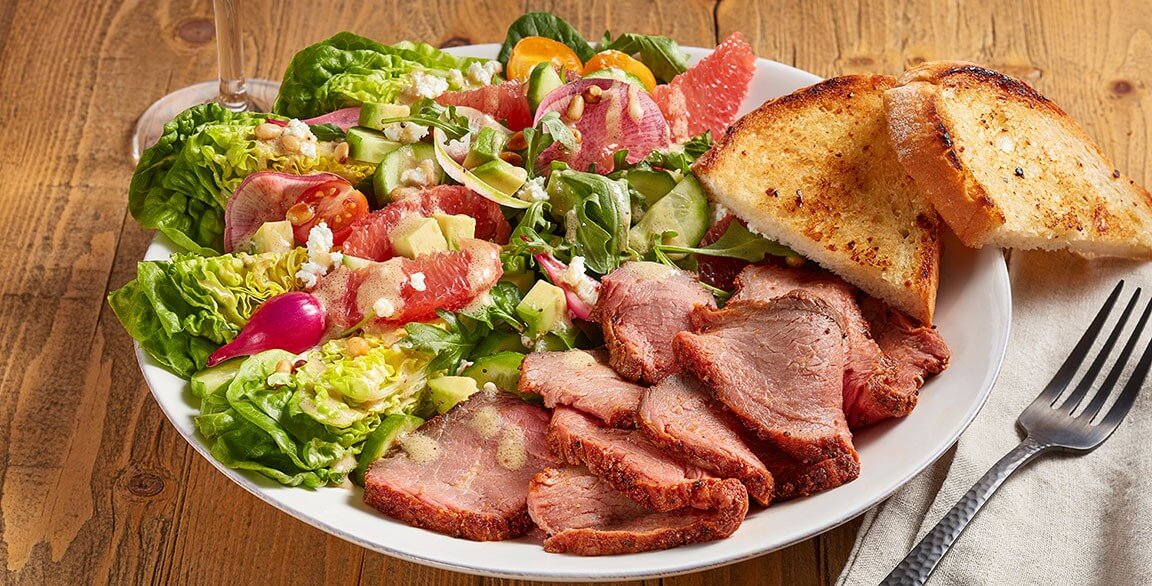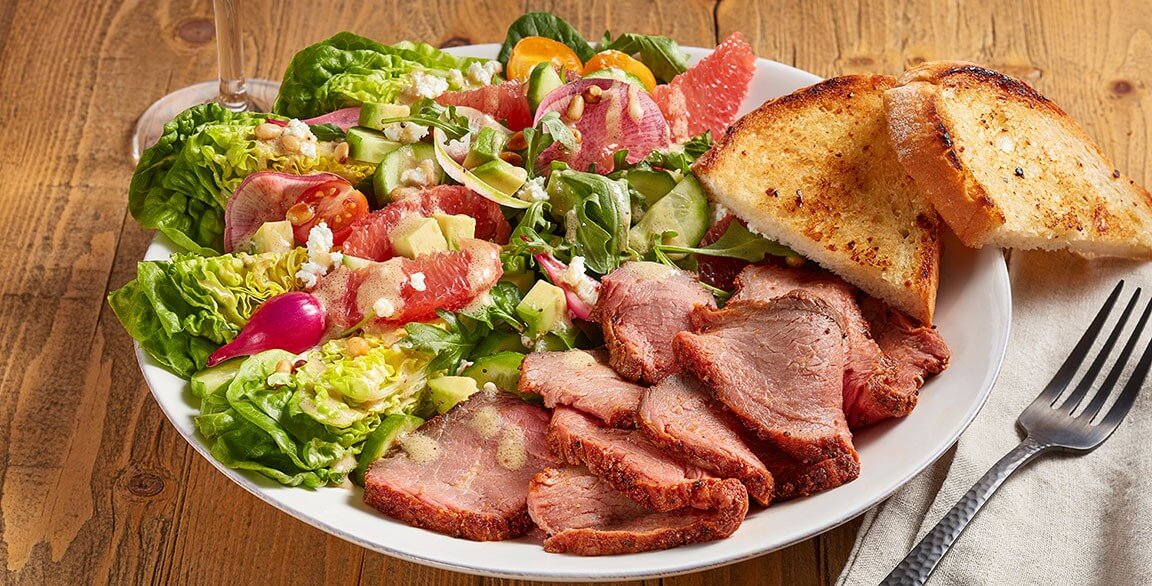 Chimayo Chile Grassfed Australian Beef with New Mexico Farmhouse Salad
Recipe courtesy of Chef Dave Woolley
Sponsor: True Aussie Beef & Lamb
Serves: 15-18
Ingredients
2 Tbsp New Mexico Chimayo ground chile (medium or hot)
½ tsp garlic powder
¼ tsp ground black pepper
As needed sea salt
4 lb Australian grassfed striploin, completely cleaned and denuded
4 oz high-quality butter, broken by hand into 8 pieces
¼ cup Pedro Ximénez sherry vinegar
2 tsp honey
1/3 cup high quality extra-virgin olive oil
¼ tsp Dijon mustard
2 ea small Persian cucumbers, thinly sliced
1 ea Ruby Red grapefruit, cut in supremes, held in its own juice
¼ cup piñon nuts, well toasted
1 cup petite yellow and red grape tomatoes, halved
2 ea radishes, thinly sliced and julienned
1 ea avocado, thinly sliced in the shell and scooped out for serving
¼ cup crumbled goat cheese
2 crowns petite or gem lettuce, cleaned and pulled apart
Directions
In a Lexan with warm water, set a sous vide cooker to 132 degrees F / 55.6 degrees C.
In a small bowl, blend the Chimayo chile, garlic powder, black pepper and salt to taste. Rub that seasoning all over the Australian grassfed striploin. Place the striploin into a large vac-seal bag with the broken butter pieces along the front and the back of the striploin, spread out as evenly as possible. Seal and vacuum all the contents. Cook sous vide for 6 hours and 15 minutes, achieving an internal temperature of approximately 130 degrees F. Immediately start to cool the striploin in an ice bath.
In a small bowl, whisk the vinegar, honey, mustard, olive oil and salt to taste and pour into a squirt bottle and reserve for service.
Clean a large wooden cutting board or butcher block tabletop well, for family-style service. Toss the lettuces in the sherry vinaigrette and salt to taste and spread them across the board or table. I like to scatter some of the remaining ingredients, but purposefully place some of the others—kind of organized chaos. You can have a lot of fun with plate up on this for sure. I also like to cut the Australian grassfed striploin about ¼- to ½-in thick and fold and gently lay them out, alternating which side the fold is, to fully display that beautiful color.
Chef's Notes
You could reverse sear your Australian grassfed striploin before serving, but it is not necessary. In fact, the red color of the Chimayo chile really shines through, as well as the flavor, if you don't sear it. To sous vide this grassfed striploin really lends itself to maintaining a very tender product, and the butter just tilts it to the indulgent with flavor and mouthfeel. I also recommend serving this with garlic toasted farm bread.
Project Management: Summit F&B
Photography: Carlos Garcia // Food Styling: Peg Blackley & Bree Williams