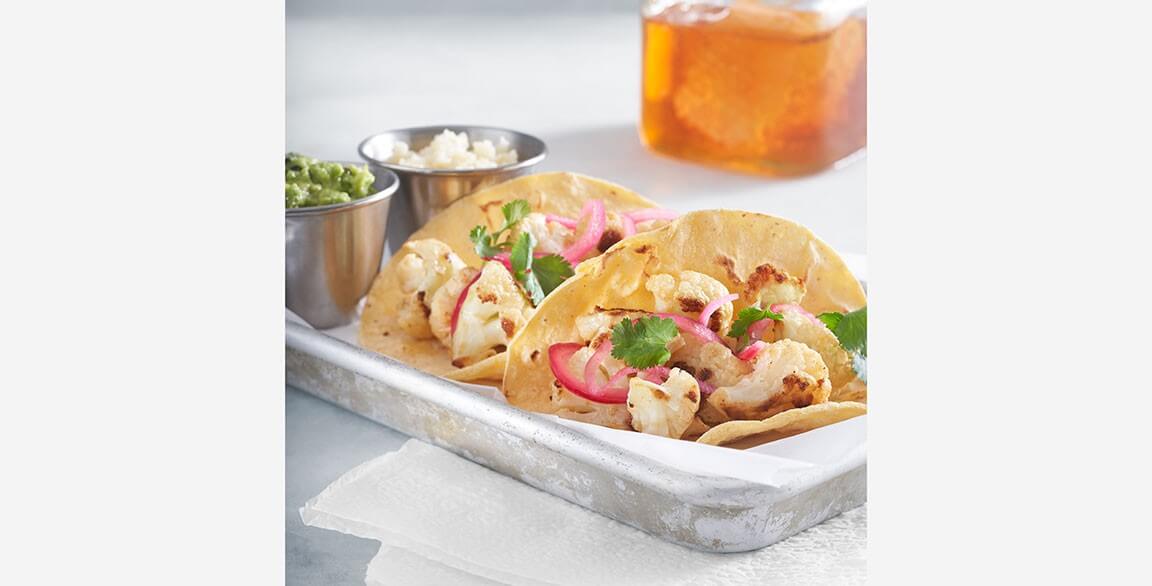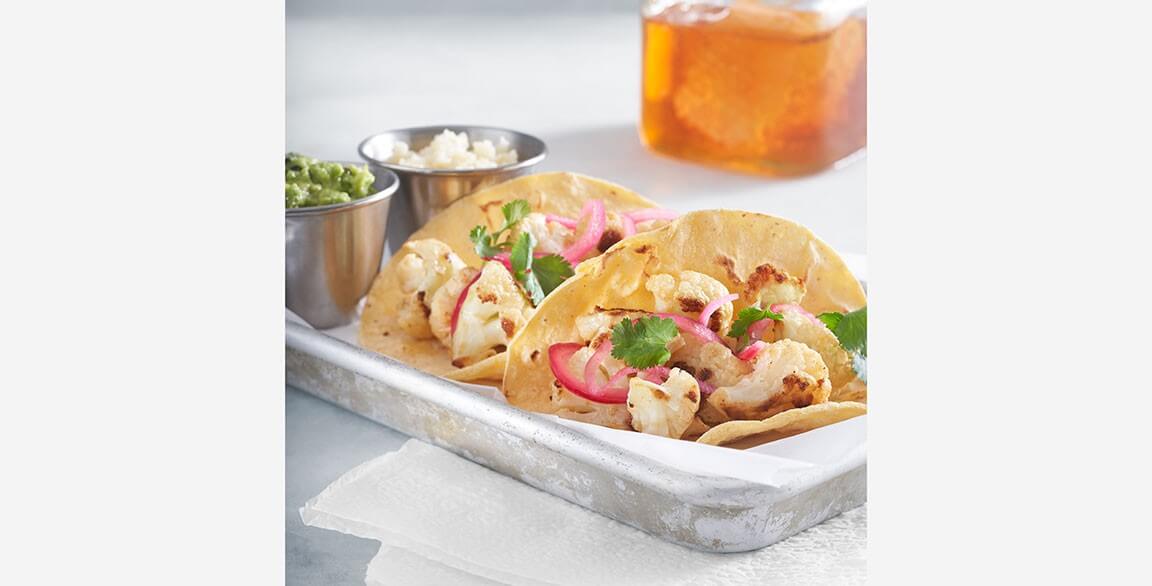 Burnt Honey Lime Cauliflower Tacos
Recipe courtesy of Chef Dave Woolley
Sponsor: National Honey Board
Servings: 18
Ingredients
1 medium red onion, very thinly sliced on mandoline
1/2 cup honey
3 tablespoons red wine vinegar
Salt, to taste
3 limes, 1 zested/all juiced
2 large cauliflower heads
1 teaspoon smoked paprika
1 tablespoon olive oil
3 large avocados, ripe
1 New Mexican green chile, roasted, peeled, seeded and minced
2 tablespoons honeycomb, broken into small pieces
3 tablespoons finely grated Cotija cheese
18 corn tortillas (5 in)
1 pint micro cilantro
Directions
Combine the onion, 3 tablespoons of the honey and the vinegar and season with salt; let sit at least 3 hours. Then add the juice of 2 limes and 4 tablespoons more honey and set aside.
Clean the cauliflower and break into florets. Add half of the lime-honey liquid from the onions, the smoked paprika, olive oil and a pinch of salt in a mixing bowl; mix well and set aside.
Preheat the oven to 450 degrees F with two 14-in cast-iron skillets inside. After they're fully heated, spread the cauliflower evenly between the two hot pans. Cook for 14 minutes, then spoon the remainder of the lime-honey mixture evenly onto the florets and turn them over. Cook for another 8 to 9 minutes, until most of the liquid is evaporated and the florets have dark caramelization, nearly charred. Keep warm for serving.
In a bowl, blend the avocados with the green chile, remaining 1 tablespoon of honey, the juice of 1 lime, the lime zest and salt. Mash well with a fork and set aside.
Right before serving, in a small bowl, blend the broken honeycomb and the Cotija cheese to make the honey combtija.
For serving, heat the tortillas, then place them onto taco trays or however you will serve the dish. Spread the burnt honey-lime cauliflower evenly between the 18 tortillas. Spread the honey-pickled red onions evenly between the tacos, then the same for the avocado mash, using about 2 tsp per taco. Spread the honey combtija between the 18 tacos and finally garnish each taco with micro cilantro and serve immediately.
Serving suggestions
Pour ¾ cup dip into a serving container and serve with vitamin-rich fresh veggies or fruit for optimal immunity support. Also delicious as part of a cheese board with crackers.
Chef's Notes
In a pinch, you could par cook the cauliflower and use a torch to finish the caramelization/char.
Project Management: Summit F&B
Photography: Carlos Garcia // Food Styling: Peg Blackley & Bree Williams