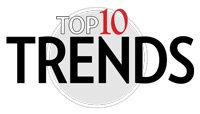 Leveraging Indian flavors to enhance burgers, bowls, pizzas, sandwiches and more is the hallmark of the Indian mash-up trend. Here's a cheat sheet on some of the most prominent pantry items that are ripe for the picking.
Garam Masala
Either a blend of dried spices or a spice paste, masala often includes garlic, ginger, chile paste, tomato and onion, along with coriander, cinnamon, cumin, cloves and cardamom. Familiar here thanks to chicken tikka masala, its spiced, flavor-forward profile makes it a go-to spice blend for many Indian-accented dishes.
Keema Pav
Minced meat, like lamb or chicken, cooked with tomatoes, garlic, onion and spices. A popular street food in India, it's often served with bread.
Dosa
Dosa is a crêpe-like savory, crispy pancake made with a fermented batter of rice and beans. It's served across India, often with paneer or chutney. Variations include onion dosa and masal dosa, making an intriguing accompaniment with shareable plates or bar snacks.
Tandoori chicken
A tandoor is a charcoal- or wood-fired cylindrical clay oven. Tandoori chicken is marinated in yogurt and spices, then cooked in the tandoor. It's moist and tender, with both the flavor of fire and the flavor of tandoori masala.
Chaat
In Hindi, chaat means to "devour noisily," which is fitting for this large umbrella of craveable roadside snacks just waiting for American adaptation. Based on some kind of fried element, they vary from aloo chaat (potato) to pakora.
Butter Chicken
Also known as chicken makhani, it was first developed in Delhi as a way to use leftover chicken tandoori. Buttery and creamy, it stars butter, heavy cream, as well as garam masala, chile powder and vinegar.