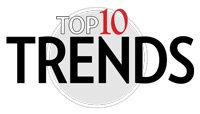 Indian flavors are moving into the beverage realm, adding their bold flavors in tempting combinations.
"We are always looking for the 'what else' or 'what's next?' in beverage development," says David Commer, president of Commer Beverage Consulting, who suggests taking cues from popular warm spices and experimenting with Indian spices like garam masala [a spice mix made with clove, cardamom, cinnamon, cumin, coriander and black pepper].
"Think about how cinnamon, nutmeg and pumpkin spice take over in the fall." Masala could be the "next" warming spice for coffee drinks and lassi-based cocktails.
Other trending Indian flavors primed for cocktail adaptation include turmeric, tamarind, cardamom and flower waters.
Lassi as a platform
The lassi, an Indian yogurt-based spiced drink, serves up a great platform for beverage innovation. "There are many opportunities to include exotic flavor combinations in the yogurt-based lassi drink," says Kathy Casey, owner of Kathy Casey Food Studios-Liquid Kitchen in Seattle.
"Rose, cardamom, mango, guava or hibiscus are excellent flavors to infuse into lassi. Cocktails based on lassi are also trending, such as using a yogurt liquor base shaken up with herbaceous gins and fresh fruits."
Menu examples
Rum Curry: Rum, housemade curry leaf simple syrup, coconut water, orange bitters and fresh lime juice
—Poppy, Seattle
Cardamom Collins: Hangar One vodka, fresh lemon juice, housemade cardamom syrup, soda water
—Greenwich Project, New York
Casa Roja: Casamigos blanco tequila, organic beet juice, tamarind purée, Japanese yuzu, hibiscus, agave
—Skybar at Mondrian, Los Angeles
Heart of Gold: Kumquat purée, silver tequila, Domaine de Canton, curry leaf tincture, garnished with a curry leaf
—MG Road, Asheville, N.C.