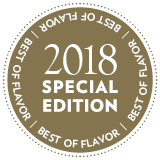 They say everything's bigger in Texas. When it comes to the flavor in the meatloaf at Haywire, that certainly rings true. Classic recipes modernized with locally sourced ingredients are the specialty at this upscale eatery, a new concept from Front Burner Restaurants.
The Grilled Bacon-Laced Meatloaf is a standout example. "This meatloaf is an approachable menu item that people are familiar with by name, but it's nothing ordinary when you eat it," says Corporate Chef John Franke.
The meatloaf's base is made from house-ground Texas Wagyu and cherrywood bacon, which adds rich fat that melts into the build. The meat is seasoned with panko, eggs, celery, onions, spices and chipotle peppers, then brushed with chipotle ketchup. Sliced cold, each serving of meatloaf is grilled to order, giving it a slight smoke and char.
An acidic and spicy salsa then tops the meatloaf, made from smoked Roma tomatoes, onions, jalapeños, poblanos, garlic, salt, lime juice and cilantro.
Housemade mashed potatoes and green beans sautéed in chicken stock buddy up to the meatloaf.
This entrée proves that serving a homestyle dish doesn't have to be predictable. In fact, its success has inspired Haywire to use it as a base for meatloaf preparations made from less-common meats, including camel, water buffalo, turkey and lamb.
The bacon-laced meatloaf is the restaurant's second-best-selling dish, giving diners the comfort food they know with flavor-packed twists that make it memorable.